In honor of the 42nd Black History Month, we proudly present The Eagles Talent Inspirational Story of Winter Olympian Devon Harris.
---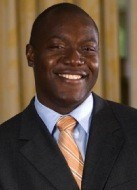 Devon Harris is a Three Time Winter Olympian & Jamaican Bobsled Team Captain. Today, he is a motivational keynote speaker who embodies numerous qualities that a leader should have and has gone on to prove he is not a product of his own environment.
In his presentations, he highlights some of the most powerful life lessons he and his teammates learned along the way – lessons the audience can immediately apply to both their personal and professional lives. Below are two videos, the first is the inspirational story series, where Devon addresses overcoming cultural differences. The second video is an interview he had with the TODAY show about his experience in the Winter Olympics!
Inspirational Story Series:
The Today Show:
---
For more information on booking Devon Harris, visit www.eaglestalent.com or call 1.800.345.5607
---