The Women's Ice Hockey Team's victory has Americans in high spirits today! Today marks the first time the USA team has beaten Canada and brought home Olympic gold since 1998!
---
After a long awaited time… America finally came out on top, beating Canada by 1 point in an impeccable shootout!
USA Women's Ice Hockey Team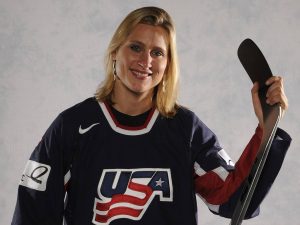 Angela Ruggiero knows a thing or two about winning U.S. Olympic Ice Hockey Gold Medals as well. Throughout her career, she became one of the most prominent ice hockey players in the world. She competed in four Olympics; winning a gold medal in 1998, silver in 2002 and 2010, and bronze in 2006. In 2015, she became a member of the Hockey Hall of Fame. Today, she is a Director with the NHL's New York Islanders, a Color Analyst for CBS Sports, a New Business Consultant for NBC Sports, and Founder and CEO of a number of girl's hockey schools and international tournaments. She has truly made a name for herself in the sports world. As a rising member of the International Olympic Committee, Angela has been given numerous leadership roles. She utilizes all of these experiences and lessons in her compelling keynote presentations. Her dynamic speaking programs leave audience members feeling inspired and ready to take on whatever puck life throws at them.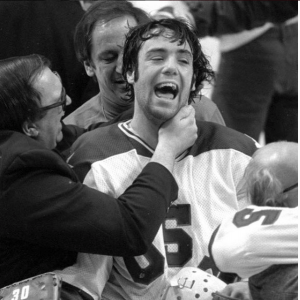 Jim Craig is another hockey fan favorite. He is widely known as the heart and soul of the 1980 USA Olympic Hockey team. This win was also known as the "Miracle on Ice" victory – due to USA's opponent being the seemingly unbeatable Soviet Union team. It is largely regarded as one of the most extraordinary sports victories of all time. Not to mention, the team's success is attributed to exceptional teamwork. Craig believes epic achievement is almost always the result of successful collaboration. Since his big win, he has transformed his work ethic and determination into an impressive sales career, spanning over 30 years. He has translated many of the essential teamwork principles from the Olympics into successful business methods. As a speaker, he explains these methods in order to help educate organizations successfully overcome any challenges that come their way. He's the type of speaker that strives to share all of his fundamental values including setting goals, defining missions, and most importantly, making history.

---
For more information on booking USA Women's Ice Hockey Team and Hockey/NHL speakers, visit eaglestalent.com or call 1.800.345.5607
---