Today is World Braille Day! This special holiday was created to celebrate the birth of Louis Braille, inventor of this unique reading and writing system. Braille has helped millions of blind and partially sighted people by providing access to the same reading and learning opportunities as those who can see.
Jay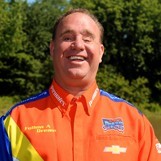 Blake is a talented keynote speaker, and he's also the only totally blind crew chief in the worldwide sport of auto racing. After suffering from an industrial accident that caused him to lose complete sight, smell and taste, Jay had to relearn how to live his life. Although Jay was faced with these new obstacles, it didn't stop him from doing what he loved most − working on racing engines. He has continued to live his dream by winning racing championships. Currently, Jay has his own non-profit organization, Follow A Dream, that helps promote the power of positive thinking. 
We recently booked Jay for an upcoming event with one of the world's largest suppliers of eye health products, where he will tell his story about losing his vision. During his keynote presentations, Jay draws upon his personal experience of overcoming adversity and achieving his dream of auto racing, and shares his inspiration with the audience. His ultimate goal is to show everyone that positivity, self-determination, and teamwork are key elements of life that enable you to enjoy every day.
For more information about how inspirational keynote speakers like Jay Blake can impact your event, contact Eagles Talent Speakers Bureau at 1.800.345.5607.