To celebrate Black History Month, we proudly share this week's Eagles Talent Inspirational Story Series with Youth Issues Speaker Coach Ken Carter! 
---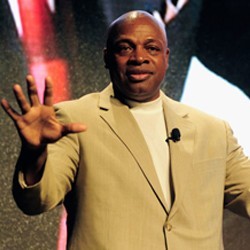 Youth Issues Speaker Coach Ken Carter gives hard-hitting advice about accountability, integrity, teamwork and leadership. He speaks on numerous topics that resonate both on and off the basketball court–such ass Youth Issues.
With school-based tragedies sadly becoming a common occurrence, Coach Carter's work with students and their communities is important now, more than ever. His no non-sense approach to getting things done is the force that has enabled him to have a tremendous positive influence on others. 
His performances are interactive, challenging and thought-provoking for students, teachers, organizations, and all businesses who seek to be motivated!
In the following video, you will see just that:
---
For more information on booking Coach Ken Carter, visit www.eaglestalent.com or call 1.800.345.5607
---