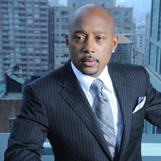 Fee Range:

$30,001-$50,000




Traveling From:

New York


Check Availability
Submit your request or call us at 1-800-345-5607
We guarantee a response time of one business day, or sooner.
Daymond John

Shark Tank Investor, Founder & CEO of FUBU
Why Book Daymond John?


Daymond teaches audiences how to apply successful methods in today's business world by providing proven tips on negotiating, boosting sales, and increasing productivity from your team.
He is the personification of the American Dream: from humble beginnings to over 4 billion in global products and the star of ABC's Shark Tank. He will empower audiences, more than any business advisor, to make positive change, set goals, and achieve success to live their own American Dream.
Damyond shares the strategies he uses to continue bringing him financial success. From guerrilla marketing and branding techniques, to using cutting-edge innovation with social media, he is one of the top business strategists with a track record of winning.
Biography of Daymond John
A young entrepreneur, an industry pioneer, a highly regarded marketing expert, and a man who has surpassed new heights of commercial and financial success are just a few ways people have described Daymond John. Over the last 20 years, Daymond has evolved from one of the most successful fashion icons of his generation to one of the most sought after branding experts, business, and motivational speakers in the country.
Daymond's creative vision and strong knowledge of the marketplace helped him create one of the most iconic fashion brands in recent years. FUBU, standing for "For Us By Us", represented a lifestyle that was neglected by other clothing companies. Realizing this need in the marketplace, Daymond created the untapped urban apparel space and laid the groundwork for other companies to compete in this newly established market.
Daymond grew up in the community of Hollis, Queens, quickly becoming known as the birthplace of the new genre of music called Hip-Hop, with acts like RUN DMC and Salt-N-Peppa rapidly making names for themselves. Being surrounded in this influential neighborhood helped spur the inspiration for his clothing line that would ultimately change the fashion world.
His first foray into the apparel market came when he wanted a tie-top hat he had seen in a popular music video but could not find one for a good price. With the sewing skills he had learned from his mother, Daymond started making the hats for himself and his friends. Realizing he was on to something, Daymond made a sizeable order of the tie-top hats, sold them on the streets of Queens, and FUBU was born.
In 2009, John joined the cast of the ABC entrepreneurial business show, Shark Tank, produced by acclaimed TV producer Mark Burnett. As one of the "Sharks", Daymond and four other prominent executives listen to business pitches from everyday people hoping to launch their company or product to new heights. Investing his own money in every project, Daymond becomes partners with the entrepreneurs helping turn their dreams into a reality. Millions of viewers tune into the show as Daymond demonstrates his marketing prowess and entrepreneurial insights.
Due to the increasing amount of requests from major companies, Shark Branding was formed to provide companies with the marketing insights that have made Daymond's companies successful over the years. The firm consults companies on innovative strategies to connect with their consumers more effectively by associating with the world's most influential celebrities, musicians, and personalities. Whether it's activating a celebrity endorsement or integrating product in a music video, companies rely on Shark Branding to utilize Daymond's contacts and relationships to produce real results and sales.
In recognition of his contributions to fashion and the face of American business, Daymond has been celebrated with some of the most prestigious awards including: Brandweek Marketer of the Year, the Advertising Age Marketing 1000 Award for Outstanding Ad Campaign, Crain's Business of New York Forty Under Forty Award, and Ernst & Young's New York Entrepreneur of the Year Award.
Program Descriptions
Goals and Motivation
In this keynote, presented in his charismatic style, "The Shark" Daymond John takes audience members on an inspiring, emotional rollercoaster ride. They will hear, first-hand, how a man, with no formal business training whatsoever, went from driving cabs and waiting tables to creating a global fashion empire with retail sales exceeding four billion dollars to date and a starring role on ABC's hit reality business show, Shark Tank. Daymond entertains and awes audience members with true-life tales of his incredible successes and numerous failures. Equally as important, he motivates, inspires, and teaches them how to set their own goals and go after them with new found focus and determination.

Branding and Marketing
When William Shakespeare said, "All the world's a stage", he was indirectly talking about branding! This informative keynote is like nothing else on the market. Sure, there are other speakers that may explain how to market and brand a product, but how many explain, step-by-step, how to brand yourself and transfer that power into your job, company or product? Do you realize that you are a brand? According to The Shark, you were branded the day you were born and continuously every second since!

Negotiation Strategies for Women
Women - You have more power than you may think! Although "The Shark" Daymond John is one of the most recognized negotiators on network television and has conducted hundreds of negotiations with both men and women throughout his twenty years in business, he never planned on speaking on negotiation strategies for women. That is until California!s First Lady, Maria Shriver, called upon him to speak on this very topic for her annual Women!s Conference. Feeling a bit out of his realm and comfort zone "The Shark" Daymond John immersed himself into researching what, if any, differences existed between how men and women negotiate with each other. In this keynote, Daymond shares what he discovered in his research and personal experiences over the years. His findings will have audience members sitting up and taking notes! According to The Shark, not only do women have several distinct advantages over men when negotiating – in both professional