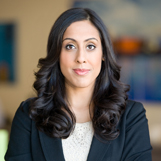 Fee Range:

$15,001-$20,000




Traveling From:

New York


Check Availability
Submit your request or call us at 1-800-345-5607
We guarantee a response time of one business day, or sooner.
Erica Dhawan

Leadership and Connectional Intelligence Expert
Why Book Erica Dhawan?
Erica improves a business's workforce by encouraging their creativity, communication skills, business strategy, and career lifestyle
Biography of Erica Dhawan
Erica is on a mission to advise organizations and leaders to accelerate the connectedness of your workforce, become masters of connectional intelligence, "spar" in order to reach your goals more quickly, and prepare your global workforce for the future. Through Erica's keynote speeches and interactive presentations she'll do just that.

Equal parts business strategist, motivational speaker and innovation expert, her speaking style is personal, fresh, humor-laden and energetic. Erica is a gifted presenter who is able to read a room, customize her approach and style accordingly, and draw audiences in with her storytelling and pragmatic solutions to your organization's most pressing challenges, setting her apart from anyone else you've heard.

She is the co-author of the new book: Get Big Things Done: The Power of Connectional Intelligence. As a research fellow at Harvard's Center for Public Leadership, she studied connectional intelligence as a key leadership skill for the 21st century backed by case studies across nearly every industry. Her speeches are tailored to any audience and industry from frontline managers to senior executives to the whole organization.

Erica speaks on global stages ranging from the World Economic Forum at Davos to companies such as Fedex, Pepsico, Deloitte and McGraw Hill Financial. Erica writes for Harvard Business Review, Forbes, Fast Company and the Huffington Post. She serves as a board member to Deloitte's Inclusion External Advisory Council. She is a member of the Young Entrepreneur Council, Aspen Institute Socrates Society, and World Economic Forum Global Shapers. Previously, she worked at Lehman Brothers and Barclays Capital. She has a MPA from Harvard University, a MBA from MIT Sloan, and a BS in Economics from The Wharton School.
Program Descriptions
Get Big Things Done: Unleash your Connectional Intelligence
We typically associate success and leadership with smarts, passion and luck. But in today's hypercompetitive world, even those gifts aren't enough. Strategist Erica Dhawan argues that the game changer is a thoroughly modern skill called Connectional Intelligence (CxQ). Virtually anyone can maximize his or her potential, and achieve breakthrough performance, by developing this crucial ability.

So, what is it? Connectional Intelligence is the ability to combine knowledge, ambition and human capital, forging connections on a global scale that create unprecedented value and meaning. As radical a concept as Emotional Intelligence was in the 90s, Connectional Intelligence is helping people enlist supporters, accelerate innovation, develop strategies, and sustain solutions to big problems.

This dynamic keynote will help employees understand the practice of using connectional intelligence as the key to professional success and leadership in the 21st century. Attendees will learn from real-life stories and leave with an action plan to become a power player in your organization. Learning outcomes include:
How anyone can excel not just through skills and smarts, but through Connectional Intelligence
Keys to leveraging your networks and connections, and creating contagious positive results
Successful tactics used to address connectional overload and in changing turbulent times
How leaders create deep connections of fierce loyalty and respect from their team and customers
How connectionally intelligent leaders outperform the competition and create remarkable 
results 

Now it's your turn to leverage the secrets of the people using connectional intelligence. It's your turn to "Get Your Big Things Done." You'll be surprised at just how easy it is.

How to Build a Connectionally Intelligent Organization:
Connectional Intelligence (CxQ) helps organizations accelerate and sustain the capability to drive breakthrough innovation and results by harnessing the power of relationships and networks. In our new world of an embedded digital, global infrastructure that connects all of our lives, the power of connectional intelligence holds exponential and previously untapped potential for breakthroughs in ways we can barely begin to imagine in the workplace. To harness CxQ, we have to work with the future workforce differently – because they are ahead of the rest of us in harnessing connective capacity.

In this keynote, Erica Dhawan shares insights into how leaders can bring out the connectional intelligence of your employees and utilize the talents that different silos, cultures, and generations all bring to the table. This is a powerful, interactive presentation for leaders who seek to breakthrough generational friction, drive innovation, shift company culture and transform the untapped connectional intelligence of your entire workforce.

Learning Objectives:
Understand the resources each employee brings to the workplace
Decode the connectional capacity of each generation and culture and use that knowledge to significantly improve innovation
Transform workforce conflicts into growth points
Create processes designed to maximize the ability to connect people, ideas, and resources for breakthrough results

How to Maximize Value from Millennials:
Millennials are the rising generation in the workforce today. Millennials expert Erica Dhawan reveals the #1 key to determining their workplace performance: Connectional Intelligence. For millennials, engagement with different kinds of connection is not just about social media – it's embedded in all aspects of their daily life and work. This engagement enables them to realize exponential results from Connectional Intelligence (CxQ) leading them to drive growth, streamline costs and improve the overall performance of your business. The way to acquire, engage and retain top millennial talent to generate fast results is to stop with the play and perks. Instead, put their fundamentally different, powerful, radical, and disruptive Connectional Intelligence to work.

This presentation and/or workshop will decode the millennials' employment mindset, reveal how to maximize millennials recruitment, retention and performance, and offers specific actions to unleash your millennials' Connectional Intelligence.

Other Presentations:

Preparring for the Global Workforce

Marketing to Millennials