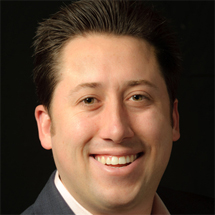 Aaron McDaniel
Author, Entrepreneur, Generational Dynamics Expert
Traveling From
California
X
Program Descriptions
Maximize your Gen Y ROI: Empowering your Millennial Workforce
Understand who Millennials are and how did they get that way?
Become of how to empower your Millennial workforce and what to avoid
Learn how to improve the return on investment (ROI) you get from the time and training resources put into young employees, improving retention
Gain insights into how you can revamp your employee engagement methods to appeal to and leverage the best traits of Millennials staff

The Future of Customer Engagement: Delighting your Millennial Customers
Who are Millennials, what makes them different and how did they get that way?
How to make your organization's product/service irresistible to Millennials
Master techniques to leverage your Millennial customer base to drive innovation and your organization's future vision

Succession Planning: How to prepare the future Millennial Leaders of Your Organization
Discover how to identify and nurture top Millennial talent a midst key differences in how generations view work
Learn key tactics to keep high performing Millennials engaged over extended periods of time
Gain strategies to remove obstacles and maximize the value high performers provide

Intrapreneurship: Fostering Innovation within Your Organization
Develop the mindset that will help you cut through corporate red tape, build necessary allies and get buy-in for your ideas
Implement proven frameworks that successful professionals have used to get promoted faster and have a bigger impact on their organization no matter its size

Work-Life Integration: How Technology & Generational Differences Shape the Workplace of Today & Tomorrow
Why the traditional concept of work is quickly changing and what we can do about it
Learn practical tactics of how to leverage technology to be more efficient and productive
Master key strategies to help you spend more time on what you care most about, both at work and in your personal life
Aaron McDaniel is a corporate manager, speaker and author with a passion for helping organizations better engage their Millennial customers and empower their Millennial employees. Aaron pairs his multi-generational teamwork expertise with strong corporate experience, having been in leadership and management roles for nearly a decade. At the age of 27, Aaron became the youngest ever to serve as Regional Vice President at AT&T, a Fortune Global 100 company, leading an organization of over 60 people. Aaron was a graduate of AT&T's flagship MBA-only Leadership Development Program (as an Undergraduate), and was part of AT&T's Diamond Club, being part of the Top 1% of sales leaders worldwide. Aaron taught a highly rated course on leadership at the Haas School of Business at UC Berkeley as a student and recently started teaching at UC Berkeley again, joining as one of the youngest faculty members. Aaron has also built many successful ventures including three that were acquired (Access Invest, the nation's largest mobile alternative investment aggregator, acquired in 2016, Tycoon, the first real estate crowdfunding platform to be acquired in 2015 & Pong360, an e-commerce portal targeting Millennials, acquired in 2012).

Aaron is the author of The Young Professional's Guide to the Working World (an international top 10 listed book printed in multiple languages, with a foreword by New York Times Bestseller Marshall Goldsmith) and The Young Professional's Guide to Managing (foreword by co-author of The Leadership Challenge, Jim Kouzes) and has been written about in Forbes, Inc., Bloomberg BusinessWeek and US News & World Report. He has also been heard on CBS Radio & NPR, seen on ABC's Shark Tank and has spoken to groups of executives & young professionals at top companies and organizations like The Ritz-Carlton Leadership Academy, Deloitte Consulting, Wells Fargo, UnitedHealth Group and many more.