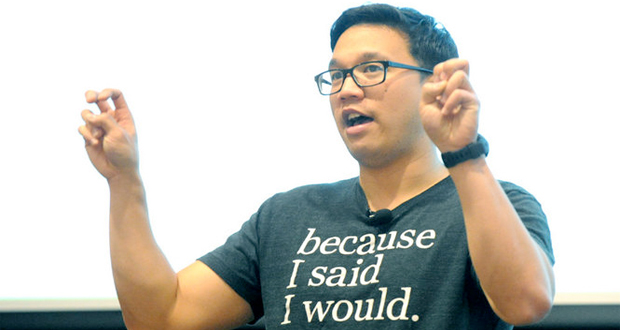 Alex Sheen
Founder of Because I Said I Would
X
Program Descriptions
Accountability in the Workplace
Alex uses this professional experience to craft speeches that are meaningful to a diverse corporate audience. Whether it is a management training session or an annual meeting, Alex will work with you to ensure that the importance of a commitment resonates with your team.

Outcomes:
Boost in employee morale
Increased goal attainment rates
Restored culture of accountability

Keynote Deliverables
Alex will deliver a keynote presentation about the importance of honoring the commitments and goals we set as individuals and professionals. He will include moving and emotional stories that have been shared with him through because I said I would. Alex will also speak to his personal experiences in leading the social movement. The keynote will end with a strong call-to-action activity that incorporates promise cards and the goals of the audience as individuals and teams.


Two hours of planning and preparation through video conference
One-hour "meet and greet" session
Up to a one-hour keynote
Thirty-minute "question and answer" session
One-hour executive discussion regarding accountability in the workplace
Ten Promise Cards and instructions for each audience member
One Promise Wall for every 50 audience members

The Life of a Promise Program
It's not about making a better employee. It's not about making a better manager. It's about making a better human.

As one of the foremost expert on promises, Alex has combined research and philosophy with tactical and actionable steps to help people become more committed. This leadership workshop is interactive and thought provoking that will give individuals the necessary tools needed to be a person of their word, by learning how promises are made, kept or broken, and most importantly why.

We have created a program that builds individuals who lead by example. Our work isn't about profit margins, products and quotas. This is a different type of experience. In this program, your team will be exposed to the ideas, concepts and actionable advice that leads to positive change through the importance of a promise. Our mission is to strengthen humanity's will.
Why Book Alex Sheen?


Because I said I would is a social movement and nonprofit dedicated to the betterment of humanity through promises made and kept. Their goal is to build a community of people who are driven to help others through the strength of determination.
Alex Sheen's father died of small cell lung cancer on September 4, 2012. His father was good with his promises, so Sheen titled his father's eulogy "because I said I would" and created the promise card in his memory. Eventually, he would decide to resign from his corporate position in order to advance Because I said I would's mission.

Sheen now works to better humanity through the importance of a promise in what little ways he can. It started by waking up early before going to work and handwriting letters to people thanking them for requesting promise cards. This dedication continued to develop as he began fulfilling charitable promises. These promises include getting 100 tickets to Disneyland for children with cancer and walking 245 miles across the entire state of Ohio in 10 days to raise awareness for the victims of sexual violence (a promise he made to Amanda Berry, Gina DeJesus and Michelle Knight). Sheen now gives speeches on behalf of because I said I would in order to fund the work of this nonprofit organization.

Sheen was born in Toledo, Ohio, and was raised in Powell, Ohio. He graduated from Olentangy High School in 2003 and continued his academic career at Ohio University as a proud Bobcat, where he received his Bachelor of Business Administration degree in Marketing. In 2007, Sheen moved to Lakewood, Ohio, where he currently resides with his incredibly adorable dog, Kimchi. He was a corporate strategy lead at Hyland Software until March 2013.

Alex's first book - because I said I would. is scheduled for wide-release in January 2019, with pre-orders shipping in December 2018.
Books

because I said I would.