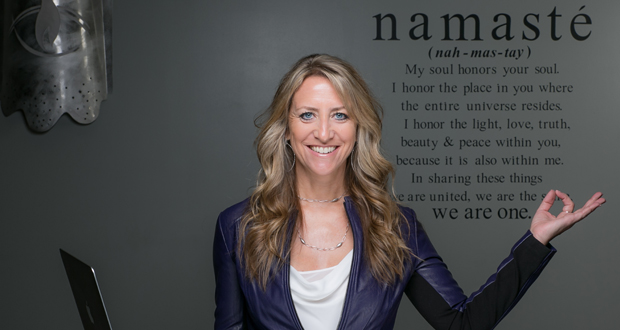 Amy Vetter
Your Yin & Yang Business Keynote Speaker
X
Program Descriptions
Business, Balance & Bliss®: How B3 Method Can Transform Your Career and Life
Learn how to kindle the spark you desire for your career and business by aligning your authentic self and inner talents with the work you do. Gain the inspiration and tools to create your own sense of work-life harmony, cultivate greater human connection with your customers, teams and colleagues, and practice mindfulness at work— both online and offline— for greater focus and productivity.

Disconnect to Connect: Tap Into the Power Within You to Design the Life You Desire
Do you notice that you receive similar feedback in each job you have, with each boss you report to, and with family and friends? It is rare for us to step back and take time to re ect on ourselves and explore the reasons why certain patterns show up in our lives. By embarking on this journey, you will learn actionable steps to break those habits, create more compassion for yourself and others, be more mindful as a leader, and improve your communication in order to better connect to the power within you to design the life you desire.

Women's Empowerment: The Power of Supportive Women's Networks
Creating a supportive network of women can be one of the most important ingredients for career success. Learn how to create and nurture a supportive women's network, the power of bringing other women along on your career journey, and how to be more mindful in supporting women who inspire you.

Mindful Technology: Embracing Technology, Innovation and Mindfulness to Create Greater Human Connections
Embracing technology, such as cloud technology, arti cial intelligence, and machine learning, will not isolate people or make us irrelevant as some fear. Instead, when used correctly and ethically, technology can empower leaders and employees to create stronger business relationships. Learn how to leverage technology to tap back into your purpose and creativity, become more mindful and empathetic as leaders and communicators, and create a greater sense of work-life harmony.

Becoming a Cherished Advisor®: The Soft Skills Needed to Create Greater Human Connection
With technology's gift of more time, we can di erentiate our services by learning how to improve our communication and analytical skills. When we clearly communicate the meaning of information and data in a way that helps our organization succeed and thrive, we can earn a seat at the table when decisions are being made, rather than nding out after the fact. Becoming a Cherished Advisor means that you are considered a strategic partner that your company highly values and can't imagine living without.
What can you expect from a CPA and Yogi, who is an expert on Technology Innovation?

A unique experience based on a life-changing formula — the B3 Method® for Business + Balance = Bliss — that inspires professionals to live a more fulfilled, engaged and connected life. With Amy as their guide, everyone in your audience —from the creative to the scientifically- minded and numbers types— will feel inspired to incorporate mindfulness and ethical technology practices into their work and lives for greater human connection.

Amy is a dynamic mix of yin and yang. Based on her own soul searching, and thousands of hours helping business leaders be successful, Amy will inspire your audience to identify their purpose in life and align it with the work they do.

Her talks will help your audience and happiness by overcoming unhealthy work- around-the-clock habits and reduce reliance on technology to better connect with the people around them.