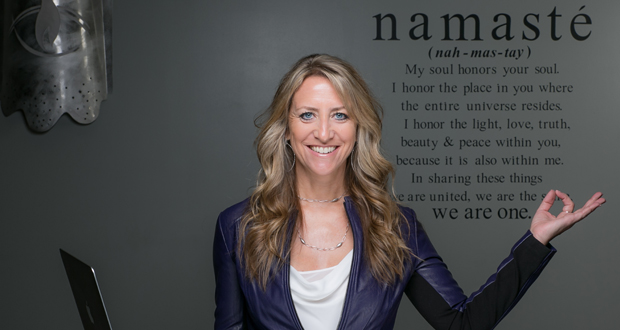 Amy Vetter
Your Yin & Yang Business Keynote Speaker
X
Program Descriptions
Business, Balance & Bliss®: How the B3 Method® Can Transform Your Career and Life
Do you find that your work and daily life can become mechanical or routine? In this session you will uncover how to either rekindle or discover the spark you desire in your career and life. Based on Amy Vetter's book, Business, Balance & Bliss: How the B3 Method Can Transform Your Career and Life, you will learn valuable insights and tips, backed by scientific research, on how to align your authentic self with the work you do. Expect to come away with the tools and inspiration to: create your own sense of work-life harmony®, uncover your inner talents and passions, learn to be more present and productive at work and home, and gain an understanding of how to develop the technology practices (and boundaries) to put in place to lead a more mindful, connected and fulfilled life.

Learning Objectives:
Learn how to eliminate the stress of trying to achieve work-life balance, by instead creating work-life harmony;
Discover your inner talents and passions and align them with the work you do;
Integrate mindfulness into how you work yourself and with your teams;
Develop healthy technology practices for better human connection;
Become a more empathetic, authentic leader and colleague; and,
Build long-lasting prosperous business relationships. Mindful Technology: Embracing Technology, Innovation and Mindfulness to Create Greater Human Connections
Embracing new technology, will not isolate people or make us irrelevant as some fear. Instead, when used correctly and ethically, technology can empower leaders and employees to create stronger business relationships. Learn how to leverage technology to tap back into your purpose and creativity, become more mindful and empathetic as leaders and communicators, and create a greater sense of work-life harmony.

In this presentation, you will:


Unlearn the routines of the past by embracing technology and learning how it's currently being incorporated and connecting people in business and improving company culture
Tap into self discovery and mindfulness techniques to feel more fulfilled in the work you do
Learn how to let technology do the heavy lifting so you can dedicate more time to developing the soft skills necessary to create a collaborative and lasting relationship with your employees and your customers

The Power of Supportive Women's Networks
Having a supportive network of women in your career can be one of the most important ingredients to your success. Like many young women, Amy believed that she would have the same opportunities as men in the workplace, but as she moved up the corporate ladder, she noticed more and more women were not alongside her. During this session, Amy will share research and lessons learned from her own experience, and that from women she admires, on how to grow and learn at any stage of your career to achieve your goals. No matter if you're advanced in your career or just starting out, you will learn why it's important for women to bring each other along on their professional journeys, and how to be more mindful in supporting and aligning with women who inspire you. To further support you in your career journey, you will learn powerful tools on how to discover and align your authentic self and inner talents with the work you do to create a greater sense of work-life harmony.

Learning objectives:
How to create and nurture a supportive women's network;
Why it's important to manage up, not just down; and,
The power of finding or being a sponsor, not just a mentor.
The steps to create a greater sense of work-life harmony.
How to discover and align your authentic self and inner talents with the work you do.

Practicing Mindfulness in the Workplace for Greater Success and Human Connection (Half Day Workshop)
Do you find yourself distracted at work and at home? Do you fear that you are not working to your full potential with your team or as a leader because of workplace misunderstandings? Are you empathetic as a leader and seek to understand others' perspectives?

In this session, we will take a deep dive into understanding where we are off balance in our lives both at work and home and how this affects the experience we create with others. Many of us can feel that we are technically up to speed in what we do; however, we are not living up to our full potential as a leader or co-worker because we lack the skills to mindfully interact with one another. Mindfulness is the practice of being aware of what is happening around us and finding common ground with those we work with and care about so we can create better results in business and life. Gaining a better understanding and identifying where we are off balance internally can help us show up better for those around us, be a more successful leader and feel more engaged as an employee.

This session will entail presentation and many interactive exercises to help attendees gain a better understanding of what areas they need to focus on personally and skills to better communicate and be present with those at work and personally.

Becoming a Cherished Advisor®: The Soft Skills Needed to Create Greater Human Connections
As financial professionals, we strive to improve our company's business with the financial information we provide. Yet many of us still spend the majority of our time entering data and meeting deadlines, which doesn't leave enough time in our day to advise departments within our organizations on how to improve their financial results at a holistic level. With technology's gift of more time, we can learn to create the value our companies want from us by clearly communicating the meaning of financial data in a way that helps each department succeed and thrive so we can earn a seat at the table when decisions are being made. As a Cherished Advisor, you become a strategic partner that the business appreciates, highly values and can't imagine living without.

Learning Objectives:
Explore how to re-tool to create a differentiated experience with other departments and develop the soft skills needed to build collaborative, relationships;
Learn how to create value by going beyond the numbers by telling the story behind them to help department leaders make informed business decisions;
Become an integral part of a department's real-time decision-making processes, in a proactive, rather than reactive way; and,
Gain an understanding of the mindset shift and skills needed to become better connected to your internal team, and be considered a "Cherished Advisor" by the departments and people you work with at your company.

Becoming a Cherished Advisor®: Utilizing AI and Machine Learning to Create Human Connections with Your Team and Clients
Artificial intelligence, cloud technology and machine learning have changed the way our clients manage their businesses and personal lives. In the financial industry, we strive to improve our clients' lives with the numbers we provide them. Yet, many of us still spend the majority of our time processing data in the traditional sense, rather than helping our clients understand how the numbers impact their business or life at a holistic level. With artificial intelligence, cloud technology and machine learning, much of the tasks of the past that we are used to doing will be reduced. However, the human side of the experience can never be replaced by technology, only enhanced. In this session, you will gain an understanding of the latest technology trends and how they will change the way you work with your clients, staff, and yourself. You will learn how to leverage technology's gift of more time to become a "Cherished Advisor" -- a highly-valued, strategic partner whom your clients can't imagine living without to meet their financial goals in business and life.

Learning Objectives:
Discover the latest trends for using AI, machine learning and cloud computing in life and work.
Understand how automation is transforming the accounting industry.
Learn how to see AI and machine learning as an opportunity to build long-lasting client relationships and grow your firm.
Learn new strategy and process considerations for your firm due to increased automation. Becoming a Cherished
Advisor®: The Technology, Process and Practice Management
New technology is changing the way your clients expect to work and manage their financials. To stay relevant to your clients, accounting professionals are retooling to launch into new services and will need to acquire new skill sets, one being that of a technologist. This session will discuss why it's important to not just implement technology to do things the same way you have always done them, but instead, rethink the business processes in your practice. By doing this, you can become more efficient, productive, collaborative and create an environment of purpose that your team and clients can rally around. Learn to define your "why" and how to select a vertical niche, assess the right technology to align to your mission as a practice, and explore other ways to re-engineer your business processes. You will come away with an understanding of how technology's gift of more time gives you the opportunity to become "Cherished Advisors" -- highly valued, strategic partners who are an integral part of their client's businesses and whom their clients can't imagine living without.

In this session, attendees will gain an understanding of:


How to identify your purpose as a firm;
Understand the "Cherished Advisor" journey and the different stages of innovation for your practice;
The path to specializing in vertical industries;
Creating a technology strategy and how to assess the right technology fit for your practice; and,
Re-engineering your business processes to take full advantage of the technology implemented in your firm and create new ways of collaboration with your team and clients.

Futuristic Audit Trends: The Future is Now
Cloud technology, AI, Machine Learning and Blockchain is upon us in the accounting profession. The data entry and non-value added tasks continue to decline as automation increases. This technology enables clients to keep their books up to date in real-time and better understand the effect of the financials on their business. As an auditor, it's time to learn how to take advantage of this technology to streamline your workflow and utilize remote applications to eliminate the amount of time you have to physically visit a client site. At the same time, it's important to know how to utilize ecosystem applications to speed up the non-value added time in an audit to create more profitable engagements and a better work environment for your teams.

Learning Objectives:
Discuss trends happening currently that will impact the future of accounting and auditing, such as artificial intelligence, blockchain, cloud computing, and more.

Have a better understanding of what Cloud Advisory services are and how an audit practice can use these practitioners to their advantage.

Analyze next steps for audit firms to avoid being disrupted and to be the disruptor by better utilizing remote technology and technologic innovations to create more efficient engagements. Becoming a Cherished Advisor®: Create Your Transformation Roadmap (Full Day Business Planning Workshop)

This full day program is designed for owners and managers of accounting practices to help them build a plan to successfully grow their practice by transforming their technology, processes and and the way they manage their practices. The program is a one-day workshop where success requires being interactive and collaborative throughout the day and a significant time commitment after the event to follow through on the business plan created. Firms that successfully complete this program will create a business plan for the next 12 months to set the foundation for accelerating the transformation and future growth of their practice.
The MINDFUL TECHNOLOGIST™ and Creator of the B3 Method® for Business, Balance and Bliss

What can you expect from a CPA, Yogi, and Technologist?

A dynamic experience based on a magic formula —the B3 Method®— that guides business professionals to create a happier, more engaged, and successful life at work and home. With Amy as their guide, your audience will learn the secret to Business, Balance & Bliss®. They will learn how to create work-life harmony®, be more focused and productive, and cultivate prosperous business relationships through the practice of mindfulness, authentic leadership, and technology innovation. Amy is a unique mix of yin and yang. She's a:


CPA and Yoga instructor/Studio owner
Technology Business Executive
Audience Choice Award Winner for her TEDx Talk "Disconnect to Connect"
One of the Most Powerful Women in the Accounting Profession (2018, 2017, 2016), Top 100 Most Influential People in the Accounting Profession (2017, 2016, 2015)
Author of Two Books: Business Balance & Bliss and Integrative Advisory Services

Sounds like she has it all figured out, right? Like many of you, what we see, is not always the full story...

Growing up, Amy's family came upon sudden financial difficulties. Her life changed overnight, and by the age of 16, she was working three jobs to cover daily expenses and eventually pay for college.

Throughout these challenging times, Amy innately knew that the only way out was to eventually have a financially stable career so she could better control the outcomes in her life -- so she became a CPA.

Amy dove headfirst into her career. She woke up early to go into the office, stayed late to make sure no client email or voice message went unanswered, and then woke up the next day to do it all over again. Many clients often joked that she would reply to their emails before they even sent them because of how rapidly she responded to their emails.

In her early thirties, it all came to a head when she came down with an illness after her pregnancy. As she recovered back to health, she had an inner crisis where she no longer felt fulfilled with all that she had accomplished in her career and began her journey of self discovery.

This pivotal moment eventually led Amy to create the B3 Method® —Business, Balance & Bliss— to provide actionable ways for others to learn from her experiences. Amy shares her transformational journey combining it with her technology and business experience, as well as the latest scientific research on the brain.

With Amy's B3 Method®, your audience will come away with the tools to identify their personal purpose and align it with the work they do, break unhealthy work-around-the-clock habits, and properly balance the benefits of technology without letting it take over their lives.