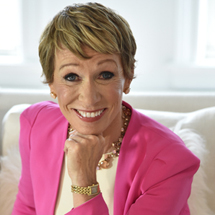 Barbara Corcoran
Real Estate Mogul & Shark Tank Investor
X
Program Descriptions
Barbara's Rags to Riches Story
Barbara tells the story of how, armed with a loan from her boyfriend and her own gritty determination, she quit her job as a waitress to start a tiny real estate company in New York City and turned that company into a multi-billion dollar business. A highly motivational and hugely entertaining success story with the big life lessons Barbara learned along the way.

10 Ways To Lead Your Team To Greatness
Barbara Corcoran, who built The Corcoran Group, New York's largest real estate company, is an expert in the art of leading a team to success. From hiring the right people and firing the wrong ones, establishing an atmosphere that breeds innovation, persisting when all the chips are down and creating fun in the workplace, Barbara shares her unique and winning strategies.

10 Ways To Build a Powerful Brand
Branding may be the single most important key to success in today's highly competitive world of commerce. Barbara Corcoran reveals easy to follow tips on how to create an image much bigger than reality; how to use the press to get free publicity; how to turn yourself into the go-to expert in your field. Barbara shares her personal advice, insights and anecdotes on creating a powerful brand.
Why Book Barbara Corcoran?


Her inspirational "rags to riches" story reveals how she built the most successful real estate brand in New York City.
She speaks passionately on the art of leading a team to success and the importance of innovation in business.
As a speaker and a Shark Tank investor, Barbara imparts her front-lines experience and infectious energy to each person with whom she shares her knowledge.
Barbara Corcoran is the Founder of Corcoran Group and the Chairman of Barbara Corcoran, Inc. Her credentials include straight D's in high school and college and twenty jobs by the time she turned twenty-three. It was her next job, however, that would make her one of the most successful entrepreneurs in the country, when she borrowed $1,000 and quit her job as a waitress to start a tiny real estate company in New York City. Over the next twenty-five years, she'd parlay that $1,000 loan into a five-billion-dollar real estate business and the largest and best-known brand in the business.

Barbara is the real estate contributor for NBC's TODAY Show where she comments weekly on trends in the real estate market. Barbara is an investor/shark on ABC's reality hit Shark Tank, Fridays at 9pm. In the first season, Barbara bought eight young businesses which she's shepherding to success.

As a speaker, Ms. Corcoran brings her frontline experience and infectious energy to each person in the audience. They laugh, cry, and learn how to become more successful. Motivational, inspirational, and sometimes outrageous, her tell-it-like-it-is attitude is a refreshing approach to success.

Barbara Corcoran is the author of If You Don't Have Big Breasts, Put Ribbons on Your Pigtails, an unlikely business book that has become a national best-seller. She credits her struggles in school and her mother's kitchen-table wisdom for her innovation and huge success in the business world. The book is a fresh, frank look at how to succeed in life and business and is as heartwarming as it is smart and motivating.
Books