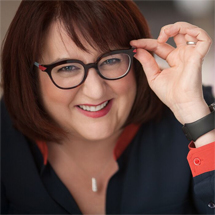 Beth Ziesenis
Your Nerdy Best Friend, Technology Expert.
X
Program Descriptions
A Day in the Life of a Nerdy Professional:

This laugh-filled keynote helps your attendees visualize a tech-filled day from sunrise to sunset.

Secret Tech Weapons:

Our most popular breakout! This session shares the nuts and bolts of tech tools to help your attendees live and work more efficiently.

29 Tech Tools to Create Cool Content for Social Media and Marketing:

Are your attendees struggling to create content for their pages and newsletters? This session has dozens of tips for better images and multimedia.

You Are Not Alone: Using AI to Help Your Business:

Artificial intelligence offers attendees the opportunity to grow their staff… without growing their payroll.

Nerds Unite! Tech Tool and App Exchange:

Interactive, interactive, interactive! This guided session gives attendees a chance to share their favorite tech tools with each other and get new ideas together.
Why Book Beth Ziesenis?
Your Nerdy Best Friend is not a traditional "Sage on the Stage." Beth engages attendees before her programs with funny, nerdy pictures, social media updates and serious buzz creation. During the program, attendees will love giveaways like the nerdy rubber ducks, knee-high nerd socks and much more. You'll also see games and group exercises to facilitate networking and collaboration, leading to shared laughs and new connections.


The author of four books, Beth keeps up with the latest technology to educate and entertain attendees with the fast-changing world of technology.


Beth speaks to groups of every size, from 10 people to 1000. Speaking to associations and corporations throughout North America, Beth entertains, enlightens and empowers attendees to embrace their inner nerds to become more efficient, more productive and definitely more nerdy.


Meet Beth Ziesenis, your own personal Nerdy Best Friend. Beth Z keeps up with all the new online applications and downloads that can help you look like you're working with a team of marketing, computer and productivity experts, even if you suffer from a shrinking staff and a disappearing budget.

Named an editor's pick for best speaker of 2013 by MeetingsNet and a Favorite Speaker by Meetings & Conventions magazine in 2014, Beth Ziesenis is an author, speaker, technology consultant and self-proclaimed nerd. Since her first Commodore 64 computer, Beth has been fascinated with technology and computer shortcuts that make people's lives easier. Beth helps computer users all over the country filter through thousands of apps, gadgets, widgets and doodads to find the perfect free and bargain technology tools for business and personal use through presentations and her books, including the latest title, Nerd Know-How: The 27+ Best Apps for Work and How to Use 'Em, available on Amazon.com.