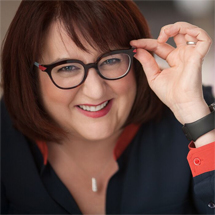 Beth Ziesenis
Your Nerdy Best Friend, Technology Expert.
X
Program Descriptions
29 Tech Tools to Create Cool Content for Social Media Marketing
The most popular posts on social media are pictures and videos, and with a few easy (and free!) tech tools, you can transform your messages into share-worthy graphics that will put your organization out in front. This action-packed session will give you dozens of sites and apps that will help you elevate the quality of your social media posts and other material.

Takeaways
Make professional-level multimedia pieces in less than two minutes
Add depth and interest to your boring social media posts
Transform ordinary photos into works of art
Create infographics for little or no cost!

Features
A favorite breakout!
Flexible program length... from 45-90 minutes
Great for audiences who are interested in sales and marketing
Customized topics for your attendees' needs
BONUS: Enhanced hands-on learning opportunities with a longer session

90 Days to Better Tech
You know you need to organize your digital life, but where do you start? And what's most important?

Let Your Nerdy Best Friend guide you through an assessment of your cloud-based organizational tools, email systems, privacy controls and more to recognize and repair tech challenges that keep you from being productive.

Takeaways
Evaluate your most pressing tech problems and identify the most critical areas for improvement
Leave with a 90-day plan with actionable items and ideas
Learn best practices for privacy, organization, security and more
Laugh and learn with both practical advice and concrete takeaways

Features
Perfect for a half-day workshop that gives participants tangible takeaways
Includes a workbook for participants to evaluate their present tech problems then develop a plan for the next steps
Helpful for professionals who need to discover the tech that will truly help them and keep them safer online

A Day in the Life of a Nerdy Professional
So many apps... so little time. How can you put the technology at your fingertips together to make your life easier at work and home? This fast-moving, laugh-filled session takes you hour by hour through a day in the life of a tech-savvy professional. You'll learn how a professional nerd solves a security crisis before 10 a.m., learns to make more of a lunch hour with an extra set of virtual hands, saves money on software before the staff meeting and brings the team together online before the day is done.

Takeaways
Understand how technology fits into every part of your day
Learn about technology systems that streamline projects and tasks
Get a vision for how the technology in your toolbox can work together

Features
Most popular keynote session
Customizable for 45-90-minute programs
Great for audiences of all tech levels
Focuses on both "wow" technology and practical tools
Works well with other sessions with no content overlap

All Phones on Deck: Hands-On Experiences with Mind-Blowing Technology
It's one thing to hear about the latest advancements in technology... but it's a completely different experience when you see it with your own eyes. Join Your Nerdy Best Friend for a hands-on session with augmented reality technology that you can start using now at work and home.

Takeaways
Phones on! Try your hand at augmented reality tools for translation, measuring, marketing and more
Learn about augmented applications for your industry and others
Discuss the use of AR for your business for today and in the future features
Perfect for smaller groups of less than 50
Interactive, creative session with lots of "wow" technology
Great for networking and brainstorming with the discussion format

Productivity Brain Breaks: A Facilitated White Space
A jam-packed conference like this one can lead to learning overload... time to take a Brain Break!

Join your peers for a mini-lesson on a proven productivity technique, then put the technique into action during this facilitated white space. It's the session you need to absorb what you've learned in the past couple of days.

Takeaways
Understand the Pomodoro Technique and the tech tools that make it happen
Immediately put the technique into action with a real-time productivity session
Discover for yourself the benefits of the productivity technique
Leave with more tools for a lifetime of productivity

Features
An innovative (never-before seen!) session designed to help participants process the ideas from the conference
Opportunities for peer-to-peer insights on new productivity techniques
Designed to be scheduled towards the end of the conference
Dual takeaways: A proven technique for productivity they can use forever plus real progress on their most pressing tasks or needs

#CreepyButHelpful: Futuristic Tech Tools that Increase Your Productivity TODAY
Sometimes we feel like we need a clone to help us carry out everything we have to do for our organization. Today's cutting-edge technology can act as your invisible staff, handling tasks and challenges that overwhelm your to-do lists. This session introduces you to awe-inspiring but affordable tools that organize your tasks, set your appointments, make your travel plans, find time for your workouts, manage your personal budget and much, much more.

Takeaways
Discover cutting-edge tools that use artificial intelligence to take care of your tasks with less work from you
Understand artificial intelligence technology and how it can advance your career features
Perfect for a keynote session
Designed in a non-threatening way to help attendees understand artificial intelligence
Practical and interactive with personalized examples and lots of humor

Nerds Unite! Tech Tool and App Exchange
Your peers are the smartest nerds around! Many professionals have their favorite time- saving, productivity-increasing, rear-kicking technology secrets. This lively, interactive session gives you and your peers the opportunity to share and discover the best technology tools. Great for both tech newbies and experienced experts!

Takeaways
Discover the best app ideas from your colleagues
Discuss real solutions to your real technology challenges with peers who have solutions
BONUS: Leave the session with a list of the best ideas from your colleagues

Features
Great for breakouts, round tables and fireside chats
Works well as an add-on program for any of the other sessions
100% hands-on and interactive
Focused on networking and peer-to-peer learning
BONUS: This session comes in a self- guided, step-by-step kit!

Powered Productivity: Super Tech Tools to Get Stuff Done
Exasperated by email? Peeved about passwords? Tired of tedious tasks? You're not alone. Join Your Nerdy Best Friend, aka Author Beth Ziesenis, for a research-based look of common productivity problems, followed by the technology to solve them.

Discover how to use free and bargain technology tools you never knew existed to work more efficiently with your teams, get organized and finally get stuff done.

Takeaways
Discover low-cost, high-value apps and tech tools that you can start using right away
Learn great tech tips and app ideas from your colleagues
Get new ideas to increase efficiency, improve relationships and get things done!

Features
Interactive, interactive, INTERACTIVE!
Organized like a game where everyone plays and everyone wins
Popular as both a keynote or breakout session
Flexible program length... from a 45- minute keynote to a 3-hour workshop.
Research-based facts coupled with real- time tech solutions
Customized topics for your attendees' needs
Why Book Beth Ziesenis?
Your Nerdy Best Friend is not a traditional "Sage on the Stage." Beth engages attendees before her programs with funny, nerdy pictures, social media updates and serious buzz creation. During the program, attendees will love giveaways like the nerdy rubber ducks, knee-high nerd socks and much more. You'll also see games and group exercises to facilitate networking and collaboration, leading to shared laughs and new connections.


The author of four books, Beth keeps up with the latest technology to educate and entertain attendees with the fast-changing world of technology.


Beth speaks to groups of every size, from 10 people to 1000. Speaking to associations and corporations throughout North America, Beth entertains, enlightens and empowers attendees to embrace their inner nerds to become more efficient, more productive and definitely more nerdy.


Meet Your New Nerdy Best Friend…Beth Ziesenis: Author. Speaker. Nerd.

Although the only real trophy she ever won was for making perfect French fries at McDonald's in high school, Beth Z has been featured on Best Speaker lists by Meetings & Conventions magazine and MeetingsNet.

Since her first Commodore 64 computer, Beth has made a verb out of the word nerd. She helps computer users all over the country filter through thousands of apps, gadgets, widgets and doodads to find the perfect free and bargain technology tools for business and personal use through presentations and her books, including the latest title, Your Nerdy Best Friend's The Big Book of Apps, available on Amazon.com.