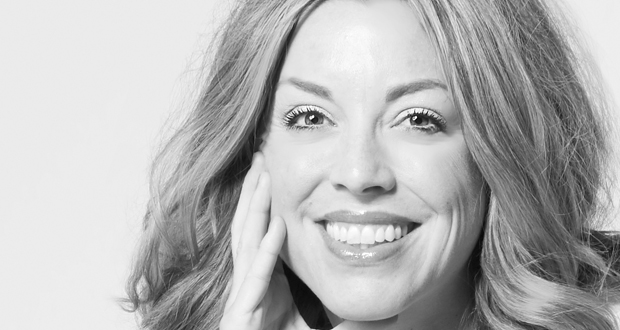 Candace Carnahan
Step Up Your Safety
X
Program Descriptions
THE FIRST STEP
Candace has learned what she believes to a crucial life lesson the hard way: 'The first step in not getting hurt is knowing that you can be.' She believes that avoiding needless injuries through day to day life and activities can be achieved just by simply realizing that the potential for injury exists.

Candace challenges the "invincibility factor" which, for her, is the most troubling hazard facing working youth – the belief that injuries won't happen to them. In her one hour presentation, Candace speaks about her typical life as a university student, working summers to pay for school in the fall, and how one step in the wrong direction changed the course of her life forever.

Candace's energy and enthusiasm is contagious, and through her many stories, she sends a message that reaches far beyond that of workplace health and safety. Candace encourages her audience to use their education, knowledge, experience, and awareness to expand on the importance of safety within their day to day lives. Candace inspires her audiences to 'stand up for safety' (both figuratively and literally) and to 'say something' when they 'see something.'

IT COULD HAPPEN TO YOU
Candace believes that "The first step in NOT getting injured is knowing that you CAN be."

Her unimaginable experience dispels the myth that we are invincible; what you don't know, in fact, can hurt you – lessons Candace learned the hard way.

Candace shares her very personal account about the day that changed her life forever, after suffering the loss of her lower left leg to an unguarded conveyor belt system.

With her ever present sense of humour and passion for her message she emphasizes that when an injury happens, there is rarely only one cause or contributing factor – emphasizing the countless opportunities to intervene in the name of safety.

In guiding audiences through her fateful day, she recounts her thoughts or 'distractions' and talks about her then subconscious belief that nothing "bad" could ever happen to her.

Candace's presentation focuses on identifying the many contributing factors (insufficient training, unguarded machinery, unsafe culture, etc.…) that led to her injury, while assuming responsibility for her own role in the incident.

Candace encourages people to take a leading role in their own health and safety! Encouraging them to embrace, and even celebrate, their right to an injury-free and healthy environment. Combating complacency, and encouraging people to "focus on focus!" are key components to Candace's message. Her story is a reminder that safety isn't 9-5 – rather, it's a state of mind, an attitude that we must carry with us throughout our day to day lives.

SEE SOMETHING. SAY SOMETHING!
We all know the right things to do to keep safe, so why aren't we doing them?

Candace has developed a plethora of mantras throughout her 17 years in the safety industry – but none are as powerful, effective, or as energizing as her call to action for her audience to 'SEE SOMETHING. SAY SOMETHING!'

By referencing the many contributing factors that led to her workplace incident, she ignites a desire in her audience to answer this call.

Candace uses her own experiences, and encourages her audience to join her by 'logging into life' and actively seek out situations where speaking up changes a life for the better.

Perhaps this is reminding someone to buckle up, or simply asking someone how they are doing.

Candace believes that it's the little things done on a day to day basis that facilitate huge changes. By reminding people that until we achieve ZERO injuries, we can each do 'one thing safer' – a challenge accepted by audiences around the world.

It takes 'Courage to care!' Speaking up isn't easy, and peer pressure isn't something we leave behind when we finish high school – it's a reality in our workplaces and can cause us to remain silent when our voices need to be heard. Candace encourages her audience to tap in to their "courage to care," and to act on it, with the realization that each and every day, we all have the capacity to change a life – or maybe even save one.

GUEST SPEAKER FEATURE: CANDACE AND PAUL KELLS
As a safety-minded leader, you understand that safety is a commitment that requires relentless dedication. Safety isn't 9 to 5 – it's an attitude. Safety is a way of life and rings true with the motto 'actions speak louder than words'. In other words, safety is a 'behavior'.

Changing cultures through shifting attitudes is a prominent theme that Candace and Paul Kells have shared with audiences across North America.

If you've invited Candace to share her story with your organization then you've heard her speak about her mentor and global safety culture expert, Paul Kells and his son, Sean, who died in a workplace explosion in 1994.

In each presentation Candace gives, she shares her inspiration behind having the 'courage to care' in an effort to inspire her audiences to do just that – a story told to her by Paul about his son, Sean. It embodies the transformative idea that we have the opportunity to save and change lives on a day to day basis through small actions.

'If you See Something. Say Something!'

The fact that Paul and Candace have personal stories, speaking styles, and lessons that perfectly align and will change the way your organization works isn't by chance – the pair began speaking together and sharing stages over a decade ago.

Candace and Paul have had the opportunity to work within industries and with clients who are leading the way in injury reduction and who believe that personal stories combined with engaging, interactive and educational components are a winning combination for a safer, healthier and happier workplace.

If your goal is to transform your organization – Candace and Paul can help! Get in touch to find out more about customizing a safety workshop that works for you.
Candace Carnahan uses her unique life lessons to inspire us to dismantle the roadblocks that hinder efficiency, while celebrating the attitudes and behaviors that promote success – whether personal or professional.

With irrepressible energy, she taps into her own experiences to inspire audiences to realize their full potential. Candace shares her belief that having the courage to care through standing up for others is a transformational concept – "If You See Something. Say Something".