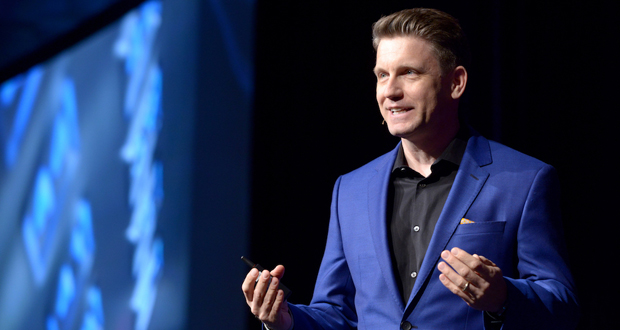 Chris Westfall
The New Rules of Engagement, Change the Conversation - with the US National Elevator Pitch Champion
X
Program Descriptions
Secrets of The NEW Elevator Pitch
When someone asks you, "So, why should I do business with you?" how do you respond? Learn how to engage, persuade and connect in new and more powerful ways - without "pitching" anything! Chris Westfall is the US National Elevator Pitch Champion, and his keynote can help you and your organization to be more influential - and more compelling - than ever before! Collaborate, connect and close the deal - with advice from the Champ!

BulletProof Branding
Branding isn't a part of your business - it IS your business. Designed for leaders seeking new guidance on how to connect and engage with the people that matter most: your customers. Take a fresh look at the strategies behind your brand - and learn how to make the connections that really matter. Going beyond social media, this keynote addresses the strategy behind your unique message. Whether you tweet it or tell it, your story has to be strong - learn how market leaders are creating greater connection, and influencing the conversation, in this highly-informative keynote.

Millennials: The New Rules of Engagement
A cross-generational National Elevator Pitch Champion. Working with the leaders of tomorrow at colleges and universities across North America, Chris Westfall provides proven principles (as well as case studies and scientific resources) on how to connect with the largest workplace demographic. Sell to Millennials more effectively, communicate more clearly, manage more precisely and retain more profitably - via fresh strategies that target Gen Y. From practical experience to practical application, this keynote will energize all generations!


Leadership Language
Find out what you haven't heard about leadership, in this myth-busting journey of new discovery – and new outcomes – for the leaders in your organization. Connect with the only language you need to know, in order to change your results. Engaging, personal and inspiring, this keynote shows your team how to tap into your leadership potential from the moment Chris Westfall begins speaking.

When you understand leadership language, you know how to:
Lead your team to greater results, with an unstoppable contagious energy
Elevate your customer relationships, and launch ideas with new impact
Overcome the challenge of change through greater understanding of how people think, connect and engage
Discover innovation, leadership and creativity on your own terms – and turn those concepts into a competitive advantage.

Leadership Language tackles the number one challenge facing your organization today: effective communication. We've got more ways than ever to connect – but are you making the connections that matter?

At the heart of every business issue, every new initiative and every customer service interaction is communication. Are you ready to change the conversation, and change your results?

With Chris Westfall's keynote, your employees, owners and team members will explore these powerful leadership communication questions:
What makes a leader effective, and why?
What's beyond psychology and personality, when it comes to leading others to new results?
Can anyone be a leader?
What's your vision, and how can you share it in a way that's compelling, engaging and actionable?
Finding lasting motivation: what's beyond "flow states" and getting "psyched up" that causes behaviors to really change?
How can you create an atmosphere of leadership, so that people want to work with you? Make your organization's culture your competitive advantage, with the language of leadership.
Why Book Chris Westfall?


In business, whoever tells the best story wins. For your career and your company, you owe it to yourself to communicate in a way that's persuasive. Clear. Concise. And authentic. For high-growth executives, sales leaders, communicators, innovators and entrepreneurs: turn your ideas into revenues, with a business coach who's been in your shoes.
How's your elevator pitch? Chris Westfall has created multi-million dollar revenue streams for companies on four continents, with innovative new strategies on leadership communication. As the US National Elevator Pitch Champion, he's coached clients onto Shark Tank, Shark Tank Australia and Dragon's Den, helped entrepreneurs to raise millions from investors, and successfully re-branded products and services around the globe. His keynote presentations help organizations to understand the new rules of engagement: an authentic persuasion that's not pushy, "sales-y" or fake.

He's the producer and co-host of The 118 Pitch Course with Bloomberg TV's Jeffrey Hayzlett, and an award-winning instructor at a top 10 MBA program. A coach to authors, television correspondents and executives, his strategies have helped raise over $30 million for student start-ups, launching over 50 businesses and creating hundreds of jobs.

Originally from Chicago, Chris resides in Houston, TX with his wife and two daughters, and is an avid supporter of the performing and visual arts.
Books