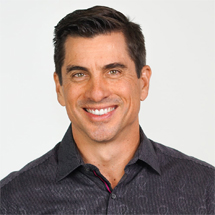 Dan Thurmon
The Speaker with VISUAL Impact
X
Program Descriptions
Off Balance On Purpose
A common challenge for organizations today is helping their employees bring more energy to work and not only embrace change but see it as an opportunity to lead. Dan Thurmon believes the reason that people struggle with change is they think they have to compartmentalize their life and keep everything in balance. What if we lived Off Balance on Purpose? What if instead of resisting uncertainty, we leaned into it? And what if rather than bringing our "work-self" to the office, we brought 100% of who we are?

In this keynote, Dan excites his audience with an interactive performance while giving them a multi-dimensional view of success. He doesn't stand Behind a podium and Talk about dealing with fear and change – he does handstands On the podium to Demonstrate what being uncomfortable and living off balance on purpose actually looks like. Your audience will talk about this presentation for years to come!

Off Balance on Purpose in Practice
Your people are your organization. When individuals perform well, the organization does too. For organizations to truly thrive, especially with a millennial workforce, they need to provide hands-on opportunities for personal development and create a culture of personal performance.

This workshop is interactive (each participant gets their own workbook), introspective and personal. After the course, participants will be equipped to better integrate all aspects of their life so each area is strengthened and fully developed. Participants will also take stock of what they should stop/start/continue and create an action plan for themselves. Enhancing personal performance is the new corporate strategy. Adding this workshop to Dan's keynote on the same day will reinforce and solidify this year's goals for your organization.

Perform - Ability
It isn't really possible to "always be at your best because every moment counts" - some moments count much more than others. That's why it's more important to be your best When It Matters The Most.

In this keynote, peak performance speaker Dan Thurmon explores the reasons why some individuals fail under pressure, and why others seem to naturally rise to handle critical moments with ease and excellence. This isn't an innate talent – it's an ability that can be learned and mastered. Dan calls it "Perform-Ability."

The key to being able to "perform," or deliver excellence when it matters the most, is to prepare properly and understand the mindset and methods of top performers. Dan demonstrates these concepts in his signature high-impact style that includes juggling, acrobatics, and even a unicycle. Audiences leave this unforgettable session armed with new tools and the enthusiasm to tackle their biggest challenges.
Why Book Dan Thurmon?


He delivers a unique and entertaining performance using comedy, juggling and acrobatics.
His emotionally-charged programs on embracing uncertainty and change provide meaningful content for any audience.
Dan Thurmon is the author of two books, a renowned speaker, and a recognized expert in delivering peak performances – on stage and in the workplace. As president of Motivation Works, Inc., he has worked with hundreds of clients and delivered thousands of presentations worldwide. Dan helps organizations and individuals implement actions plans and move confidently through transitions.

He began his performance career at eleven years old, crafting a one-man-show incorporating comedy, juggling and acrobatics. This enabled him to, at a very early age, develop a strong work ethic and learn fundamental lessons about performance excellence. Dan graduated from the University of Georgia with a degree in Marketing and Management. He has also extensively studied Personal Development and developed a unique methodology he teaches to audiences and clients.

A recent inductee to the prestigious "Speakers Hall of Fame," Dan Thurmon delivers experiences that go beyond motivation, teaching concepts and skills in a highly engaging and entertaining manner. He incorporates his lifelong performance skills to create high impact events. His programs have educated and uplifted Fortune 500 companies, young audiences, and even the troops on the front lines of Afghanistan and Iraq.

Dan's philosophy can be summarized by the title of his book, Off Balance On Purpose. He believes that we will never achieve "perfect balance" and should, instead, learn to embrace uncertainty and initiate positive changes that lead to growth. Also, we should go beyond the pursuit of "success" and enhance our life experiences and professional endeavors with purposeful, positive contributions.