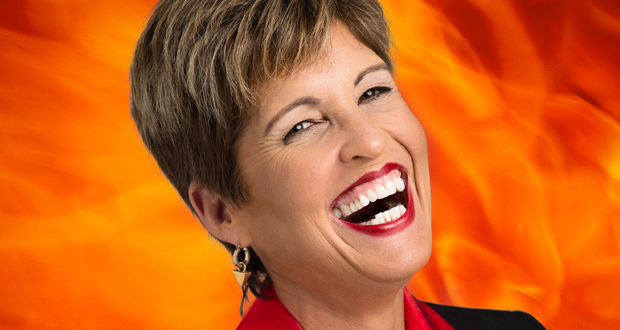 Denise Ryan
Motivational Speaker & Trainer
Traveling From
North Carolina
X
Program Descriptions
Great Balls of Fire! (Also called Keeping the Flame)
One of the greatest challenges we all face is keeping ourselves motivated. This is particularly difficult and extremely important with our fast-paced high responsibility jobs today. It's easy to lose enthusiasm and get burned out, stressed out, and finally – checked out. This high-energy session gives attendees six steps for getting the fire back in their lives professionally and personally. It's not just a motivational speech; it's a method attendees can apply long after the speech.

Motivation by Chocolate
This keynote features two things everyone likes – chocolate and motivation! It teaches nine key concepts to help participants get more out of work and life. They'll learn about persistence, passion, effective allocation of resources, the law of diminishing returns, and much more! The session includes a chocolate tasting to demonstrate not only how to appreciate chocolate, but also life itself. Give them chocolate and bring down the house!

Fire from the Islands
Attendees go on a trip to the island of St. Kitts for an adventure illustrating many of the challenges change can present. Concepts covered include the power of persistence, how easily we take things for granted, how little control we really have, and how to get out of your comfort zone. This is a great mini vacation loaded with vivid stories to help attendees learn to deal with the inevitable and the uncontrollable – change.

Networking like You Mean It (Or Wallflower No More!)
This session is a great addition to any meeting where attendees benefit by networking. Most people cite networking as important to them, but they have no idea how to do it and, to be honest, it scares them. Maybe worse, they are too overzealous and turn people off rather than build relationships. Filled with great stories and action steps, this speech gets listeners serious about their goals for networking and over their fears of networking. Ten tips for breaking the ice help even the committed wallflower blossom.
Telephone Customer Service
Sometimes the only interaction your customers have with your company is over the phone. What impression are you giving them? Make sure it's a good one – attend this session or send your front line people. Not only what is said, but how it is said will be covered. Also addressed will be the correct way to put someone on hold and or transfer them, how to improve listening skills, how to deal with angry customers and how to handle stress. And make sure you wear your blue suede shoes – Elvis didn't get to be the King of Rock and Roll by treating his customers poorly!
It's All About Customer Service
Customer service either makes or breaks a business. If you aren't taking care of your customers, your competitors soon will be. Attend this high-energy session and improve your skills in dealing with customers (and people in general!). You'll learn the five things customers want, how to deal with problem customers and ten things you should NEVER say to a customer! This session is unlike any other customer service session you've attended because it has an Elvis theme! Be prepared to have a great time learning how to take better care of your customers.
Why Book Denise Ryan?
Her astute business savvy and irreverent wit leave audiences not only laughing, but with actionable tips.
Her trademark interactive programs cover many areas relevant to business culture, including adapting to change, developing positive workplace relationships, and the secrets of successful selling.
Raleigh, North Carolina based professional speaker Denise Ryan is a motivational pyromaniac. Her infectious energy and enthusiasm will set a room ablaze.

A magna cum laude graduate of the University of South Carolina with a master's degree in business, what she really specializes in is lighting fires.

After earning millions for clients in the corporate world, Denise realized she had a talent for firing people up. She parlayed this gift into FireStar, a company specializing in enthusiasm. Eleven years later, Denise motivates and energizes large corporations and small businesses across America at conferences, board retreats and annual meetings. Her no nonsense, direct delivery coupled with her astute business savvy and irreverent wit leave audiences not only laughing, but with actionable tips.

Not your typical "motivational speaker," Denise is genuine and real. But also highly skilled – she holds the title of Certified Speaking Professional (CSP), a designation awarded to fewer than 10 percent of professional speakers. Denise is an author, keynote speaker and most notably, a fire starter extraordinaire. FireStar's unique programs are relevant, uplifting and informative. Denise's trademark interactive programs address myriad workplace issues such as dealing with change, getting along with others, staying motivated and the secrets of successful selling. She also offers customized training sessions. Denise's infectious enthusiasm motivates the unmotivated and challenges the challenged. Consider yourself warned: FireStar programs are five-alarm scorchers.