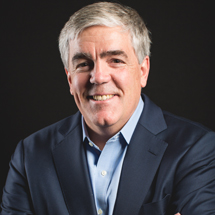 Dirk Beveridge
Businessman, Author, Consultant
X
Program Descriptions
INNOVATE: How Successful Businesses Lead Change In Disruptive Times
Most businesses agree that they must reinvent their business before someone else does. But, as you continue to operate the business for today, how can you unleash the spirit of innovation to create a relevant, stronger, and more profitable future? In this session you will explore The Innovative DistributorTM framework that provides practical lessons for creating transformative change – no matter the industry. Few speakers today have the ability to quickly help both seasoned and emerging leaders understand that status quo is the enemy and that they have a new responsibility to create a relevant and sustainable future. Dirk "gets it" and helps your people not only "get it" but leave with a roadmap for jump starting innovation.

Transformative Leadership: Fostering A Culture Of Innovation & Excellence
We are living in disruptive times. Where businesses are experiencing foundational, transformational, and seismic change. In an age where "average is over" and leaders are challenged by the constant pressures from all directions – accelerating technology, shifting demographics, traditional and non-traditional competitive threats – they must not only navigate these new challenges, but must lead their organization to a new and stronger future.

This often begins by escaping the tyranny of the urgent to peer into the future and craft a new vision that becomes a unifying force that inspires innovation and excellence. Dirk shows you how and inspires you to act.

Sales & Marketing Relevance In The Age Of Disruption
Forrester Research recently reported that 22%, over one million, B2B sales people will lose their jobs to eCommerce within the next 4 years. In this new normal sales people and marketers alike must quickly evolve and in some cases transform themselves and their positioning.

Dirk has spent his career in-the-field and in the boardroom with sales and marketing professionals across industries. He knows that today's sales and marketers have a new mandate of relevance as marketing has transformed from interruption to permission, and sales from product peddling to becoming a Sustaining Resource. They must: Be Bold. Be Deep. Be Disruptive. And they must Be Good.

Obliterate Sameness & Commoditization: Magnetic Value Propositions
Many businesses today are trapped in a world of sameness. As customers seek options, they find a sea of non-differentiated businesses. This is because most product, service, and marketing plans are built on a platform of "me too" rather than "follow me."

MagneticValuePropositions –thosethatattractraving fans and profitable customers – deliver solutions to unmet and often unarticulated customer needs. Your customers have specific jobs they want done, pains eliminated, and real gains delivered. Understanding the customer at this level and your Magnetic Value Proposition will emerge. Dirk has been front and center in helping businesses breakthrough and he'll inspire you to do the same.
Of Dirk Beveridge, William Taylor, Co-Founder of Fast Company magazine said: "Every field has its rabble rousers, change agents, thought leaders-people with the wisdom to understand the past, and the creativity to conjure up a new vision for the future. In the field of wholesale distribution, Dirk Beveridge is that thought leader."

Dirk Beveridge is a leading advocate of change and innovation. As one of the country's most outstanding speakers, he delivers a new voice, a new energy, and a new outlook.

Dirk's presentations are unparalleled. He delivers original, proven, and often disruptive thinking. His energy and passion for excellence are infectious and inspires audiences to step from the zone of comfort to unleash the urgency of change. Beveridge is routinely asked to speak on innovation, business strategy, sales, and leadership.

As an entrepreneur Beveridge noticed that innovation was bypassing wholesalers and distributors, and founded UnleashWD in 2012 which is setting a bold agenda for the 300,000 businesses in the country. The UnleashWD Innovation Summit is an essential annual event. This one-of-a-kind summit delivers an outstanding immersive experience through amazing speakers, inspired networking and relevant application.

Dirk's latest book INNOVATE! How Successful Distributors Lead Change In Disruptive Times has been called, "Indispensible," "A must read" and "One of the best business books I have ever read" by CEOs. Writing about INNOVATE! former Supreme Allied Commander at NATO, Admiral James Stavridis (Ret) observed: "At the heart of any healthy industry is innovation -- the ability to change as circumstances dictate with agility and intelligence. In INNOVATE! Dirk Beveridge provides a roadmap for creating innovation. This is an instant classic, and has wide applicability not only in the complex world of distribution, but in the widest sense."

For over 25 years as a consultant to a wide range of companies, Beveridge has helped leading firms align, focus, and strengthen their sales and leadership strategies to remain relevant, outperform the market, and provide deeper value to customers.