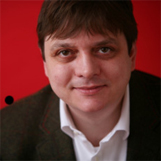 Emmanuel Gobillot
Europe's Most Sought After Business Speaker
X
Program Descriptions
The Collaboration Challenge
Why do you employ hundreds and thousands of minds who then try to solve most problems alone? Why, at a time when customers are crying out for co-creation, do leaders feel that collaboration slows down business? Why does it feel so risky to let go of control and put our success in the hands of others? The answer is simple: collaboration is complex and subtle and organizations just aren't built for that. In this fast-paced, dynamic and engaging presentation Emmanuel shows how, in today's context, collaboration and co-creation inside and outside the organization is the only way to succeed. Only by developing the climate and capabilities that enable others to succeed can leaders claim the collaboration advantage.

The Innovation Challenge
Innovate or Renovate? Dream or Execute? Boom or Bust? Leaders regard innovation as a necessity for growth yet they cut innovation budgets when things are tough. We know we should innovate for tomorrow yet our need to survive today means that we never quite get around to it. Isn't it time we saw innovation for what it really is: Idea generation, creation and execution. In this speech, Emmanuel shows how leaders can reconcile the needs for revenue now with the necessity of renewal. He explains how innovation exists in every organization ready for leaders to profit from it.

The Leadership Challenge
What if management thinking to date has been directed at the wrong problem? What if leaders' focus on formal authority and organizational structures has been at the expense of the "Real Organization" - the powerful network of informal relationships that doesn't appear on any organizational chart? What then? The result of 150 years of leadership thinking is simple: Leaders always eventually fail. This talk will show how, in today's context, formal hierarchies are no longer effective. Only the real organization, with its cross-cutting networks, is agile enough to respond to the new context brought about by mass consumer and employee emancipation.
One of Europe's most sought after leadership speakers, Emmanuel Gobillot is the author of the best-selling book The Connected Leader published in 2007. The book has been described by one reviewer as "the first leadership book for the MySpace generation." Emmanuel is currently working on his next book researching and mapping out innovation networks.

In 2007 he created Emmanuel Gobillot Limited as a way to concentrate on his writing and speaking career whilst developing best in class solutions with world class with clients. Emmanuel has worked with organizations as varied as the BBC, Philips, BT, ITV and The UN to develop their senior executive capability and make their organizations more effective. His work in leadership development, innovation, growth and culture change facilitation has been used by organizations such as Zurich Insurance and Carlsberg. His interventions are focused on creating the capability in organizations to deliver results through innovation and world-class leadership.

A French national, Emmanuel moved to the UK in 1985. Prior to his consulting career he worked in financial services where he held a number of positions in line and project management. Notably he was head of organizational culture on the first web enabled CRM implementation in the UK. In 1998 he joined Hay Group where he became Head of the Consumer Sector consulting practice and later Director of Leadership Services.

Emmanuel holds an International Baccalaureate from the United World College of the Atlantic, a Masters of Arts with honors from St Andrews University and a Diploma in Management Science from the Nottingham Trent University.