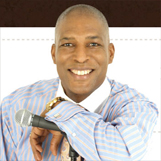 Eric Bailey
Team Energizer
Traveling From
California
X
Program Descriptions
Playing To Win....Championship Mindset!
Introductory workshop: This will be interactive, high impact, fun and engaging to get staff involved and excited about learning,growing,developing and achieving more than ever before.

This session is about getting staff to make a decision about sitting on the bench...or being a regular contributor and winning a CHAMPIONSHIP for the TEAM.

Aimed at increasing involvement and engagement from staff about how and why it is important to raise their standards and work to a world class level. Not just for the organization but for themselves, their team, and more importantly their customers.

Topics include:
Show up everyday expecting to win.
Have a huge appetite for success. Don't settle for average. Take advantage of opportunities. Strive To Be The Best!
Stop sleeping with the enemy. Have a positive attitude.Stay away from negative talk at the water station. Don't be afraid to speak your mind and step up for things.

Activate Now!
Don't just motivate your mind; motivate your mind, body, and spirit with Activate Now! This topic guarantees a fresh outlook on life as we take inactive inspiration and activate it, enabling listeners to uncover their true potential. It's not motivation—it's activation! Activate Now! is offered as a full or half day workshop or a keynote speech.

Winning with Attitude
Winning with Attitude teaches how to create a powerful mindset that can think outside the box and adapt to change at the drop of a hat. It's all about cultivating passion and building confidence and credibility while you discover what it takes to bounce back from adversity on your way to meeting your goals. Winning with Attitude is offered as a full or half day workshop or a keynote speech.

Leading the Leaders
Take a trip of discovery and learn how to motivate and lead any team to victory. Even leaders need to be led sometimes, and the person who knows how to do this is invaluable! Leading the Leaders teaches how to mentor and inspire new leaders as they gain an understanding of the influence and power of successful leadership. The program is offered as a full or half day workshop or a keynote speech.

Keys to Team Synergy
A chain is only as strong as its weakest link, and the same holds true for teams. In order to maximize your team's success, you need to tap into the strengths of each team member and figure out how to best motivate them to work together. Keys to Team Synergy is offered as a full or half day workshop or a keynote speech.

12 Pillars of Personality
Vision is about much more than having a dream. It's about converting that dream into reality. The 12 Pillars of Personality will enable you to build a bridge from your vision to the reality you've always wanted by capitalizing on your personality strengths and correcting your weaknesses. 12 Pillars of Personality is offered as a full or half day workshop or a keynote speech.
Why Book Eric Bailey?
Eric was born into dire circumstances of extreme poverty in South Central Los Angeles. He chose tor eject the harsh way of life around him and focus on what it would take to move up in life.
Today, Eric is a success story. He has been a professional basketball player, world traveler, entrepreneur, professional speaker, and motivational management coach. He lives his life to spread his story and life lessons to thousands.
Eric's entertaining, interactive and provocative delivery style, combined with in-depth research and an innovative approach, make him a favourite with clients who want to move beyond the limitations of traditional best practices and set breakthrough objectives to achieve maximum success. If you want to move forward in life, achieve more, increase your income, AND tap into your true personal potential, then you will be interested to hear how Eric can Activate your Potential.

ERIC BAILEY – OVERCOMING OBSTACLES
Eric Bailey is a man who knows about having obstacles in life. Now a global success, entrepreneur and businessman, he never forgets what he had to overcome to escape the harsh poverty he faced as a child on the streets of South Central Los Angeles.

In fact, he now spends his time travelling Australia and the globe, teaching, encouraging and inspiring those he meets about how to handle the challenges we all face in life.

Eric is often contacted by leading companies at crisis point to assist and intervene in some of the toughest situations imaginable. One of Eric's clients Qantas called him into talk and encourage staff during a much-publicised time of immense inner company turmoil. Fortunately for all involved it was a success, and one staff member even jokingly said, "Forget the Terminator… Eric Bailey is T'he Activator'", referring to his immense stature, passion and focus on getting people to take action.

Eric started life as a rejected child with bad knees in a terrible, drug-riddled and impoverished neighborhood where crime and drugs were a way of life. Instead of holding him back, Eric learned how to face challenges head-on.

His efforts worked, and Eric went from being barely literate at twelve years old to winning a college scholarship and going on to succeed in a variety of careers and pursuits including a lengthy career as a professional basketball player, distinguished businessman. He now travels the world as a professional speaker. He loves what he does, is rated in the top 10% of speakers globally, and holds the coveted CSP award - and according to him, he's just getting started.
Ranked as the world's Number One Activational Speaker, Eric believes that in life, people need more than just motivation; they need to take action to overcome the obstacles they face.

And whatever he's doing… it's clearly working because each day and after every event, Eric is flooded with stories of how he has helped to change people's lives, often in very significant ways. He has spoken in 10 countries around the world. Empowered the lives of over 2 million people. Shared the stage with global icons: Sir Richard Branson, Tim Ferriss, Harry Dent, Australian Prime Minister John Howard, Jeff and Kane, Loral Langemeier, Randi Zuckerberg, and many more...... Fortune 500 companies such as Qantas, Ford, Nike, ReMax, McDonalds, AMP, Toshiba, and John Deere just to name a few have selected Eric to inject enthusiasm, passion, and the will to overcome adversity in their personal lives and in business.

Eric is a living example that we can all overcome our obstacles, no matter what they may be. Perhaps that is why he is so successful - his real grit, raw energy, and tenacious attitude towards life.

Eric's message isn't philosophy, motivation or cheap hype, but that we can face obstacles with confidence and use specific strategies to overcome them, because as Eric says, "as long as you have breath, you have life".