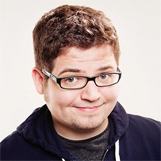 Eric Dittelman
Mind Reader & America's Got Talent Contestant
X
Program Descriptions
The Show
Ever wonder what it would be like to know what someone else was thinking? What if you knew exactly what someone else was going to do before they did it? Eric Dittelman knows what that's like and has been reading minds at colleges, comedy clubs, and private events all across the country.

Combining amazing mind reading with stand-up and improvisational comedy, Eric keeps his audiences engaged and laughing. Whether playing a round of Pictionary while Eric's eyes are duct taped shut, acting out a game of imaginary charades, or having a personal thought revealed from their minds, audience members become part of the show and leave with a fun experience that they'll never forget.
Straight from NBC's hit show "America's Got Talent", Eric Dittelman is mind reader that predicts people's actions and figures out what they are thinking. Drawing on his background in improv and comedy, Eric incorporates a unique blend of humor and surprise into his mind-reading act. Eric has been entertaining audiences at colleges, comedy clubs and private events for years and continues to share his unique talents with audiences across the country. Eric also recently appeared on The Ellen DeGeneres Show. If you were also a mind reader, you would have already known all that.