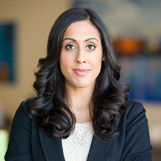 Erica Dhawan
CEO of Cotential, Author, Leadership Strategist, Connectional Intelligence Expert
X
Program Descriptions
Get Big Things Done: The Power of Connectional Intelligence:
We typically associate success and leadership with smarts, passion and luck. But in today's hypercompetitive world, even those gifts aren't enough. Strategist Erica Dhawan argues that the game changer is a thoroughly modern skill called Connectional Intelligence (CxQ). Virtually anyone can maximize his or her potential, and achieve breakthrough performance, by developing this crucial ability.

So, what is it? Connectional Intelligence is the ability to combine knowledge, ambition and human capital, forging connections on a global scale that create unprecedented value and meaning. As radical a concept as Emotional Intelligence was in the 90s, Connectional Intelligence is helping people enlist supporters, accelerate innovation, develop strategies, and sustain solutions to big problems.

This dynamic, engaging, high-energy, fast-paced keynote will help participants understand the practice of using connectional intelligence as the key to professional success and leadership in the 21st century. Attendees will learn new insights and tools to accelerate the connected power of teams, become more agile and innovative, and drive breakthrough ideas and outcomes.

Learning outcomes include:
How anyone can excel not just through skills and smarts, but through Connectional Intelligence
Keys to leveraging your networks and connections, and creating contagious positive results
Successful tactics used to address connectional overload and in changing turbulent times How connectionally intelligent leaders outperform the competition and create remarkable results

Now it's your turn to leverage the secrets of the people using connectional intelligence. It's your turn to "Get Your Big Things Done." You'll be surprised just how easy it is.

How to Build a Connectionally Intelligent Organization:
Connectional Intelligence (CxQ) helps organizations accelerate and sustain the capability to drive breakthrough innovation and results by harnessing the power of relationships and networks. In our new world of an embedded digital, global infrastructure that connects all of our lives, the power of connectional intelligence holds exponential and previously untapped potential for breakthroughs in ways we can barely begin to imagine in the workplace. To harness CxQ, we have to work with the future workforce differently – because they are ahead of the rest of us in harnessing connective capacity.

In this dynamic, engaging, high-energy, fast-paced keynote, Erica Dhawan shares insights into how leaders can bring out the connectional intelligence of your employees and utilize the talents that different silos, cultures, and generations all bring to the tableto become more agile and innovative, and drive breakthrough ideas and outcomes. Connectional Intelligence is the power to turn people into superconnectors who turbocharge collaboration to get big things done. This is a powerful, interactive presentation for leaders who seek to breakthrough generational friction, drive innovation, shift company culture and transform the untapped connectional intelligence of your entire workforce.

Learning Objectives:
Actionable tools and prescriptive solutions to maximize team engagement and performance
Insights to deliver game changing collaboration to maximize current and new customers
Tools to enhance individual and team effectiveness, achieving growth and maximizing business value
Create processes designed to maximize the ability to connect people, ideas, and resources for breakthrough results

How to Maximize Value from Millennials:
Millennials are the rising generation in the workforce today. Millennials expert Erica Dhawan reveals the #1 key to determining their workplace performance: Connectional Intelligence. For millennials, engagement with different kinds of connection is not just about social media – it's embedded in all aspects of their daily life and work. This engagement enables them to realize exponential results from Connectional Intelligence (CxQ) leading them to drive growth, streamline costs and improve the overall performance of your business. The way to acquire, engage and retain top millennial talent to generate fast results is to stop with the play and perks. Instead, put their fundamentally different, powerful, radical, and disruptive Connectional Intelligence to work.

This presentation and/or workshop will decode the millennials' employment mindset, reveal how to maximize millennials recruitment, retention and performance, and offers specific actions to unleash your millennials' Connectional Intelligence.

What does that mean? The common sense rules of communication in a digital era In this keynote, strategist and author Erica Dhawan explains the new rules of engagement that commonly lead to misunderstanding, frustration, confusion and even corporate crises. Dhawan has a thorough understanding of what it means to grow up amid technology, as well as of the forces behind the anxiety, confusion and misunderstandings inherent in contemporary communication across teams, business units, clients and other stakeholders. Based on original research, insights and anecdotal stories, Dhawan takes a fascinating, unexpected look at the expectations, boundaries and hidden meanings in today's largely screen-based dialogues. Learn the new common sense rules in digital conversation across age groups, functions, regions, genders and other diverse backgrounds. Less about etiquette than business strategy, nor an expose of "old school" versus "millennial" habits, Dhawan argues that communication-based slip-ups and misunderstandings often take place among peers – and that regardless of which tech platforms are in vogue, they're here to stay…and solve.

The Choreography of Collaboration:
Ask a big enough question and you will need more than one discipline to answer it. Problem solving in today's world requires collaborative efforts on both an imaginative and concrete level. This interactive session leverages movement-based choreographic tools from around the world (West African, Bollywood and Latin) to help employees to drive greater team communication, trust, innovation and collaboration. Attendees will view their work challenges as a performance and gain new tools to break down silos, address communication gaps, and activate greater innovation in their company. No previous dance training required, but an open mind and a willingness to commit to experimentation are essential.
Why book Erica Dhawan?
Erica is on a mission to advise organizations and leaders to accelerate the connectedness of your workforce, become masters of connectional intelligence, "spar" in order to reach your goals more quickly, and prepare your global workforce for the future.


Equal parts business strategist, motivational speaker and innovation expert, her speaking style is personal, fresh, humor-laden and energetic. Erica is a gifted presenter who is able to read a room, customize her approach and style accordingly, and draw audiences in with her storytelling and pragmatic solutions to your organization's most pressing challenges, setting her apart from anyone else you've heard.
Erica Dhawan's Key Accomplishments Include…
Erica Dhawan is the Founder & CEO of Cotential, a global consultancy that accelerates the connectedness of employees teams, customers and clients. Through keynote speaking, training and consulting, she teaches business leaders and companies innovative strategies to create increasing value for customers and clients, deliver sustainable results and ensure future global competitiveness. She is the co-author of the new book Get Big Things Done: The Power of Connectional Intelligence (Macmillan, Feb 24, 2015). Her book was named #1 of the Top 25: What Corporate America are Reading in the Tribune Erica speaks on global stages ranging from the World Economic Forum at Davos to companies such as Fedex, Pepsico, and McGraw Hill Financial. Erica writes for Harvard Business Review, Forbes, Fast Company and the Huffington Post. She serves as a board member to Deloitte's Inclusion External Advisory Council. She is a member of the Young Entrepreneur Council, Aspen Institute Socrates Society, TEDx fellows, and World Economic Forum Global Shapers. Previously, she worked at Lehman Brothers and Barclays Capital. She has a MPA from Harvard University, a MBA from MIT Sloan, and a BS in Economics from The Wharton School. Her writings have appeared in dozens of publications, including Fast Company, Forbes, and Harvard Business Review. She has a MPA from Havard Kennedy School, MBA from MIT Sloan, and BS in Economics from The Wharton School.
Books

Get Big Things Done