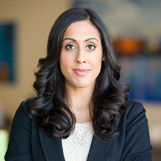 Erica Dhawan
CEO of Cotential, Author, Leadership Strategist, Connectional Intelligence Expert
X
Program Descriptions
GET BIG THINGS DONE: THE POWER OF CONNECTIONAL INTELLIGENCE
Learn new insights and tools to accelerate the connected power of teams, become more agile and innovative, and drive breakthrough ideas and outcomes.

We typically associate success and leadership with smarts, passion and luck. But in today's hypercompetitive world, even those gifts aren't enough. Strategist Erica Dhawan argues that the game changer is a thoroughly modern skill called Connectional Intelligence (CxQ). Virtually anyone can maximize his or her potential, and achieve breakthrough performance, by developing this crucial ability.

So, what is it? Connectional Intelligence is the ability to combine knowledge, ambition and human capital, forging connections on a global scale that create unprecedented value and meaning. As radical a concept as Emotional Intelligence was in the 90s, Connectional Intelligence is turning people into superconnectors who accelerate innovation, break down silos and foster breakthrough top and bottom line impact.

This dynamic, engaging, high-energy, fast-paced keynote will help participants understand the practice of using connectional intelligence as the key to professional success and leadership in the 21st century. Attendees will learn new insights and tools to accelerate the connected power of teams, become more agile and innovative, and drive breakthrough ideas and outcomes.

Learning outcomes include:
How anyone can excel not just through skills and smarts, but through Connectional Intelligence
Keys to leveraging your networks and connections, and creating contagious positive results
Successful tactics used to address connectional overload and in changing turbulent times
How leaders create deep connections of fierce loyalty and respect from their team and customers
How connectionally intelligent leaders outperform the competition and create remarkable results

Now it's your turn to leverage the secrets of the people using connectional intelligence. It's your turn to "Get Your Big Things Done." You'll be surprised just how easy it is.

THE EMPATHY ADVANTAGE: A PLAYBOOK FOR LEADING MODERN TEAMS
Transform your business through the power of empathy and belonging.

We live in a culture defined by a distinct empathy deficit: The boss who constantly emails you are "wrong"—but never shows you how to correct those mistakes. The colleague who mansplains you to death in every conference call and has no interest in what you have to say. The team member who won't stop looking at her phone as you share sensitive information during a meeting.

Why is empathy today at such a low point? You can credit various factors, including fewer face-to-face interactions, an ever-accelerating pace of change and an increasing number of global teams working remotely. These and other elements make it harder for any of us to understand and meet the unspoken needs of others. Teams have it especially hard. The more digitized teams become, and the more we interact online, the greater the need for empathy becomes to balance distances and misalignments and foster inclusivity and belonging.

How do we actively generate empathy in organizations? How do we bring people together, and make individuals feel genuinely emotionally connected, full-fledged members of the teams that have become the DNA of today's organizations—teams that are virtual, global, multigenerational and matrixes?

In this keynote or workshop program, attendees will learn to activate the Empathy Advantage, a playbook for leading empathic teams today. With a combination of engaging stories, science, and practical tools, it shows readers how to cultivate greater empathy across teams, ultimately creating cultures of connection, collaboration and high-performance. Among other things, The Empathy Advantage teaches readers how to operationalize empathy with:


Simple ways of seeing the world as others do
Rules of thumb to avoid misunderstanding, ambiguity and rushes to judgment (or what we call, reading digital body language)
Signals that show others you understand their feelings and hear their ideas
Tools to diffuse tensions, bring an end to conflicts and create lasting connections

LEADING DIGITALLY: FOSTERING HUMAN ENGAGEMENT AT WORK
Learn the new common sense rules of effective communication on digital teams across business silos, levels, backgrounds and regions.

When your colleague replies "fine!" are they actually fine… or are they angry? Do you wait hours to get clarification on a vague e-mail? Did that weekend text message from your boss irritate you? We are communicating faster and more often than ever before. We feel like we're connected – but are we really? We save time using email, right? But then we end up using all of that 'saved' time to clarify what we meant in the first place. In person, we can clarify context immediately. We rely on body language and tone to grasp the real meaning. With our digital walls up, we lose subtext and nuance.

We all leave a digital impression on each other. If someone doesn't text back for hours or even days, do you think they are being rude? Is using an emoji or LOL unprofessional, or creating a human connection with your team? What impression does your boss, team, or colleague think of that kind of behavior? Whether your team works on separate floors, buildings or even countries, they have to connect online in order to collaborate.These new misunderstandings are happening all day, every day. They're reducing your employee engagement, morale, and team performance each time.

In this keynote, you will learn new rules and nuances of creating human connection in digital communication, led by collaboration expert Erica Dhawan.

Learning Outcomes include:
Understand your digital communication style and what signals you are broadcasting (even if you don't intend to!)
Reduce the confusion and frustration that comes with communication across all our various mediums, like email, phone, IM, text, apps and even live meetings
Develop a digital communication strategy to create the highest performing teams
Understand and use digital subtext to create real intellectual and emotional connection, no matter the distance
Why book Erica Dhawan?
Erica is on a mission to advise organizations and leaders to accelerate the connectedness of your workforce, become masters of connectional intelligence, "spar" in order to reach your goals more quickly, and prepare your global workforce for the future.


Equal parts business strategist, motivational speaker and innovation expert, her speaking style is personal, fresh, humor-laden and energetic. Erica is a gifted presenter who is able to read a room, customize her approach and style accordingly, and draw audiences in with her storytelling and pragmatic solutions to your organization's most pressing challenges, setting her apart from anyone else you've heard.
Erica Dhawan is the world's leading authority on Connectional Intelligence and the Founder & CEO of Cotential.

Through speaking, training and consulting, she teaches business leaders innovative strategies that increase value for clients, deliver results and ensure competitiveness.

She is the co-author of the bestselling book Get Big Things Done: The Power of Connectional Intelligence. Erica was named by Thinkers50 as "The Oprah of Management Ideas" and featured as one of the emerging management thinkers most likely to shape the future of business. She hosts the award winning podcast Masters of Leadership.

Erica speaks on global stages ranging from the World Economic Forum at Davos to companies such as Fedex, Pepsico, and McGraw Hill Financial. Erica writes for Harvard Business Review, Forbes, Fast Company and the Huffington Post.

Erica also serves as a board member to Lufthansa Innovation Hub. Previously, she worked at Lehman Brothers and Barclays Capital. She has a MPA from Harvard University, a MBA from MIT Sloan, and a BS in Economics from The Wharton School.
Books

Get Big Things Done