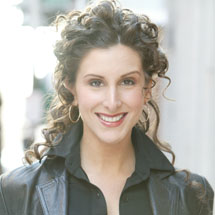 Eva DeVirgilis
Re-Defining Beauty: One Story at a Time
X
Program Descriptions
End the Apology: Changing the Culture around Beauty One Story at a Time
Eva DeVirgilis hears women constantly apologizing for their appearance. Learn What we say, Why we say it, and How to change it. Laugh and cry with her as she brings these makeup chair conversations to life on stage in her keynote presentation, and leave inspired to encourage yourself and your clients to be confident, to believe in yourself... and to stop apologizing.

In Your Chair
Whether you are in sales, an industry executive, or a makeup artist; someone is always sitting 'In Your Chair.' Every interaction with a client can make a lasting impression on your business, your professional reputation, and even how a person feels about him or herself. How do you use your Power? Eva DeVirgilis uses her experience as a makeup artist to talk about the power, privilege, and responsibility we have to serve every person who sits in our chair.

Beauty Belongs to All
Do you want to look and feel your absolute best every day when you look into the mirror? Wish you knew the secrets, the products and techniques used in fashion and film? Do you want to easily transform your look into a modern, fresh and fabulous you? In this talk Eva shares the tips and tricks that she has learned from more than 10 years as a pro-makeup artist in the industry. Both fun and informative, Eva demonstrates her artistic craft by bringing audience members on stage to sit in her chair, she'll share hilarious stories, and will inspire all to see themselves through a "lens of love" You will walk away from this talk eager and energized to re-activate your beauty and soul.
Eva DeVirgilis is an award winning makeup artist and actress and activist. While acting and performing comedy at night in New York City, Eva began to learn the trade of makeup artistry in order to supplement her income in between gigs. As her acting credits began to grow so did Eva's passion for makeup, and she took every opportunity to learn from some of the top makeup artists in the industry including Laura Mercier and Scott Barnes. Her unique ability to make people both laugh and look and feel their best lead Eva to become an in-demand makeup artist in her own right. While existing in both the acting and makeup fields Eva saw first hand the impossible beauty standards that were being placed on women. She noticed a very unfunny pattern; almost every woman who sat in her chair apologized for the way she looked, and she recognized these same struggles in herself.

This lead to her internationally renowned TEDx talk In My Chair; a Makeup Artist's Perspective on Beauty, where she merges her skills as an actress/comedian & makeup artist on stage by documenting the diverse stories of the women who sit in her makeup chair. Eva has made it her mission to "End the Apology" in women and to "Change the culture around beauty one story at a time." Also devoted to inspiring others to discover and surpass their potential she coaches professionals how to give creative, compelling and dynamic presentations using story, and teaches in the School of Business at Virginia Commonwealth University. Acting credits include LAW & ORDER; CRIMINAL INTENT, AMC's TURN: WASHINGTON'S SPIES, and LEGENDS & LIES; THE PATRIOTS. Eva starred in the world premiere of SAM AND CAROL, a role created for her by New York Times Best-selling author David L. Robbins. She will again be starring in his new work THE END OF WAR. She can be seen doing comedy regularly at the Coalition Comedy Theatre. Eva is now based in Richmond, Virginia.