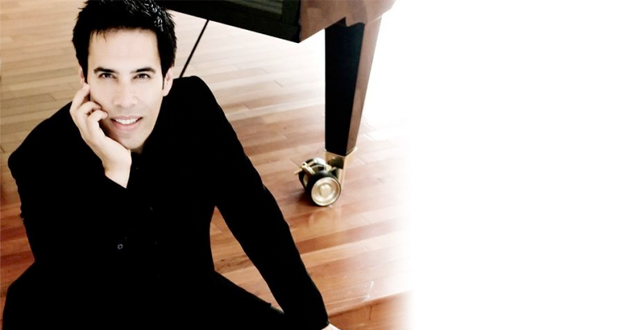 Freddie Ravel
Grammy-nominated Pianist, Music Applied to Business Expert, Edu-tainer Extraordinaire
Traveling From
California
X
Program Descriptions
The Rhythm of Success
The Rhythm of Success is a one-of-a-kind program designed to challenge and inspire organizations to discover their untapped potential through the power of Active Listening. The format is fast-paced, entertaining, and as the secrets of the world's undisputed international language of music are revealed, full of surprises. In this multimedia, interactive "Keynote Concert" experience, your audience will learn to:


Enhance interpersonal and professional leadership skills
Amplify new team engagement strategies
Expedite solutions by reactivating authenticity
Clarify desired goals and outcomes

No matter what kind of organization—from small companies to large corporations—employees at all levels will tune up to a better future by becoming more collaborative, productive and ultimately more profitable. This presentation is sure to open or close your meeting on a dynamic high note.

Illuminating the properties of Harmony to resolve conflict and create breakthroughs, this program helps teams learn how to better listen, engage and achieve collaborative success.

Listen Up! The Key to Diversity, Inclusion and Team Success
Have you ever heard a great-sounding band or orchestra where everyone is a soloist? It simply doesn't exist.

For over a decade, the Gallup polls reveal that four out of five employees are disengaged in their work, costing the U.S. economy over $500 billion annually in lost revenue.

Freddie shares his personal stories of how minorities and women have opened doors to his ongoing success; from being hired by Brazilian icon Sergio Mendes at age 23 to being the only white guy in the all black band named "Earth, Wind and Fire." In addition to his collaborations with Dr. Martin Luther King's daughter, Yolanda King, as guest author alongside Stevie Wonder, Muhammad Ali, Robert Kennedy Jr. and Maya Angelou, he's played the GRAMMY's with Prince, recorded and appeared with Madonna and toured the world to packed stadiums with Latin rock legend Carlos Santana.

Driving home the message that when we LISTEN UP and embrace diversity and inclusion, our team of collective Melodies, Harmonies and Rhythms achieve the ultimate SCORE—a state where organizations gain the distinct advantage needed in today's hyper-competitive marketplace.

The "Keynote Maestro" - Your Master of Ceremonies
Want to keep your meeting moving or add an extra spark to make your event unforgettable? Freddie Ravel as your emcee is the answer. He combines your business themes and the Four Foundations of Music to rev up the energy of general sessions throughout the day, your multi-day meeting or your awards ceremony.

Freddie strongly believes in advance planning to ensure your event's success. As your Master of Ceremonies, he'll work with you prior to your event to reveal, punctuate and energize your audience through short bursts of music and entertainment for that perfect segue to your next speaker or award presenter.

Freddie is in constant demand as a Keynote Speaker, Emcee and Performer—his high energy and powerful stage presence guarantees a lively and highly successful event as he ties your program into a perfect bow that further empowers, uplifts and inspires your audience. He is your assurance that the mundane transforms to magnificent and why so many clients invite him back year after year!
Why Book Freddie Ravel?
Freddie is the internationally acclaimed "Keynote Maestro" who blends his expertise for business breakthroughs and the power of music to unlock the minds, hearts and potential of audiences around the world.
Freddie Ravel engages and reveals the Four Foundations of music—Melody, Harmony, Rhythm and SCORE—to inspire and transform audiences around the world. In this dynamic multimedia "keynote concert" where speaking meets masterful piano performances backed by a full orchestra and legendary music icons, Ravel helps your audience unravel obstacles, enhance listening skills and increase productivity to SCORE breakthrough success.

Freddie Ravel is the internationally acclaimed "Keynote Maestro" who blends his infectious passions for business breakthroughs and the power of music to unlock the minds, hearts and potential of audiences around the world. Backed by #1 hits and collaborative successes with Earth, Wind & Fire, Madonna, Prince, Sergio Mendes, Quincy Jones, the Boston Pops and rock legend Carlos Santana, the #1 chart-topping pianist is the founder of The Rhythm of Success. This patented peak performance program enhances leadership, innovation and collaboration for small, midsized and large corporations alike. Recent accolades hail from the mayor of Los Angeles who awarded Freddie the city's Certificate of Recognition for creating a music-based system to "renew the national and international economy," while his media appearances include FOX, ABC, CBS, Universal, Business Rockstars, Clear Channel and SiriusXM. His delighted clients refer to him as "the ideal balance of entertainment and content." With rave reviews from IBM, Toyota, Red Bull, NASA, Apple, Morgan Stanley, Google and Citi, Freddie serves as a captivating access point through which to transform organizations, education and the human condition.

Based on decades of entrepreneurial and corporate training, scientific research and directing, producing and performing with many of the music legends of our time, conference planners often engage Freddie in the program planning process to help design and incorporate their meeting objectives into a rich, harmonious and rewarding experience. Drawing on his unique experiences and background, Freddie's programs can be delivered in English or Spanish to bridge corporate cultures together and uplift your audience to success.