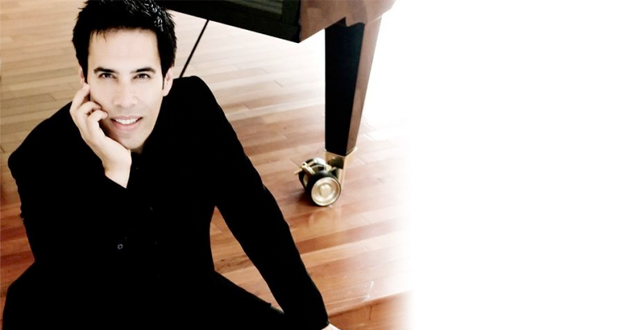 Freddie Ravel
Grammy-nominated Pianist, Music Applied to Business Expert, Edu-tainer Extraordinaire
Traveling From
California
X
Program Descriptions
The Rhythm of Success:
The Rhythm of Success is a one-of-a-kind program designed to challenge and inspire organizations to discover their untapped potential. The format is fast-paced, entertaining, and as the secrets of the world's undisputed international language of music are revealed, full of surprises.

No matter what kind of organization—from small companies to large corporations—employees at all levels will tune up to a better future by becoming more collaborative, productive and ultimately more profitable. This multimedia "keynote concert" experience is sure to open or close your meeting on a dynamic high note.

The Music of Leadership:
This presentation takes your audience on a deep dive into the role of "melody" within music and its power as the central message to bring life to your products and services. When leaders "sing" a better future, inspiration resonates across the entire company's culture.

Resolving Disruption:
Disruptions are ever-present and it's easy for organizations to get out of tune and out of sync. This interactive experience takes your audience into what disruption really sounds like, then transforms that dissonance to resolution. The stunning new composition that is created reveals the wisdom and capability of the audience to achieve their highest potential.

The Pulse of Productivity:
In our age of relentless distractions and the increasing demands of profits and productivity, time management is of the utmost importance. In this rhythmic journey through the pulse of the beat, your audience will discover their own rhythm to move forward in a synchronized fashion to victory, as Duke Ellington wrote in his timeless classic, "It Don't Mean a Thing (If It Ain't Got That Swing)."

Teamwork: Tapping The Power of Human Harmonics:
Have you ever heard a great-sounding band or orchestra where everyone is a soloist? It doesn't exist. For over a decade, the Gallup polls reveal that four out of five employees are disengaged in their work, costing the U.S. economy over $500 billion annually in lost revenue. Passive listening is so common in our culture that people remember half of what they hear—even moments after they've heard it. Illuminating the properties of harmony to resolve conflict and create breakthroughs, this program helps teams learn how to better listen, engage and achieve collaborative success.

The Music of Diplomacy:

"Music's the great invitation For mankind to transcend spoken word To enhance how we think And put into sync So we hear what is mostly not heard."

Those words, from his number-one charting release, If Music Could Speak, sum up the central message of everything Freddie Ravel. Hailing from parents of Latin American and Eastern European decent, his humble beginnings as a newspaper boy to his rise as an internationally-renowned musical ambassador, Ravel is a living example of the classic American success story, highlighting that our strength and competitive advantage as a nation lie in our diverse cultural roots and experiences. Combined with his unrivaled passion for music and business, Ravel unlocks the minds, hearts and potential of audiences around the world.

For his ongoing contributions to education through music, Ravel was recently knighted by the Knights of St. John, an organization who has championed hospitals and healthcare for over a 1,000 years. In this interactive program, Ravel combines proven solutions towards resolving conflicts and brings meaningful dialogue backed by scientific data and creative musical expression to appeal to the mind, body and soul of your conference participants.

In these turbulent times of global chaos and relentless disruption, Ravel equips your group with tangible results revealing how music heals not only the sick—but the ills of today's society by bridging cultural divides that allow conversations for peace to prosper and inspire greatness in leaders and entrepreneurs alike.

Serving as a bridge between legendary musical artists, business leaders and the Fortune 100, Ravel has co-published works with such visionaries as Earth, Wind and Fire, Carlos Santana, Deepak Chopra and Dr. Martin Luther King Jr.'s daughter, Yolanda King providing over two decades of music-applied-to-life successes in both the public and private sectors.
Freddie Ravel is the internationally acclaimed Keynote Maestro that blends his infectious passions for business breakthroughs and the power of music to unlock the minds, hearts and potential of audiences around the world.

Backed by number one hits and collaborative successes with Earth, Wind and Fire, Madonna, Prince, Indie Arie, Sergio Mendes, Quincy Jones, Al Jarreau, the Boston Pops and rock legend, Carlos Santana, the #1 chart-topping pianist and speaker is the Founder of The Music of Business – the peak performance program that reveals how music can enhance leadership, innovation and collaboration for entrepreneurs and major corporations alike.

Recent accolades hail from the Mayor of Los Angeles who awarded Mr. Ravel the city's Certificate of Recognition for creating a music-based system to "renew the national and international economy" while his media appearances include FOX, ABC, CBS, Universal, Business Rock Stars, Clear Channel and Deepak Chopra's XM Sirius radio show.

With rave reviews from Starbucks, Coca Cola, Toyota, Red Bull, NASA, Apple, Morgan Stanley, Google and Citi, Freddie Ravel serves as a captivating access point through which to transform organizations, education and the human condition.