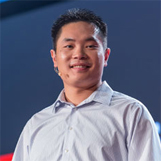 Jia Jiang
Entrepreneur, Blogger, "Rejection Proof" Author
Traveling From
California
X
Program Descriptions
Lessons from 100 Days of Rejection
When entrepreneur Jia Jiang left corporate life to build his dream company, he had no idea it also meant facing crushing rejection. To overcome his fear and pain, he decided to fully embrace rejection by making crazy requests for 100 days. To his surprise, the world opened up to him. Jiang flew a plane, taught a college class and befriended a billionaire. In the meantime, he made a viral video blog that got more than six million views on YouTube, and elevated a well-known company's stock by 29 percent. This presentation will show the humorous and insightful learning and truth about rejection and fear Jiang has discovered, and their practical applications in life and business.
Leadership of Rejection (for colleges)
Jia Jiang always believed that leadership came from power and position, and that racial differences were an insurmountable barrier among all people. However, through social media, he discovered that leadership is all about authenticity, empathy and influence. Jiang believes that everyone has the ability to develop effective leadership qualities by confronting their fears and connecting with others on a level deeper than those fostered by our differences in culture and appearance.
Why Book Jia Jiang?


He helps audiences face the fear of rejection head on.
Jia has used social media and his blog in a unique way to share the fear of overcoming rejection.
His keynote is inspiring and educational for corporate groups, associations, as well as colleges.
Jia Jiang is the founder of FearBuster, a keynote speaker and author of the book on how to overcome rejection, Rejection Proof: How I Beat Fear and Became Invincible, One Rejection at a Time. Several years after Jiang began his career in the corporate world, he took a life-altering risk and stepped into the unknown world of entrepreneurship. His result was everyone's biggest fear -- rejection. This became the catalyst that set Jiang on the path to his true calling.

To conquer the fear of rejection, Jiang embarked on a personal quest and started a blog to face 100 Days of Rejection. His journey revealed a world that was hidden in plain sight; a world where people are much kinder than we imagine. He discovered that rejection can be much less painful than we believe, and that the fear of rejection is much more destructive than we know.

Jiang has taken his message to the stage and is now a highly sought-after keynote speaker. His story has been profiled in Bloomberg BusinessWeek, Yahoo News, Forbes, and The Huffington Post. Jiang takes his audience on a journey of triumph and self-discovery, and leaves them with actionable teaching skills and a better understanding of the impact of social media in our new world order.
Books

Rejection Proof