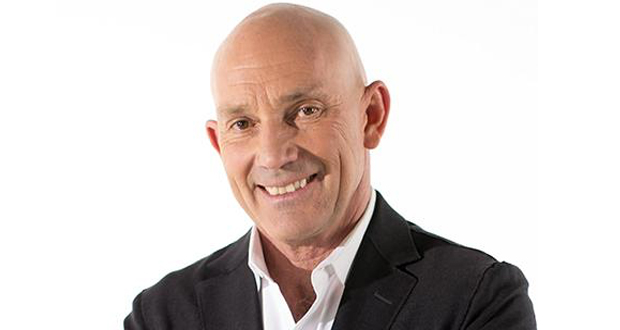 John Foley
Former Lead Solo Pilot For The Blue Angels
X
Program Descriptions
Drive The Ball
We live in a time of rapid development. Business culture is rapidly evolving. Mergers, acquisitions, and global expansion help create new opportunities. Smart companies keep ahead of the curve, but those willing to push the limits of what is possible, the .01%, those are the people who BREAK the curve. How do we adapt to change? "Drive the Ball" is the "How to Win" answer to that question.

The High Performance Climb
John shares his first-hand experience in a culture that pushes High Performance to the extremes, flying at times as close as 36 inches apart at speeds of more than 400 knots – upside down! See how John helps audience members understand their High Performance gaps and begin a High Performance Climb to close them.

Team Oneness
The Blue Angels are a team of more than 120 members operating with a commitment to High Performance. Team oneness isn't dictated; it's developed. Learn how the Blues create a team atmosphere of trust and respect that empowers its members. Learn how you can create an environment that has team members eagerly opting into this type of Blue Angel team oneness.

Belief Levels—Soaring to New Heights
As human beings, we don't perform at our full potential. We perform at a Belief Level. Understanding our Belief Levels is a key to turning any vision into a new reality. Listen as John describes how he elevated his Belief Levels so that he could join the top 1/10th of 1/10th of 1 percent of all pilots — the Blue Angels.

Trust—Executing with Precision
The "Knife Edge pass" is a highly precise maneuver originally developed by John Foley and one of his teammates when they were Blue Angels. It involves the two solo pilots flying directly at each other and crossing a CenterPoint at the same time and at the same altitude — without hitting each other. Listen as John describes how Contracts — verbal and nonverbal — played a vital role in creating the type of trust essential to executing that maneuver and why that type of trust is key to operational excellence in every organization.
Why Book John Foley?


John combines his rich experience and unique insights to equip organizations, teams, and individuals to pursue their highest goals, achieve breakthrough performance, and sustain results.
Mr. Foley's message, emphasizing accountability, is applicable not only to professional endeavors, but also to an individual's personal quest for excellence.
In 2015, John Foley has been recognized as one of the top 10 most in demand speakers. John has spoken to some of the Highest Performing organizations such as, Microsoft, Hitachi, Intel, Cisco, Mercedes-Benz, BMW, Goodyear, Chevron, Lowe's, Marriott, Wyndham Hotels, Hilton, Penske Racing, Rawlings, LA Kings, Sprint, Motorola, Merrill Lynch, Mass Mutual, Capital Group, Bank of America, Wells Fargo, GE Capital, American Hospital Association, Merck, Reach Air, Adecco, Gillette, McDonalds, and Million Dollar Round Table.

He is a former lead solo pilot of the Blue Angels, a Sloan Fellow at Stanford School of Business, a gratitude guru and an expert in the how of High Performance teams. His exciting, rare journey inspires awe, triggering audiences to take action and rethink what they believe is possible. John employs those intense realities as a metaphor to motivate teams and individuals to reach for their highest potential while empowering organizations to sustain excellence under dynamic change. John's presentations are marked by three overriding traits.


A contagious attitude of thankfulness that he calls Glad To Be Here®.
An energizing delivery that inspires High Performance with a purpose larger than self.
A practical model for living out his message that works in other organizations as well as within the Blue Angels.

John consistently performed in an extreme, high-stakes environment, flying at speeds of more than 500 miles per hour and in formations as close as 18 inches apart. To survive in those circumstances, he relied on a culture of high trust and leadership that turns inherently unforgiving flight into extraordinary experiences. He employs those intense realities as a metaphor to motivate teams to reach for their highest potential and empower organizations to sustain excellence under dynamic change.

John's post-Naval experiences as an entrepreneur and a Sloan Fellow at the Stanford Graduate School of Business put him in a unique position to reverse-engineer the culture of excellence and teamwork found in the Blue Angels. He has created a framework and a mythology that inspires greatness while propelling others on their own journey toward Higher Performance.

John graduated from the U.S. Naval Academy with a degree in mechanical engineering. He also was a defensive back for the Midshipmen, playing in two bowl games and helping Navy to one of the best four-year records in its football history. As a pilot, John was a "Top Ten Carrier Pilot" six times before becoming a Marine instructor pilot and a Blue Angel. He holds master's degrees in business management, from the Stanford Graduate School of Business (as a Sloan Fellow); in international policy studies, from Stanford University; and in strategic studies, from the Naval War College.

In 2011, John founded the Glad To Be Here® Foundation. John donates 10% of his net speaking fees to charities through the foundation. John works with every client to donate up to $1,000 to charities of their choosing. Through this program over 300 charities and $1.5M dollars have impacted thousands of lives globally. It's part of his mission to connect a shared "purpose larger than self" with every organization.
Books

Fearless Success