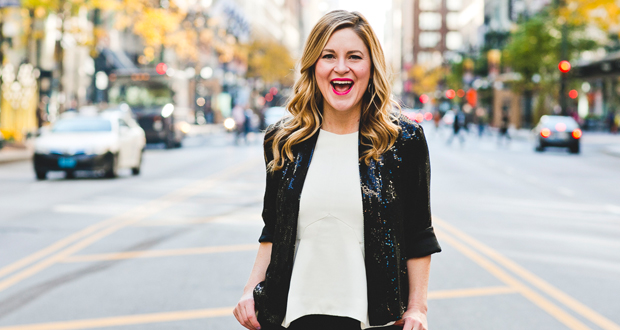 Judi Holler
Personal Branding Speaker & Performance Coach
X
Program Descriptions
The Art of Being Unexpected: How to Manage Fear, Take Action, and Stay Relevant
Best Audience: Women in Business, Sales Professionals, Hospitality Professionals, Entrepreneurs, Emerging Leaders

Just imagine how you would feel if …
You had more patience at work and at home
You could earn more
You felt more productive and less overwhelmed
You had the guts to dance with your fear
You felt confident to ask for what you want

The world is accelerating at such a rapid pace has people more on edge than ever. The world you live and work in has never been more crowded or noisy.

And now, more than ever, you have to find a way to rise above that noise. To stand out. To stay relevant. And to be the one we can't live without.

The real challenge in today's society is simply getting the attention of the people that can buy from you, hire you, promote you and/or recommend you. Sales Teams, Marketers and Leaders at all levels are desperately trying to capture attention and resonate with clients, prospects and colleagues who all expect more.

Is there a secret weapon? Yes. Your authentic brand. Your vulnerability. Your vibe.

The problem? "Personal Branding" has been made to seem trendy and fluffy. Yet, there could not be one single more important investment you could make in life … the investment in you! The investment in your mind, energy, and wellness.

Every day we are missing critical opportunities to connect in powerful and profitable ways because we lack the confidence to do so.

This session will show you another way.

Participants will learn how to use Judi's Personal Branding Portfolio and will take-a-way the following:
How to promote yourself internally and externally
What a personal brand is and what it is not
How to embrace change and land better professional opportunities
Tools to provide more focus and productivity
How to increase your "luck" factor
Strategies that will help you expand the reach of your network
A personalized personal branding statement you can use immediately
An understanding of how to overcome and embrace your fear
How to use improv theatre fundamentals in real life situations
Attention CMP's: This session is CEU Certified and earns 1.25 CEU's.

Fear Is My Homeboy®: How to Get Brave and Start Taking Action
Best Audience: Women in Business, Sales Professionals, Hospitality Professionals, Entrepreneurs, Emerging Leaders

How would you feel if …
You could thrive in times of extreme change
You had less emotional reactivity in stressful situations
You could easily separate things you can control from those you can't
You felt more organized and less overwhelmed
You weren't burdened by a fear of failure

This interactive session uses the fundamentals of improv theatre to help participants fight fear and get brave, so they can avoid self destruction and have less emotional reactivity in stressful situations.

You hear this all the time: "Everything you want is on the other side of fear" … yet, how do we get to the other side of fear?

This interactive session will challenge you to reimagine how you deal with fear + help you put a plan in place to start taking action. Participants will leave this "fear boot camp" with a plan to finally start advancing their goals, personally and/or professionally.

Each participant will receive their very own workbook and will walk step by step through a fear setting exercise that will help them take action and begin to put a plan in place personally and/or professionally to start advancing a dream or goal they have.

Participants will take-a-way the following:
An understanding of fear's greatest hits
How to survive (and thrive!) in times of change
A 5-Step fear setting framework that will help you take action
An understanding of how to overcome and embrace your fear
Questions to spark self-reflection
A look inside Judi's personal toolbox for her favorite fear fighting tools
A must read book list to build self-confidence and stay motivated
How to not be burdened by a fear of failure
A sneak peak into the world of improv theatre!

Busy By Design: 7 Habits That Fear Uses To Kill Your Productivity
Best Audience: Sales Teams, Entrepreneurs, Associations, Women in Leadership

Being busy is making us sick. It's robbing us of new opportunities to thrive. It's stealing our joy. This session will teach you how to get rid of the energy sucking tasks draining your life so you can start living with intention and focus. You'll learn the secret weapon to winning at work and at life: Getting "busy by design"!

I believe decluttering and focus are actual super powers. And now more than ever we are craving this sort of disconnection because we have never been more connected than ever. And by the way … We are also living in a historic pace of acceleration. Which means we are constantly out of breath, trying to keep up, catch up and the second we do … it all changes.

So many times we are last on our own list. Because of this, you end up feeling irritable and frustrated. You never seem to catch up. You are always busy but never feel productive. You are constantly overwhelmed and have lost your joy in the journey. There is a better way! It is possible to go from being "crazy busy" to being "busy by design". And it's not only possible, it can save your life! By pursuing less you can actually achieve more! This session will show you how.

Participants will take-a-way the following:
The 7 Deadly Habits of Productivity
How to effectively manage your time
Why multi-tasking doesn't work


Productivity tools and tips you can start using right now to declutter your personal and professional life
Why access is your #1 deadly sin
Learn about the VOLT planning system to help you 3x your productivity
How to use the "big 3" idea to finally make progress on your task list
How to work less and achieve more!
Judi Holler has worked in the hospitality industry since the age of 13 and has spent over 15 years working in Sales and Marketing for companies like Marriott, Omni and Starwood before starting her own company, HOLLA! Productions in 2016.

In 2014 Judi was selected as a Connect Magazine 40 under 40 in the Hospitality Industry, she recently received her Digital Event Strategist Certification from PCMA and is a proud past President for the Chicago Area Chapter of Meeting Professionals International.

As a professionally trained improviser & Second City Alumni with a radio/television degree, Judi uses her training every day to create authentic, relevant and memorable experiences for her clients.

Judi works as an event emcee, on-camera host and keynote speaker, with a focus on personal branding and fear management for the service and hospitality professional.

Judi's Mission: To help you stand out in a sit-down world by embracing fear and maximizing hustle.

Influencers in her work: Brene Brown is her Beyoncé. Amy Poehler is her favorite funny girl. Mel Robbins is her spirit animal. Gary Vaynerchuk inspires her hustle. Seth Godin reminds her to go make things happen. And Steven Pressfield is her fear doctor.

When Judi isn't speaking on stage, she is probably at a Soul Cycle class or at home relaxing with her husband, Scott, and their Golden Retriever, Tito.

Judi likes her books non-digital, her wine bubbly and her music hip-hop.