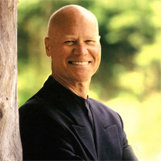 Lance Secretan, PhD
One of the World's Foremost Thinkers on Leadership
Traveling From
Ontario, Canada
X
Program Descriptions
Unlimited Leadership
Unlimited Leadership describes what we want from work. Places where we are inspired, not managed. Places where we care about each other, not tear each other down. Where great ideas grow, where customers feel loved, and where we wear our company pride on our sleeves. Places, in other words, where people are inspired and extraordinary results are achieved.

The Bellwether Effect: Eight Inspiring Leadership Solutions to the Most Self-Defeating Business Practices
Have you ever wondered "Why are we doing this?", or "Is there a better way to do this?"

In a special presentation that is both brutally honest and deeply inspiring, which is based on his forthcoming book, Dr. Secretan explores how and why leaders are attracted to, and seduced by, trendy ideas, and the process by which these ideas then become mainstream. He calls the originators of these trends, "bellwethers". He identifies eight examples of counterproductive business practices, among them, fear-based management, motivation, separateness and silos, employee engagement surveys, performance appraisals, salary grades and pay scales, mission, vision, and values statements, and the use of war as a metaphor for business. In each case, he proposes a fresh and inspiring alternative that could lead to transformation and an inspiring culture.

This is likely to be one of the most profound and uplifting speeches on leadership you will ever get to experience.

Inspire!: Leadership at it's Best!
The need to inspire has never been greater than it is today, as many people feel exploited, cynical, and under-appreciated. In fact, most companies try to motivate their people with traditional leadership models. Secretan's keynote, Inspire!, offers an alternative way to inspire from within and become a leader that inspires others. It starts with the individual and spreads to transform organizations.

Inspire! teaches business leaders how to ignite superior performance by speaking to the deeper needs of business relationships, and by aligning their desires with your organization's cause. The keynote provides valuable guidance and shares a host of stories that illustrate how inspiring leaders have transformed their business environment from places of fear and resignation to powerhouses of effective performance.

Values-centered Leadership®
The key to leadership lies in timeless values that help us to serve others. In this deeply moving presentation, Lance Secretan delves into the "Primary Values" that help us kick-start personal growth and the change of a corporate culture: Mastery: Undertaking whatever you do to the highest standards of which you are capable. Delivery: Identifying the needs of others and meeting them with respect and a passion.

He then explores the three "Accelerators" to drive the Primary Values:
Learning: Seeking and practicing knowledge and wisdom.
Empathizing: Considering the thoughts, feelings and perspectives of others.
Listening: Hearing and understanding the communications of others.

Powered by these Values and their Accelerators, Lance shows how our organizations then seek new Direction through Shifts from old values to new ones. For leaders, it is remarkable how much more effective and rewarding their roles become. Thousand of organizations have embraced Lance's Value-Centered Leadership worldwide.
Breakthroughs! As leaders, we strive for meaningful breakthroughs that raise the level of performance and achieve something we are proud of. But things get in the way. Dr. Lance Secretan has spent his life experiencing and understanding these obstacles, and has inspired countless leaders to focus on the things that really matter, that make people want to follow, and that make leadership authentically great.

Lance Secretan built a business from scratch to 72,000 full- and part-time employees, has consulted with, advised and coached leaders and their teams globally for 35 years, taught MBA students and written 21 books about leadership, inspiration and corporate culture. Along the way, he has increasingly wondered why leaders continue to adopt and invest in ineffective business practices, even though there is scant evidence that they work, and plenty of evidence that they don't.

His highly anticipated new book, The Bellwether Effect, explores how and why leaders are attracted to, and seduced by, trendy ideas, and the process by which these ideas then become mainstream (he calls these originators of these trends "bellwethers"). He shares eight examples of counterproductive business practices and proposes novel and inspiring alternatives that could lead to transformation and to an impassioned culture.

This is not new for Lance. He has built a reputation as a prestigious leadership coach and incredibly talented speaker. He is ranked 6th most influential executive coach globally and guides leadership teams who wish to transform their culture into the most inspirational in their industries. He has helped 6 companies to be named to Fortune's Best Companies to Work For in America list, and 8 others are also his clients, and 30 Secretan Center clients are on Fortune's Most Admired Companies list. He is ranked 17th in the world by Leadership Gurus, and Speakers in America ranks him among the Top Five Leadership speakers. His firm, The Secretan Center, Inc., is ranked #1 in the world as an international Leadership Consulting firm by Leadership Excellence. He is the Chairman of the Pay it Forward Foundation, former Chairman of the Advisory Committee of the Special Olympics World Winter Games and the winner of many awards, including the National Caring Award, who's previous recipients include Pope Francis, the Dalai Lama, President Jimmy Carter and Dr. Desmond Tutu.

If you have never seen Lance speak, you have missed a truly memorable and moving experience. He has the ability to tap directly into why we yearn to be relevant, passionate, accomplished and embraced, and how these are the keys to a higher level of organizational leadership. He uses his unique abilities as a coach and teacher to share incredible stories and lessons that penetrate our professional armor and ignites our desire to be inspiring leaders.
Books