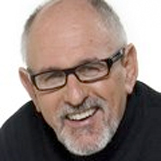 Larry Johnson
Author, Speaker, Corporate Culture & Customer Service Expert
X
Program Descriptions
There Is No "They": Delivering Care from the Customer's Perspective
In this dynamic, humorous, and heart-felt presentation, Larry shows the audience how they can make huge differences in patients' perceptions of the care they receive. Then, to drive home the point, Larry and CJ share their story. It's a story of frustration and reward, despair and hope, tragedy and joy. It's a story that will touch the hearts of the audience and make them glad they have chosen to work in this very noble field.

Mastering the Storm of Change: How to Stay Up, Stay Positive and Thrive When Times are Turbulent
Right now, many organizations are facing falling revenues, restricted budgets, reduced growth, and dimming prospects for the future. Like past fluctuations in the economy, this downturn will eventually pass. In the meantime, those who survive, both organizationally and individually will be those who keep their spirits up and never stop looking for new ways to perform more efficiently, effectively and creatively. Drawing on 22 years of consulting experience with some of the world's foremost corporations and governmental organizations, Larry Johnson will show you how to make the most of these hard times.

Creating an Insanely Positive and Productive Workplace Culture
Year after year, companies like Google, Johnson & Johnson, and Zappos.com are consistently listed in Fortune Magazine's 100 Best Companies To Work For. How do they do it? It's more than onsite health centers and gourmet cafeterias. It's management practices that inspire employees to contribute their best and then some. In this presentation, Larry shows how you can apply the same principles to create a great work culture for your own team.

Straight Talk: Communicating With Honesty & Integrity
In this dynamic, fast-moving and delightfully humorous presentation, Larry shows you how to enhance your leadership skills by establishing a new standard of communication – a standard that encourages honest and candid discussions, frank expression of opinions, and healthy debate. A standard that does not mince words, insists on accountabilty, respects the dignity of others and is guided by a clear sense of ethics.

Turning Customers into Raving Fans
Research at the University of Texas found that customer satisfaction is no guarantee of customer loyalty. Customers who indicated on questionnaires that they were simply "happy" with a product or service were as likely as those who had no opinion at all to abandon the vendor. The only indicator that predicted long-term loyalty was when customers used emotional words like "love" and "adore" to describe the vendor. In other words, if you want your customers to stay with you, they are more likely to do so if they LOVE YOU. So the question is, how to you get your customers to LOVE YOU? More to the point, how do the staff who will be attending this presentation with you get your customers to LOVE YOU? Larry Johnson will show you how.
For twenty-five-plus years, Larry has helped organizations build more productive and profitable working cultures through the development of strong leaders and dedicated employees. He has received rave reviews from more 150,000 business, government, and health-care professionals in every state in the union, as well as in Great Britain, China, Indonesia, Central America and Australia for his presentations on the topics of leadership, change, customer service, and honesty in business.

Larry is the co-author of the highly acclaimed, top-selling business ethics book, 'Absolute Honesty: Building A Corporate Culture That Values Straight Talk And Rewards Integrity' and the landmark guide to managing inter-generational conflict, 'Generations Inc., From Boomers To Linksters, Managing the Friction Between Generations at Work'. He has also written more than 60 articles, published in recognized business and association journals.

Among many others, Larry has spoken for PMA (Produce Marketing Association,) Fast Mart Convenience Stores, Westinghouse, General Electric, Harley-Davidson Motor Company, Intel Corporation, Southwest Airlines, American Express, McDonald's Corporation, Federal Express, the U.S. Bureau of Land Management, the American Health Care Association, and the Nuclear Regulatory Commission.

Additionally, Larry has eight years of real life experience as a manager in health care, three years as a manager in city government, and 26 years as president of his own consulting firm. All this gives Larry the respect and credibility audiences require. His down-to-earth, humor-packed delivery style seals the deal for them.

The bottom line is that Larry Johnson can help your organization raise productivity, reduce employee turnover and increase customer satisfaction.