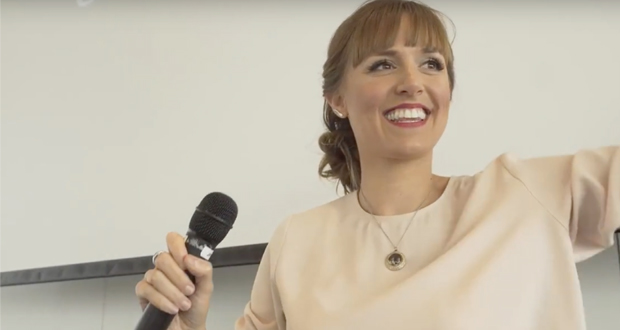 Lindsay Angelo
Growth Strategist, Thought Leader, Advisor & Speaker
X
Program Descriptions
UNLOCKING THE FUTURE OF CONSUMERISM
Personal growth immersions, a growing mindfulness movement, the gig economy, DIY lives – around every corner, signals of an emerging trend known as Betterment. Driven by a growing middle class, the digital age and the millennials, society is graduating up Maslow's hierarchy of needs in search of purpose, growth and fulfillment. What does this mean for consumers, brands and businesses? In this mind-bending talk, Lindsay illuminates a growing trend, the self-actualization economy, its business implications and her personal journey towards it.

REIMAGINING RETAIL
Driven by a digital landscape, the maker's movement & crowd-everything, we are witnessing disruption in the world of retail. Consumers are shifting from passively consuming a product to co-creating and inventing on their own. An army of authentic, innovative start-ups is emerging into the mix, democratizing the retail landscape and raising the innovation bar online and off. How can businesses respond to maintain relevancy and what does it all have to do with fundamental human needs? Lindsay explores the democratization of retail through the lens of evolutionary psychology and opportunities to flourish within.

THE EMOTIONAL ECONOMY
A new wave of sophisticated emo-diversity is ushering in an era in which people are increasingly obsessed with how they feel. Driven by the millennials; a generation valuing self-insight, spirituality and personal growth, brands are starting to respond through placing emotions at the epi-center of their business models, experiences and offerings from a bath company focused on creating moments of joy to Pixar plots crafted around emotional regulation. What are the opportunities for brands and businesses in all of this and what does it mean for you? In this insightful talk, Lindsay journeys through the emotional economy, its impact on consumerism and opportunities for brands & business.

MAINTAINING YOUR INNER START-UP
Consumers have more choice in the retail marketplace than ever before. The online revolution has enabled anyone and everyone to offer their products & services with just a click of a button, resulting in an army of authentic, innovative start-ups emerging into the mix. How can established businesses respond to maintain their "it" factor & continue to innovate? Through a combination of stories, insights, and play-doh(!), Lindsay explores the democratization of the retail landscape, shifting consumer expectations and opportunities for brands to thrive.

THE FUTURE OF SUSTAINABLE FASHION: A STORY OF GENERATIONS
This one-of-a-kind captivating talk illuminates the future of sustainable fashion, uncovering hard truths plaguing the fashion industry and strategic solutions corporations and businesses can adopt to play their part in solving the problem. Combining insight from two sides of a coin – one from Growth Strategist, fashion industry expert & former lululemon Strategy Manager, Lindsay Angelo, the other from world renowned water conservationist, advocate and star of the award-winning documentary, RiverBlue, Mark Angelo. Walk away educated and inspired to make a difference as this dynamic father-daughter duo takes the stage.
Why Book Lindsay Angelo?
Recently named one of the top innovation leaders to follow in 2019, Lindsay delivers powerful keynote addresses and workshops on an array of cutting-edge topics spanning the future of consumerism, innovation and business strategy. Relevant to business audiences of all kinds, she brings to life her research and insights in an imaginative, enlightening and personal manner.
Named one of the top innovation leaders to follow in 2019, and a Woman to Watch by 425 Magazine, you will find Lindsay at the intersection of strategy, innovation and insights where she partners with brands and organizations to craft their strategies and tell their stories while hitting stages across North America to deliver keynotes on the future of consumerism and innovation. Prior to advising, Lindsay spent six years at lululemon crafting their global growth strategy, exploring new marketplace opportunities, seeding new concepts and growing the company into the number one yoga wear player in the world.

Lindsay discovered her passion for business and entrepreneurship starting up her own apparel venture at a young age. This pursuit later took her to the angel investment arena incubating early-stage brands and then on to working in Strategy across the health and wellness, activewear, sports, technology, fin-tech & energy spaces. Lindsay's experience includes working with both global and local brands such as lululemon, the Olympic Games, WeWork, BC Hydro, TalentLab, RAAS Market, and Elliot. Lindsay sits on the Advisory board for World Business Research and contributes to a variety of media houses and publications including Retail Executive and Innovation Leader providing global insights on the future of consumerism and innovation.

Prior to this, a lifelong love for sport transported Lindsay bi-coastal to play NCAA Division 1 volleyball for George Mason University in Fairfax, Virginia. A dual citizen of the US and Canada, Lindsay continues to live and breathe all that she pursues in her entrepreneurial, strategic advising and recreational pursuits. Her experiences culminate in what she refers to as her sweet spot - where strategy, innovation and insights intersect, where the rational meets the emotive, where facts meet insights and where logic meets creativity.