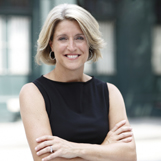 Lisa Bodell
Innovation and Foresight Expert
X
Program Descriptions
KILLING COMPLEXITY: Create a Culture of Simplification & Get to the Work that Matters
There is a formula to gaining a competitive advantage, and it is simple – Speed, Agility and Focus. But complexity is holding most organizations back from creating a culture that embraces these three principles of success. Simplification is the solution, and every organization wants to know the techniques to help them eradicate complexity and get back to meaningful work that drives innovative change.

Lisa inspires leaders and their teams to consider what it means to have an innovative company. It isn't about creating a culture of cool lounge areas with ping pong tables. More than anything, your culture will be predicated on the work people do every day. If your organization is mired in meetings, emails and reports, then that is what your culture will be known for; but, wouldn't you rather be known as the company where people are engaged in truly meaningful work every day? Lisa gives you the tools to make this a reality.

KEYNOTE TAKEAWAYS
Get informed by examples that resonate: consumers will pay more for simpler experiences; people recommend companies that exemplify simplicity; employees are brand champions in companies that operate with simplicity.
Identify areas for simplification within your organization; Learn techniques to make simplification a habit.
Understand which tasks take the most (unnecessary) time both individually and as a team.
Start to create a culture of simplification and exemplify its practices.

KILL THE COMPANY: End the Status Quo, Start an Innovation Revolution
Winning innovators embrace change—do you? What holds you back from better innovating, every day? In too many organizations, we're stuck in the land of status quo. We've forgotten how to think differently, and lack the simple tools to solve problems creatively. The very structures put in place to help organizations grow are now holding us back. This keynote is an inspirational call to arms: to start a revolution in how we think and how we work. If you want people to approach change differently, you have to help them change their approach!

KEYNOTE TAKEAWAYS
Everyone is a change agent.
Change involves a toolkit, not a process.
Small changes can make a big impact.
Reignite curiosity, inquiry and creative problem solving.
Why Book Lisa Bodell?


A globally recognized leader, futurist and expert in helping companies find success through simplification, Lisa Bodell shows how simplifying can shake off the twin evils of complexity and complacency prevalent in today's organizations.
Lisa Bodell is a global leader on behavior change, whose skill-building firm has transformed hundreds of thousands of employees from Fortune 500 companies by showing them how to Eliminate the Complexity that holds them back and Get to the Work That Matters.

Her talks offer a roadmap to eradicate the workplace complexity that is killing organizations' ability to be agile, fast and innovative. In order to experience this trifecta of competitive advantage, organizations must embrace simplicity as a basic operating principle, and Lisa's content and energy move them to action.

A dynamic keynote speaker, Lisa empowers audiences with thought-provoking examples and practical techniques that ignite simplification and innovation immediately. Praise for her talks include: "the best speaker yet -- engaging and energetic" (Google); "revolutionary and compelling" (Accenture); "incredibly unique and thought provoking" (Mastercard Worldwide); "immediately actionable" (Citigroup).

With a deep understanding of best practices across industries, Lisa has contributed her expertise to a wide variety of media, including: Fast Company, WIRED, The New York Times, Bloomberg Businessweek, Forbes, Harvard Business Review, The Huffington Post, and CNN. Lisa has served on the advisory boards of the NSA, the Association of Professional Futurists, Novartis' Diversity and Inclusion Board and is an acting member of the Global Agenda Council for the World Economic Forum.