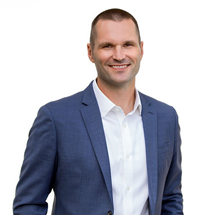 Marcus Sheridan
Author, Speaker, Business Owner
X
Program Descriptions
THE DIGITAL CONSUMER: How Today's Buyer Has Changed and What Your Business Must Do About It
More than any other time in the last 100 years, the buyer of today has made a dramatic shift in the way they make purchasing decisions. Unfortunately, many companies haven't adapted to this shift and are not prepared for the continual evolution of this "digital consumer." In this talk, Marcus Sheridan brings clarity to the way buyers have changed and exactly what companies must do to, not only align themselves with this shift in buyer patterns but take advantage of the digital age as well. If you like to be engaged, challenged, and moved, you'll love this keynote with Marcus Sheridan!

In this talk, attendees will:
Learn the shift that has happened with today's buyer and what that means for sales and marketing departments going forward
Discover exactly what types of content and messaging move the sales needle and truly get results
Find out how video and visual learning is impacting the buying process and what organizations must do to be seen as a "media" company

THE VISUAL SALE: How to Embrace the Visual Revolution and Create a Culture of Video in Your Organization
Studies have shown that by the year 2019, 80% of all content consumed online will be video-based content. With such a dramatic trend, what is your business or organization doing to not only meet the demands of today's buyer but to also stay ahead of the marketplace and be prepared for what is next? In this action-packed keynote, Marcus Sheridan will show powerful stories of how B2B and B2C companies are using video to not only build their brand but significantly drive sales and marketing revenue in the process. Sheridan will also discuss exactly how any organization, regardless of size, can develop its own culture of video and experience incredible results.

In this talk attendees will:
See what type of video content does and does not move the needle in terms of sales and revenue.
Discover how to integrate video into the sales process to improve closing rates while decreasing sales cycles.
Learn how to set up an in-house "media company" and engage your team in the process.
And much, much more!

THE FUTURE OF WEBSITE DESIGN AND USER EXPERIENCE
We all know our website has a dramatic influence on our business. But with so much change in today's buying habits, what do consumers really want when they come to your site? And what motivates them to not only stay but make buying decisions as well? In this powerful talk, Marcus Sheridan will walk attendees through 7 key elements that make for a world-class website user experience today. And if you attend, not only will you be flooded with ways to truly get more ROI and results from your website, but you'll also get immediate takeaways and quick wins to apply when you get back to the office. If you'd like to give your website visitors an amazing experience that induces trust, results and ultimately major revenue for the company - then this is a talk you won't want to miss.
Marcus Sheridan is a highly sought-after international keynote speaker known for his unique ability to excite, engage and motivate live audiences with his simple, yet powerful transformational business approach. Marcus has been dubbed a "Web Marketing Guru" by the New York Times and in 2017 Forbes named Marcus one of 20 "Speakers You Don't Want to Miss." Not one to be limited to the stage, Marcus is most often found walking through the crowd, calling audience members by name, and bringing them into his presentation.

As author of the content marketing guidebook, "They Ask, You Answer," Marcus has not only inspired thousands to achieve their potential but has given them the tools they need to get there. Mashable rated his book the "#1 Marketing Book" to read in 2017. Forbes listed it as one of "11 Marketing Books Every CMO Should Read." Marcus has been featured in the New York Times, Inc., The Globe and Mail, Content Marketing Institute, Social Media Examiner, and more. Marcus has spoken to companies such as Cisco, Bass Pro, Discover Card, Microsoft, eBay, McKesson, Cision, Whirlpool, Moe's, Genpact, Love Funding Group and more. He has inspired thousands of audiences and helped millions of people from all over the world to achieve their own success with his "They Ask, You Answer" philosophy.

But Marcus' story didn't begin on the stage. It started with a business being created and run out of the back of a beat-up pickup truck. Marcus's experience of saving his swimming pool company, River Pools and Spas, from the economic collapse of 2008 has been featured in multiple books, publications and university case studies around the world. From its humble beginnings as a three-man company, to one of the largest manufacturers and installers in the country, River Pool and Spas has the most visited pool website in the world, with over 750,000 hits a month.

Marcus' experience as an entrepreneur and business owner, who had successfully saved his company, led him to opportunities to share his story and help others. What started as speaking from the stage quickly turned into a Sales and Marketing consulting agency, The Sales Lion. Using his marketing principles, Marcus and his team led clients step-by-step through the process of growing and even transforming their companies. In early 2018, The Sales Lion merged with IMPACT, establishing one of the most successful digital sales and marketing agencies in the country. Within his speaking company, Marcus Sheridan International, Inc., Marcus gives over 70 global keynotes annually where he inspires audiences in the areas of sales, marketing, leadership, and communication.
Books

They Ask You Answer