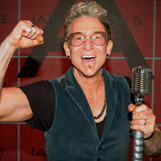 Mark Schulman
World Renowned Drummer for bands: P!NK, Cher, Velvet Revolver, Author, and Keynote Speaker
Traveling From
California
X
Program Descriptions
Hacking the ROCKSTAR ATTITUDE
Harness the energy, spirit and passion of rockstars

Mark uses three core principles during this kinetic and sensory-driven program. You will walk away with a blueprint for how to incorporate rock & roll philosophy, techniques and swagger into your business in order to drive performance and energize your work environment. Are you ready to rock?

Focus: Innovation, Communication, Sales/Presenting, Leadership, Individual and Team Top Performance.

Boost Your RQ- Rockstar Quotient!
The bedrock of the greatest performers revealed

For organizations, leaders, and individuals, Mark will show you how you can boost your Rockstar Quotient for real gains in productivity, capacity, performance, innovation and morale… This is a rock show disguised as a keynote with measurable results!

Focus: Innovation, Performance, Communication, Sales, Leadership, Team Building, Breaking Through Barriers to Success.

Conquering Life's Stage Fright
Three Steps to Top Performance

Mark brings his popular book to life at your event through engaging stories, performance and interactive processes. Mark demonstrates how all individual and team performances are broken down into three simple yet powerful steps: Clarity, Capability and Confidence. You will use these three simple concepts to drive you and your team's performance to a higher level by transforming fear and trepidation in Confidence!

Focus: Individual and Team Top Performance, Sales/Presenting, Communication, Innovation.
Why Book Mark Schulman?


Experience energetic, strategic and emotional presentations that will elevate you and your team's performance!! Unlock business breakthroughs and raise your bottom line.


Get ready to be empowered, inspired and elevated to an evolved mindset and a new level of peak performance. Having performed for over a billion people, Mark will embolden you with the essence of a Rockstar. You will experience Mark's powerful business philosophy and innovative strategic content with engaging multimedia and drum performances.


Think Tony Robbins meets Bono meets Ringo Starr; you'll break the boundaries of possibility and performance. Be prepared to ROCK out to an unforgettable mix of live drumming, interactive performances and compelling stories from Mark's intimate experiences with Pink, Billy Idol, Foreigner, Cher and other world-cals artists.
Mark has enjoyed an unprecedented career over the last 26 years as a first-call drummer for world-class rock and pop artists. He has been voted 'Top 3 Pop-Rock Drummers' in the 2014 Modern Drummer Reader's Poll. Having finished his third record-breaking world tour with P!NK. Mark also joined Cher for her 'Dressed To Kill' World Tour 2014.

Mark's resume reads like a "Who's Who" of international Rock n' Roll royalty including acts such as Foreigner, Sheryl Crow, Stevie Nicks, Destiny's Child, Billy Idol, Cher (Mark was drummer on the 'Believe' and 'Farewell' tours, two of the most-attended tours in music history) Udo Lindenberg and Eikichi Yazawa. He has drummed with Velvet Revolver at Ozzfest and for crowds of 200,000 at Glastonbury Festival with Simple Minds. Mark is the recipient of numerous Gold and Platinum discs and has appeared on nearly every American and European variety show on television including The Grammys, David Letterman, The Tonight Show, Conan O'Brian, Jon Stewart, American Idol, Paul O' Grady, X-Factor, Wetten Das and more.

Schulman is a classically trained cellist and as a teen, played with the Los Angeles Junior Philharmonic. He played cello on the 2009/2010 P!NK tour! He is also a music producer, trained audio engineer and studio co-owner of West Triad Recording Studio in Venice, California. As an active educator, Mark taught at the Los Angeles Music Academy and as one of the world's most sought after drum clinicians hosting clinics in countries around the world.

Mark produced his first DVD in his studio entitled, 'A Day in the Recording Studio; A Do-It-Yourself Guide to Recording Great Drum Tracks for Drummers and All Musicians' distributed by Hudson Music. The Mark Schulman Signature Snare Drum is the bestselling signature product in the history of Gretsch.

Music is not Mark's only driving force; he was the chairman of the board of directors of Create Now!, a non-profit organization founded in 1996, to help change troubled children's lives through creative arts mentoring. A cancer survivor himself, Mark has also motivated children and teens through his work doing seminars with the Ronald McDonald House and benefits for the Teenage Cancer Trust in the UK.

Mark's new book, Conquering Life's Stage Fright, arms readers with the essential tools to step up and break through defining moments in life. Mark inspires his audiences with stories, ideas, and insights from leaders who confirm Mark's Three Steps through compelling interviews about nervousness or anxiety that is relevant to all types of performance in the workplace. Mark's love for inspiring others is shared through his corporate seminars and his signature Drumming Recording Seminars. Mark also wears the hats of a host, MC and keynote speaker, appearing on television, at live events and major corporate conventions for clients such as IBM, Cisco, Aveda, and Teenage Cancer Trust.

Schulman's writing/production credits include films, various international TV shows and commercials, radio jingles and interactive media projects for clients such as: McDonald's, Mattel, IBM, Ben10, Sony, Acura, Novalogic, Neutrogena, Honda, The Disney Channel, Nickelodeon, Showtime, USA Network, Comedy Central, Country Music Television, Nashville Network, The Sopranos, School of Rock, Speed and Beverly Hills Cop III.