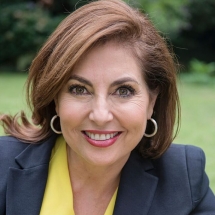 Nadia Bilchik
News Anchor, Communication & Presentation Skills Expert
X
Program Descriptions
Unleash Your Personal Presence for a Winning Edge
-How to Persuade and Influence with the use of Verbal and Non-verbal communication
-Understand what enhances your presence and what inadvertently sabotages you
-How to keep your audience's attention in a Blackberry age
-How anyone can be more compelling
-How to quickly assess people and relate to them in the most appealing way
-How to speak with a powerful and persuasive voice
-How to ensure that you are really heard
-How to unleash our personal presence in the workplace and beyond

Networking for Success: Kick your Relationships up a Notch
This highly motivational, team building workshop is designed to encourage self-confidence and introduce strategies for enhancing career relationships. In today's highly competitive world, building relationships through the use of interpersonal skills is critical in attracting new business and cultivating existing business.

Members of every organization can positively impact the business regardless of their job. This riveting program will show participants proven ways to improve professional and personal relationships by creating opportunities to learn from others and discover unexplored options.

How to Light the F.I.R.E.: Tips and Techniques to Build Rapport every time you Communicate
The most critical skill in business today is building rapport with others. Now you can learn from a pro. Nadia, an international news anchor and interviewer, shares clips of her interviews with celebrities such as Tom Hanks, Anthony Hopkins, Matt Damon and Morgan Freeman. You will learn the art of communicating with anyone, anywhere at anytime.

Cross-Cultural Networking: Building Relationships to Create a more Diverse Business Environment
This highly interactive, transformational keynote is to first guide each participant to their own unique perspective on the importance of diversity in driving innovation and growth Then, to learn particular networking skills as critical tools in creating this diverse, innovative environment.
Nadia Bilchik, President of Greater Impact Communication, is an internationally renowned television personality, communication and professional development training expert, author and keynote speaker.

Nadia currently reports for CNN's Weekend Morning Passport on CNN. Nadia has anchored and hosted feature programs for CNN International, CNN Airport Network and MNet Television (South Africa). Her uniquely warm, dynamic and entertaining approach to communication skills training, comes from her extensive experience in conducting training workshops, coaching business professionals and delivering keynote addresses to a broad range of audiences both in the USA and globally, as well as interviewing high-profile figures, celebrities and corporate leaders. They include President Nelson Mandela, Tom Hanks, Meryl Streep, Anthony Hopkins, Morgan Freeman, Matt Damon, and George Clooney amongst others.

Nadia's clients include: ESPN; Saks; Starbucks; Turner Broadcasting – CNN, TruTV, Cartoon Network; The Coca-Cola Company; Home Depot Corporation; Accenture; Imerys NA, Kaiser Permanente; Georgia Tech; Commercial Real Estate Women's "CREW", affiliates nationally; Principal Financial; Prudential Georgia Realty; Arnall Golden Gregory; Equifax, The Women's Food Service Forum and ERC Worldwide Organization – Corporate Relocation Specialists.

A sought after moderator, Nadia has hosted events for Coca Cola NA, WIT Connect for the Technology Association of Georgia, The Captain Planet Foundation, as well as the International Women in Film Crystal Awards with Alfre Woodard. She has opened the SOS Children's Villages in South Africa with President Nelson Mandela and hosted the launch event for the Georgia Restaurant Association with guest speaker Ted Turner.

Nadia received a Licentiate in Speech and Drama from Trinity College, London, and degree majors in Drama and English from the University of Cape Town, South Africa. She was awarded the Community Award for Meaningful Broadcasting in 1995 (South Africa), and has been profiled in Atlanta Business Chronicle; Piedmont Review; Atlanta Life/Times, Fair Lady and The Sunday Times (South Africa), amongst others.