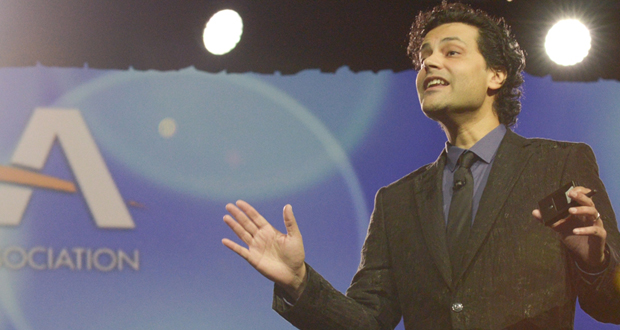 Ravi Hutheesing
Cultural Catalyst & Global Keynote Speaker
X
Program Descriptions
Millennials will become the largest generation in the United States in 2019 and have already outnumbered Baby Boomers globally. These independent multicultural thinkers view themselves as part of a "gig economy." We are heading for fundamental change as a global society.

Ravi—part of the "middle-child" Generation X—will empower you to understand the millennial mindset and effectively collaborate across generations, harnessing Millennial strengths and helping them overcome weaknesses.

In addition to captivating keynotes, what makes Ravi a unique speaker? He will:


Interview several attendees in advance to prepare (keynotes only)
Socialize with attendees throughout the entire event (keynotes only)
Give attendees the opportunity to download his presentation and stay in contact with him (keynotes only)
Not pitch products or services from the stage
Close with a song if requested, and if you provide the guitar

Millennial Mojo: Disrupting Education under Millennial Leadership
All generations must collaborate to redesign education and make it relevant in an age of Artificial Intelligence and Globalization. Personalized Learning, Career Pathways, STEAM vs. STEM, and better systems to measure student development are some of the greatest opportunities in education, but only if implemented appropriately.

Millennial Mojo: Collaborating Across Generations in the Workplace
They are the largest stakeholders on the planet, and understanding their mindset is the key to economic and social prosperity going forward. By embracing their idealism and harnessing their entrepreneurial spirit and global prowess, Baby-Boomers, Gen X, and Millennials can collaborate within any industry and together build a better future.

Cultivating an Entrepreneurial Mindset
Also available for youth as "Live the Dream" The future requires an entrepreneurial mindset. What are the essential ingredients for career growth, staying relevant, and positively impacting the world? Step out of your comfort zone and expand your horizons.

Teaching Cultural Competency
With Globalization and A.I., how do we create cultural competency during a time of cultural dilution and shrinking job markets? It's not about teaching cultural competency, but un-teaching cultural incompetency.
Why Book Ravi Hutheesing?
Ravi is a global keynote speaker whose philosophies and strategies have empowered people to bridge generational and cultural divides throughout the Americas, Europe, Middle East, and Asia  
He captivates his audiences while offering solutions for a smoldering problem—the communication gaps between cultures and generations
Stories from Ravi's experiences as an artist-entrepreneur, aviator, 'rock star' and cultural diplomat motivate and inspire audiences
Ravi Hutheesing is a cultural catalyst and global motivational/keynote speaker empowering businesses, educators, and over a million people throughout the Americas, Europe, Middle East, and Asia. The first American born member of the family that created the world's largest democracy and governed it for over 40 years, Ravi is the grand-nephew of Jawaharlal Nehru (India's first Prime Minister), the nephew of Indira Gandhi (India's only female Prime Minister), and the cousin of Rajiv Gandhi (India's youngest Prime Minister).

Cultural Catalyst
Ravi began serving as a cultural diplomat for the US Department of State in 2015, giving presentations on entrepreneurship and youth leadership in Russia. In 2016, he went to Indonesia—the world's largest Muslim population—and created songwriting and cultural entrepreneurship programs that bridged the most severe cultural and religious divides, and in 2017, Ravi created similar programs in Iraq and Lebanon which included students from Mosul liberated from ISIS just three days earlier, and Syrians from the decimated city of Aleppo.

In 2018, he launched Ravi Unites Schools -an initiative fostering real-time audio-video interactions between student groups around the world.

For nearly a decade, Ravi has partnered with Shanti Bhavan Children's Project in India—a non-sectarian boarding school providing a holistic upbringing in a high quality educational setting for the poorest of the poor. Current graduates are employed by American Express, Goldman Sachs, Deloitte, and others, and the school is the subject of the 2017 Netflix documentary series, Daughters of Destiny.

Musician
Ravi's worldwide visibility skyrocketed as the guitarist for triple Grammy nominee, Hanson, whose massive fan base of the earliest millennials catapulted him to the stages of the White House, Madison Square Garden, Tonight Show, Good Morning America, and Saturday Night Live. Simon & Schuster published his memoir, Dancin' with Hanson, and he has authored over a hundred articles for major magazines. He also spoke globally on behalf of the music industry, giving presentations for the National Association of Music Merchants in California (2004-2014), MusikMesse in Moscow (2014), and Music China in Shanghai (2014).

Aviator
After getting his pilot's license in 2008, Ravi gave keynotes to the industry to help attract millennials and reverse the shrinking pilot population. He also created a niche market by performing concerts at air shows, becoming the spokesman for products targeting young pilots, and designing a signature model folding guitar specifically for pilots requiring portability.