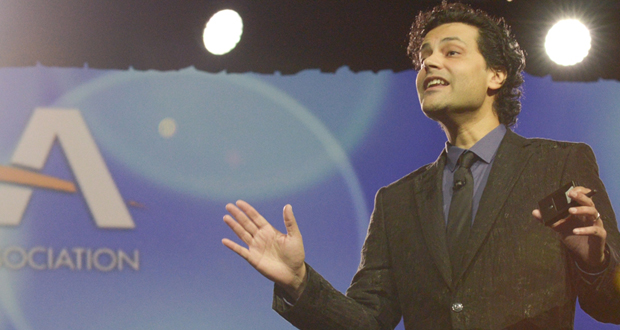 Ravi Hutheesing
Cultural Catalyst & Global Keynote Speaker
X
Program Descriptions
Cultural Competence, the Pathway to Equity in Education
The world is changing, and we must do more to prepare students not for our future, but for their future. In a global society dominated by technology, jobs and careers will likely no longer form the individual identities of future generations, but human and cultural connections will become increasingly important. Therefore, we must overcome unsubstantiated fears and implicit biases so that we not only educate every child fairly, but also help them defeat their own fears and biases while cultivating their curiosity. Only then can they become lifelong learners that can solve the world's problems and lead with cultural competence and a growth mindset.

Ravi's journey through life embodies personalized learning, lifelong learning, and cultural competence. Having been a brown student with an unpronounceable name enrolled in an elite and almost all-white public school system, he felt pushed to simultaneously pursue an education outside of school in order to achieve his dreams. Now, having lived those dreams and more, he aims to bring us closer to world peace by uniting people from almost every corner of the globe through cultural activities.

As the grand-nephew of India's first prime minister, an entrepreneur before graduating high school, the former guitarist of 1997's pop-phenomenon Hanson, an aviator, a cultural diplomat on behalf of the US Department of State, and the founder of Ravi Unites Schools, Ravi takes educators on a captivating journey that expands the way they see the world, inspires meaningful actions, and offers techniques and tools to help themselves and their students become culturally competent. Moreover, his experience across cultures and generations offers valuable insight that will help recruit and retain teachers, and create a relevant education system through generational collaboration.

Attendees will leave with actionable takeaways that include:
Ideas that they can implement immediately to cultivate cultural competency and equity in school and the community
How to effectively use the arts as a tool to combat implicit biases
Why systems like "career pathways" (vocational education) may work against equity in education while "personalized learning" can prevent disaffection of youth and promote prosperity
The difference between cultural competence and cultural capital, and how to capitalize on capital to achieve competence
How to harness the Millennial generation's strengths and inclinations, as well as how to recruit and retain them in education

What Do You Have to Lose? Step Out of Your Comfort Zone (Also available as a youth presentation)
The future requires a growth mindset. Regardless of whether one is or becomes an employee or entrepreneur, building self-confidence and a tolerance for risk is essential. Staying curious, using failures as a pathway to success, pivoting, and always asking oneself questions like "What do I have to lose?" is the difference between being relevant and becoming obsolete.

Ravi uses his amazing journey to showcase how lifelong learning leads to success. By sharing how he created opportunities out of a challenging childhood, climbed out from the collapse of the music industry in the nineties, pivoted during the economic recession of 2008, and overcame family medical issues that repeatedly challenged his personal and professional ambitions, he motivates you to consistently step out of your comfort zone and turn adversity into opportunity, all while living the words of Gandhi, "Be the change you wish to see in the world."

Attendees will leave with actionable takeaways that include:
How to step out of your comfort zone and expand your horizons
Asking oneself questions like, "What do I have to lose?" and "What did I fail at today?"
How to develop a "pay it forward," social-entrepreneurship component that attracts support
Building meaningful networks and creating strategic alliances
Recognizing that failure is not a lack of success, but the path to success

Millennial Mojo: Collaborating Across Generations and Cultures
If you want to feel very optimistic about the future, look no further. Anticipating and influencing the positive impact that Millennials will have as leaders is a tremendous opportunity. They are the largest generation, soon-to-be most influential in global leadership, and will live longer than their predecessors. Their magic—or "mojo"—is shaping the world!

Ravi's vantage point is uniquely relevant as a member of "Generation X"—the bridge between Millennials and Baby-Boomers. He takes his audiences on an inspiring personal journey that yields unparalleled insights into generations and cultures, and motivates everyone to take actions that will make the world a better educated and more harmonious place.

In this eye-opening and thought-provoking keynote, discover how much the generations actually have in common and how to use these commonalities as building blocks for collaboration. Ravi depicts an optimistic future based on millennial character traits including their hunger for the arts (the key to teaching empathy), thirst for entrepreneurship (the key to fostering identity), and natural ability to rise above social injustices.

He also challenges participants to consider how artificial intelligence will drive revenue and unemployment, the impact that will have on the disaffection of youth and vulnerability to radicalism, and how society must adapt in order to appropriately navigate this changing landscape.

Ultimately, Ravi empowers Boomers, Xers, and Millennials to successfully collaborate in order to overcome local to global challenges, make education relevant for the future, and bring us closer to world peace.
Why Book Ravi Hutheesing?
Ravi is a global keynote speaker whose philosophies and strategies have empowered people to bridge generational and cultural divides throughout the Americas, Europe, Middle East, and Asia  
He captivates his audiences while offering solutions for a smoldering problem—the communication gaps between cultures and generations
Stories from Ravi's experiences as an artist-entrepreneur, aviator, 'rock star' and cultural diplomat motivate and inspire audiences
Ravi Hutheesing is a cultural catalyst and global motivational/keynote speaker empowering businesses, educators, and over a million people throughout the Americas, Europe, Middle East, and Asia. The first American born member of the family that created the world's largest democracy and governed it for over 40 years, Ravi is the grand-nephew of Jawaharlal Nehru (India's first Prime Minister), the nephew of Indira Gandhi (India's only female Prime Minister), and the cousin of Rajiv Gandhi (India's youngest Prime Minister).

Cultural Catalyst
Ravi began serving as a cultural diplomat for the US Department of State in 2015, giving presentations on entrepreneurship and youth leadership in Russia. In 2016, he went to Indonesia—the world's largest Muslim population—and created songwriting and cultural entrepreneurship programs that bridged the most severe cultural and religious divides, and in 2017, Ravi created similar programs in Iraq and Lebanon which included students from Mosul liberated from ISIS just three days earlier, and Syrians from the decimated city of Aleppo.

In 2018, he launched Ravi Unites Schools -an initiative fostering real-time audio-video interactions between student groups around the world.

For nearly a decade, Ravi has partnered with Shanti Bhavan Children's Project in India—a non-sectarian boarding school providing a holistic upbringing in a high quality educational setting for the poorest of the poor. Current graduates are employed by American Express, Goldman Sachs, Deloitte, and others, and the school is the subject of the 2017 Netflix documentary series, Daughters of Destiny.

Musician
Ravi's worldwide visibility skyrocketed as the guitarist for triple Grammy nominee, Hanson, whose massive fan base of the earliest millennials catapulted him to the stages of the White House, Madison Square Garden, Tonight Show, Good Morning America, and Saturday Night Live. Simon & Schuster published his memoir, Dancin' with Hanson, and he has authored over a hundred articles for major magazines. He also spoke globally on behalf of the music industry, giving presentations for the National Association of Music Merchants in California (2004-2014), MusikMesse in Moscow (2014), and Music China in Shanghai (2014).

Aviator
After getting his pilot's license in 2008, Ravi gave keynotes to the industry to help attract millennials and reverse the shrinking pilot population. He also created a niche market by performing concerts at air shows, becoming the spokesman for products targeting young pilots, and designing a signature model folding guitar specifically for pilots requiring portability.