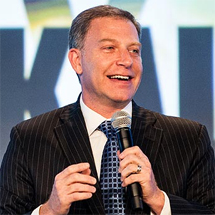 Ricky Kalmon
Mindset Expert, Celebrity Hypnotist & Motivational Speaker
X
Program Descriptions
"Standing Ovations Are the Rule, Not the Exception!"

Ricky Kalmon offers two powerful and exciting programs with take home value.

Program 1: Ricky Kalmon's Comedy Hypnosis Show - Corporate Entertainment with motivational message


Interactive experience – always in good taste - clean and politically correct!
Appealing to all audiences and demographics
Customized to fit the theme of franchise event
High-energy entertainment with a strong take home message
Ice-melting and barrier-dissolving presentation

Program 2: Ricky Kalmon's Motivational Keynote Program: Unlock the Power Within™
Topics: Mindset, Mindfulness, Reducing Stress, Sales, Accountability, Personal and Professional Empowerment.


Tailor-made program to fit your message and theme!
Learn how to control stress and tension, to perform at your fullest potential!
Increase confidence, positive attitude and overcome challenges!
Enhance a culture of personal and professional accountability!
Leverage your mindset to remove doubt and create success!
Awaken and inspire your subconscious mind to affirm and attend to your goals, desires, and passions!
Corporate Entertainment:
Ricky Kalmon has amazed audiences around the world. Millions have watched his special guest appearances on ESPN, Hallmark Channel, Fox, FX, TV Guide, HLN, and CNN. His uniqueness comes from the way he combines music, audience participation, and comedy to create an unforgettable experience that is unmatched by anyone. His programs will keep you on the edge of your seat and take you on a Vacation of the Mind! It's the Only Comedy Show Where the Audience Becomes the Stars!®

Mindset Motivational Keynote Programs:
Ricky Kalmon's mindset message and techniques will change the way you live, work, and think. His motivational programs are inspirational and offer compelling, applicable tools anyone can use for personal and professional development. Kalmon works with Fortune 500 companies' sales teams, leaders and executives where he teaches how to "Unlock the Power Within"™. His mindset keynote programs reveal how the subconscious mind can be the greatest tool in achieving new heights, reducing stress, increasing productivity and success. Kalmon will show you how to enhance your mindset to eliminate doubt and ignite your positive intentions.