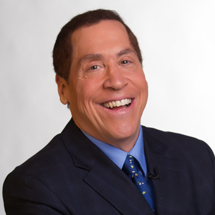 Roy Firestone
Award Winning Broadcast Sports Journalist, Impressionist and TV Personality
Traveling From
California
X
Program Descriptions
One Man Show - Up Close
Roy Firestone's ONE MAN SHOW - UP CLOSE, is more than a keynote speech. It is more than a 'mailed in" corporate presentation. Roy uses humor, observational experiences, fantastically funny video clips of bloopers, blunders, topical events and newsmakers. Roy does a dozen celebrity impressions and uses some computer graphic work to make members of the audience"come alive" on stage. Roy also moves, inspires and uplifts with storytelling, music, spoken word narratives and inspiring life experiences. Roy Firestone's presentation is truly one of a kind.
Why Book Roy Firestone?
More than just one talent—and one personality—Roy Firestone's presentations salute the best within us all.
He's considered "the best interviewer in sports", by Sports Illustrated…and "the best interviewer, period" by the late Pulitzer Prize winning columnist Jim Murray.

He's won seven prestigious Emmy® Awards spinning his own brand of magic with more than 5,000 men and women from the worlds of art, politics, and popular entertainment.

This is Roy Firestone. He's chatted with Jerry Seinfeld, former President Richard Nixon, Jazz great Miles Davis, TV's Ray Romano, pop icon Madonna and the legendary Academy Award® winning James Stewart.

Ah, but Roy's talents are not limited to being a thoughtful interviewer. His successful one man multi-media show has appeared from Las Vegas to corporate meetings and conventions all over the country.

The accomplished singer, impressionist and humorist has shared the stage with Frank Sinatra, Gladys Knight, Smokey Robinson and others. On television, Roy has been a guest of David Letterman, Jay Leno, Bob Costas, Larry King and Bill Maher. In addition, Los Angeles' top rated morning show, "Good Day LA" features his regular contributions.

This is Roy Firestone and oh so much more.