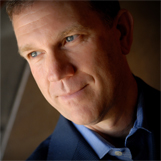 Scott Klososky
Technology Speaker
X
Program Descriptions
Sales/Marketing/Social Technologies
Digital Marketing: Helping Organizations Harness the Power of Social Media, Social Networking, and Social Relevance
SocialTech is the hottest trend in technology at the moment. Leaders are trying to figure out how to harness this powerful new suite of tools. In this presentation, Scott gives a top to bottom tutorial on the best practices for implementing a SocialTech strategy with impact. It is important to note that this is not a session that teaches best practices for using LinkedIn or Facebook. This is a robust keynote backed by strong graphical explanations of why SocialTech matters, and how it is changing the sales process, customer service and marketing. Areas specifically covered are subjects like online reputation management, crowdsourcing, building rivers of knowledge, and becoming industry experts.

-Best Audience - This talk is perfect for executives that are struggling to learn how to use SocialTech. It also plays really well with marketing, advertising and sales professionals.

-Position in the Event - This talk is best positioned when a meeting planner needs something that will have real take-home value for an audience. It can be anywhere from a one hour keynote to a four hour workshop.

The Changing Sales Model: Socially Facilitated Selling and Socially Directed Buying
The art of sales has grown through a few generations, and now technology is providing the catalyst to drive a huge reorganizing in how we sell. In the 70's and 80's selling was all about the relationship (Zig Ziglar, Dale Carnegie), in the 90's we grew into the solution oriented sale, find the pain, and provide the cure, or make them sick, and make them well. At the turn of the century, we got very good at creating rigid step by step sales processes that could drive a prospect "down the funnel." Social technologies have now shattered our ability to drive sales in the ways we have in the past. For a sales organization to prosper going forward, they will have to understand how to move toward a Socially Directed Buying Model. They will also need to train sales people in the use of social technology tools. This single presentation could have the most important practical impact on your organization of the next few years.

-Best Audience - This session is specifically targeted to sales people and the sales organization.

-Position in the Event - This keynote can be presented in any position within a conference because it is informational and lively. It can be used to inspire the sales team, or simply arm them with a long list of new tools and techniques they can use to drive more revenue. This can be delivered anywhere from a one-hour keynote, to a one-day seminar.

The 2.0 Customer: A Radical Change in Buying Behavior
Every organization has a constituent that they depend on to serve, or to sell to and those constituents do not behave like they did even five years ago. This is because Web 2.0 has ushered in a collection of tools and concepts that are completely redefining how we find, sell, and build relationships with customers. And the Web, mobile devices, and social technologies have combined to allow them to find products and services at the touch of a button. With these technologies customers now have the power to shape the reputations of any brand or product with their online comments. This means organizations can no longer simply "sell" to customers. Instead, new connections must be made in ways that create value in their lives. Failure to do this means regardless how wonderful products or services are believed to be, brands will slowly lose out to competitors who build relationships faster and deeper. In this presentation Scott uses his ongoing experiences in consulting with a broad scope of clients who are winning in the market today by using Web 2.0 tools to deliver the formulas audiences can take home right away and deploy.

-Best Audience - This presentation is best for any audience that deals in business to consumer or business to business sales. The only audience it would not work for is government or education.

-Position in the Event - This presentation is a good fit in any place in an event. It can be made funny and entertaining, or highly practical and informational.

Futurist/Trends/Strategy
Trends, Technology and Taking the Lead: Adaptive Cultures
Technology is simply a tool, but in the right hands, it can almost be magical in its ability to give us new capabilities. For this reason, it is critical to understand how technology can be fully leveraged in order to drive top-line revenues, or lower bottom-line costs. This is a talk that is both thought provoking and practical. Scott combines highlighting a few new trends that people might be aware of, and adds a few over the horizon trends that are completely new. To this Scott adds the delivery of practical technology tools, or concepts that can be used as soon the attendees get back to the office. In the end with a fast paced and entertaining style, Scott creates context for many of the words and concepts that they have heard about but cannot really apply just yet.

-Best Audience - This is a general talk that works for any audience. Scott will customize this talk for the industry he is speaking to so that the trends discussed are specifically appropriate for the listeners.

-Position in the Event - This talk can be constructed to be a good opening session, or tweaked to be inspirational and a great send off at the end of a conference. It can be one to three hours depending on how many concepts Scott covers and how deeply he goes into each thought.

Big Data and Business Intelligence: A Revolution of Insight
For more than 50 years, computers have been gathering and storing data. Now is the time to focus on putting it to work. By combining the concept of aggregating many forms of data and information into a very large data warehouse (Big Data) and using Business Intelligence (BI) to do the data mining, we can now discover new trends, anomalies, and analytics. This includes the ability to move up the chain from forensic data to real time, and most importantly, to predictive analysis. With the new software applications available, the ability to discover valuable insights is now available to small and medium-sized organizations. This powerful capability will soon create winners and losers in the market which means it is not an optional skill to learn! In this presentation Scott combines thought-leading concepts with the practical steps organizations must follow in order to exploit the new power of building up chain data and converting it to information, knowledge, and ultimately wise decisions.

-Best Audience - This is a great message for either high level executives, or a technology oriented audience. If the attendees are sales and marketing oriented, this message can be focused on customers intelligence and is always really well received.

-Position in the Event - This talk is best in the middle of an event when people are open to thought leading content that can be applied right away to produce big gains.

Cloud Computing: The Cloud Era
In this thought leading and insightful keynote, which Cisco called the best presentation on Cloud Computing they have seen, Scott shares a clear framework for understanding what cloud computing really is, and the impact it can have on organizations. Scott uses his humor and custom examples to drive home points as he outlines concepts like the importance of virtualization, cloud management software and the power of verticalized clouds. Then he provides a prescription for leaders who want to understand how to migrate from their existing configurations to the cloud. What makes this keynote especially unique is that he goes on to paint an intriguing picture of where cloud computing will go in the future. Because his consulting work allows him to work closely with companies of varying sizes, and across many industries, he has fantastic first hand knowledge about the current state of the cloud offerings, and the best ways to leverage its benefits.

Humalogy: The Perfect Blending of Humanity and Technology to Optimize Performance
Digital technologies have boosted productivity by leaps and bounds. Even while job growth has slowed, productivity remains robust due to adoption of technologies like the web, artificial intelligence, big data, and improved analytics, all made possible by the ever-increasing availability of cheap computing power and storage capacity. For years, the promise of technology has been the ability to produce a more productive workforce. The challenge however is that, while technology may improve productivity and efficiency by automating routine tasks, today it does not embody or transfer the human conditions necessary for building interpersonal relationships. Humanizing technology is still in its infancy. When trying to maximize efficiency and develop connectedness, there's a careful balance that must be struck. Not all steps or activities in a given process require humanizing. Humalogy is the perfect blending of humanity and technology to optimize potential, melding the head (information processing power) and the heart (human/spiritual connection) - the efficient use of machines and the sensitive understanding of emotions. What is Humalogy, how is it applied, why is it relevant, how can it impact an organization's sales, and what does the future hold? This program explores the business potential for Humalogy and suggests models to support discussions and evaluations on how to best apply it to optimize performance.

-Best Audience - This talk is perfect for executives who want a thought leading presentation that will give them an advantage in the market.

-Position in the Event - This talk is best positioned as either the opening talk of an event, or the other option would be the closer. This is clearly a talk that will get attention so it needs to warm audiences up, or send them off.

Leadership
A Technology Infused Leader: High Beam Leadership
There are thousands of leadership books out on the market, and what all of them seem to be missing is any discussion of what a leader now needs to know about technology in order to be effective going forward. We have a plethora of Baby Boomer and Traditional generation leaders that did not grow up with technology and really have no idea how to leverage it or manage the people that do. This talk is a very practical discussion of a handful of new concepts and ideas for what a leader now must be able to do well in order to lead effectively in the information age. This includes a better ability to see into the future, leverage technology holistically as if it were digital plumbing, and mature the institutional culture of the organization so that the younger technology savvy generations can prosper.

-Best Audience - This session is specifically targeted at the C-Suite and executives. It is best delivered to high level people that are open to learning new ways of leading, and that understand that they must continue to grow in order to be effective leaders.

-Position in the Event - This keynote can be presented anywhere in a conference because it can be easily adjusted to be more entertaining, or inspirational for an opening session or closing session. It can also just be one of the middle keynotes and be used as useful and practical content to create meaningful value to executives seeking enrichment. It is best delivered for at least one hour, and not more than ninety minutes.

Global Change/Thought Leadership
The Technology Integration of Man
As human beings, we are in the middle of an era where technology is systematically integrating more and more into our lives. The role that technology is now playing has a huge impact on our quality of life, and our careers. The impact of technology over the next 50 years and how it will integrate into our lives and even into our bodies will be staggering. This presentation examines ten steps in which technology will integrate into our lives. Executives will be able to take the futuristic views and apply them to their current strategies.

-Best Audience - This talk is best targeted at executives that think they have heard it all, or general audiences that hear lots of speakers every year.

-Position in the Event - Because this talk is meant to be very thought provoking, it can be used as an opening speech to get people thinking, or as a change of pace in the middle of a conference. It is best delivered between ninety minutes to two hours.

Did God Invent the Internet?
One of the most speculated questions people (especially parents) have about technology is how it will impact us as a human race. Will all these new digital tools be good or bad for us over time? What is it doing to us today? This is also a very thought leading speech meant to get people thinking big thoughts, such as, what will happen to the coming generations as they are augmented heavily with technologies their parents did not grow up with. How will organizations change as they become more virtualized and people communicate more and more through, and with, technology?

-Best Audience - This is clearly a talk intended for an audience that has heard lots of speakers and is looking for something new. This plays well with any level of participant because it applies to both their work life and home life. This talk really benefits from the use of wifitti.com so that audience members can communicate with Scott by text message right to the screen.

-Position in the Event - This presentation needs to be used as a change of pace in the middle of an event, or at the end of the event to send people home with some big thoughts about how technology is impacting them. It can be delivered in a one-hour to two-hour format.
Throughout his career, Scott Klososky has been on the forefront of technology and industry. He is renowned globally for his ability to recognize and capitalize on future trends regarding the ways technology is shaping business and our world.

Scott entertains while enlightening audiences around the world on a range of topics including building digital maturity, navigating the digital transformation, cybersecurity, technology-driven leadership, data intelligence, trendspotting, digital marketing, and injecting the right amount of technology into every process. He has developed a reputation for delivering presentations that leave attendees talking and thinking long after they have ended.

Experience
A former CEO of three successful tech startup companies and principal at consulting firm Future Point of View, Scott specializes in seeing beyond the horizon of how technology is changing the world.

His unique perspectives on technology, business culture, and the future allow him to travel the globe as an international speaker, consultant, and author working with senior execs in organizations ranging from the Fortune 500 to universities, nonprofits, and countless professional associations and coalitions. As a technology entrepreneur, he also continually works in the trenches of building his own companies.

Scott has developed the innovative concept of HUMALOGY®, the blending of technology and humanity. Humalogy provides a framework on how leaders can best balance technology and human effort to make processes more efficient and effective.

For much of his career, Scott has been devoted to helping organizations protect their digital assets and pilot what is becoming an increasingly critical area for the health and survival of all: cybersecurity. He is a co-owner of TriCorps Cybersecurity which provides a host of cybersecurity services including audits and assessments, vulnerability testing, forensics, remediation, and team member training. He has spoken in front of the FBI's Cyber Warfare Conference and the Federal Government for Financial Accountants. He is driven to ensure that all organizations can effectively protect themselves from cyberattack.

Currently Scott is developing Crowdscribed, a new publishing model for a range of publication types generated by crowdsourcing. Created by the crowd and for the crowd, this new model of publishing reverses the process of traditional publishing and produces titles that will guarantee readers—and revenue.

He is also the founder and part owner of Alkami Technology, a previous tech startup that developed a 2nd generation online banking platform with innovative features non-existent in current systems. The privately-owned software company focuses on providing online account management solutions to the financial services industry.

Background
Scott began his career fresh out of high school, where his job as a delivery boy was a springboard into the world of technology. He became division head of a computer sales division and then purchased it as his own company. It was eventually built into a twelve-store operation in three states.

His next endeavor was as founder and CEO of Paragraph, Inc., a Soviet/American joint venture founded in 1988, despite international tensions. Half of the company was sold to Silicon Graphics, and the other half is still expanding today (Parascript, Inc.).

Scott then collaborated with H.R. Haldeman to publish a diary of his years as an aide to President Nixon, which was a bestseller (Putnam Publishing), and involved Sony Interactive in the release of a book companion CD-ROM.

The evolving Internet ushered in a world of opportunity for inspiring pioneers, and Scott was not left behind. He was founder and CEO of webcasts.com, an early producer of webcasted media ranging from corporate and government communications to sporting events and entertainment. He sold webcasts.com in 1999 for $115 million. His expertise in leadership and his creative approach to business direction inspired Critical Technologies to hire him as a turnaround CEO, where he completely rebuilt the underlying products and brought the company to profitability.

Books
Did God Create the Internet
The Impact of Technology on Humanity

The Velocity Manifesto
Harnessing Technology, Vision & Culture to Future-Proof Your Organization

Enterprise Social Technology
Harnessing the Power of Social Media, Social Networking, Social Relevancy

Manager's Guide to Social Media
Jumpstart Productivity, Profitability, and Business Growth with Social Media
Books