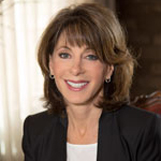 Sue Hershkowitz-Coore
Effective Customer Service And Communication
X
Program Descriptions
How to Get Attention with Persuasive Messaging
It's a battle to get people's time and attention. Win them over by creating an engaging, brisk micro-message. From email messaging to presentations, learn to structure content and convey intent to engage buyers, build relationships and communicate influentially.

Taking Care of Business: Looking for a Second Right Answer
Perfect keynote! Kick off your meeting and get your attendees pumped and ready to increase profits and potential. They laugh. They learn. They see that second right answers create different results. The results they need today.

Communicating When Strangling Isn't an Option!
Been there? Everyone loves this. Funny and relevant, irreverant but never impolite, your group learns to use specific skills to stay calm, focused and professional when all they really want to do is scream, bite and kick! SpeakerSue, who has a Master's Degree in counseling, is uniquely qualified to help stressed out, overworked and overwhelmed attendees manage their conversations perfectly. Excellent keynote or workshop.

Change the Conversation! How to Communicate to Create Abundance
Garbage in... garbage stays. Change your conversation and change your results. This engaging keynote motivates your team to stop trash talkin' and start talking the language of abundance. This isn't some woo-ey presentation; it's based on proven success principles and guaranteed to help you engage customers and co-workers in more productive and profitable conversations. Funny, real and full of fresh ideas to move from scarcity to prosperity.
Internationally recognized communications researcher and sales trainer with multiple degrees and honors from prestigious universities, Sue Hershkowitz-Coore helps audiences increase profitability, professionalism and productivity through improved communications. Skillfully blending persuasion research, business trends, anecdotes, insights, and studies from the social sciences into engaging bespoke keynotes and training workshops, Sue has developed a winning communication system that creates amazingly successful and profitable customer relationships.

Sue has authored Power Sales Writing (now in its 2nd printing: McGraw-Hill) named among the "Best Books for Sales Success" by Selling Power magazine in 2013, and How to Say It to Sell It! (Prentice Hall/Penguin), both ranked 5 stars on Amazon.com. Sue's uniqueness is the way in which she presents a fresh, practical, on-trend look at how what you say and how you say it can skyrocket or inhibit sales and personal success. SpeakerSue, as she is affectionately called and also because no one can pronounce her last name!, is a past officer, board member and President's Award winner of the National Speakers Association, a founding member of Meeting Professionals International's Women's Leadership Initiative, has been designated an MPI "Platinum" speaker for 12 consecutive years and was named "Best in Class - 2010-2014" by Professional Convention Management Association. Sue's educational degrees include a Masters of Counseling, and a Fellowship supported by the University of California at Berkeley. Her presentations take her around the world including working with global organizations in the USA, China, Hong Kong, New Zealand, Australia, United Kingdom, Switzerland, Czech Republic, Spain, South Africa, Mexico and Canada.

Known for her high energy, irreverent (but always professional) approach and down-to-earth way of delivering information and facilitating learning, SpeakerSue is passionate about helping you and your team achieve best results. Expect to be delighted by Sue's authentic, enthusiastic approach and thrilled by the results she will help you achieve.
Books