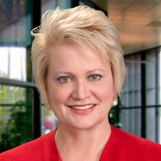 Susan Dentzer
Health Policy Expert
X
Program Descriptions
Political Economics
In this informative presentation, Susan Dentzer analyzes fiscal and budgetary problems facing the US, outlines current disputes, and explains whether or not they revolve around healthcare. While examining current battles between Congress and the White House, she offers both short-and long-term solutions, and explains what it all means for everyone - from consumers to associations and corporations.

A Roadmap to Decency, Rising to Meet America's Healthcare Challenge
As an expert on healthcare policy, Susan Dentzer cuts through the rhetoric and examines the latest policy changes and explains what they mean for the future.

HealthCare 2017
Amid current efforts to repeal and replace the Affordable Care Act, and the evolving policies of the Trump administration, there is uncertainty as to the direction of future reforms in payment and delivery of health care. Will the traditional bipartisan support for such reforms continue? What new payment and delivery models may be created? How will MACRA legislation, the new Quality Payment Program, and the advent of new alternative payment models, change the landscape? And how will payment and delivery reforms driven by private payers and purchasers adapt as a result? Susan Dentzer will describe the likely policy and political scenarios that will sustain payment and delivery reform, even as new models are created and tested. She will also discuss changes in technology and other sectors that may also drive health care delivery transformation in the years ahead.
Why Book Susan Dentzer?


She speaks on on the intersection of health and health policy in the United States and the need for us to obtain better value for the money spent on healthcare.
She is devoted to improving the health of all Americans by working to raise awareness on the core issues affecting healthcare.
Susan Dentzer is the President and Chief Executive Officer of the Network for Excellence in Health Innovation, a national, nonpartisan, not-for-profit organization composed of stakeholders from across all key sectors of health care. NEHI convenes its members, conducts independent, objective research, and advances policy and other solutions aimed at improving health, advancing the quality of health care, and achieving greater value for the money spent on health care.

One of the nation's most respected health and health policy thought leaders, Dentzer from 2013 to March 2016 served as senior policy adviser to the Robert Wood Johnson Foundation. She was formerly editor-in-chief of Health Affairs, and the on-air Health Correspondent for the PBS NewsHour. She is a frequent commentator on health issues on National Public Radio and other media outlets.

Dentzer is an elected member of the National Academy of Medicine and serves on its Board on Population Health and Public Health Practice. She is an elected member of the Council on Foreign Relations; a fellow of the National Academy of Social Insurance; and a fellow of the Hastings Center on bioethics. She is a member of the Board of Directors of the International Rescue Committee, a leading international humanitarian organization; Research!America, which advocates for support of biomedical research; and the Public Health Institute.

Dentzer is an alumna and trustee emerita of Dartmouth, previously chaired the Dartmouth Board of Trustees, and is and a longtime member of the Board of Overseers of Dartmouth's Geisel School of Medicine. She, her husband, and three children live in the Washington, DC area.