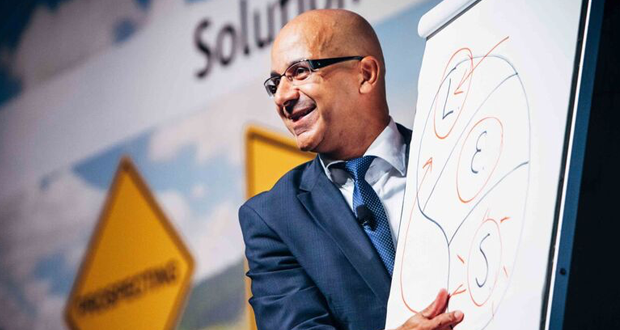 Victor Antonio
Sales Trainer
X
Program Descriptions
Sales Excellence Through Influence
This sales motivation keynote is loaded with research and studies on influencing and buying process and buyer satisfaction. Find out why outdated techniques don't work anymore and learn how to position value, not your price! Full of real-world examples, this entertaining and insightful keynote will leave even the most seasoned of sales veterans wanting more!

Influencing Change
This leadership keynote focuses around understanding the different strategies you can use to influence or persuade others to execute and align their personal goals with your company's short term and long-term goals. Everyday is filled with 'influence moments' where you can motivate others to follow your lead. Humorous and engaging, learn how you can INFLUENCE CHANGE in your organization.

How Artificial Intelligence is Changing The World of Selling
Sales leaders and executives can gain clarification and strategize on their future AI strategies with Victor to sharply enhance critical sales functions. With his unique perspective as an engineer and sales executive, Victor can bring experience, and insight to any business looking to leverage Artificial Intelligence.
Why Book Victor Antonio?
Antonio overcame an impoverished childhood to become CEOs of multiple multi-billion dollar companies ad an international business efficienado
A poor upbringing from one of the roughest areas of Chicago didn't stop Victor from earning a B.S. Electrical Engineering, an MBA and building a 20 year career as a top sales executive and becoming President of Global Sales and Marketing for a $420M company.

As Vice President of International Sales in a Fortune 500 $3B corporation at the time, he was selected from over 500 sales managers to join the President's Advisory Council for excellence in sales and management.

He has shared the stage with top business speakers: Rudy Giuliani, Zig Ziglar, Paul Otellini (CEO of Intel), and John May (CEO of FedEx Kinkos). He's the author of 12 books on sales and motivation and recently released his Seminars On Selling course with 200+ sales training videos.

International Experience: Europe, Asia, Saudi Arabia, Australia, Latin America, Middle East, United Arab Emirates and South Africa.
Books

Sales Ex Machina