National Blog Posting Month celebrates all the weird and wonderful blogs out there! While our blogs may not be weird, we have definitely had some wonderful moments in 2017.
Here at Eagles Talent, our blog is a team effort where several of us contribute to content. In honor of this month's theme, we've decided to recap on some of our favorite submissions.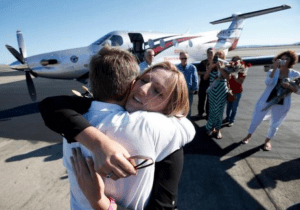 Back in July, we honored Amelia Rose Earhart's third anniversary of her historical flight around the world. Her anniversary came at a time when the History Channel gained worldwide criticism for their new theory on the original Amelia Earhart's plane crash. Several media outlets approached her for a comment and Amelia responded by stating:
"To be honest, I'm not sure what I believe about what happened to Amelia and Fred, I'll let others focus on her disappearance… as for me, I'll focus on what she stood for while she was living: striving to explore, seek and love the turbulence along her flight path."
A month later, Amelia sat down with us for an exclusive podcast where she shared stories about the struggles throughout her flying process as well as her other accomplishments! It was an honor and a privilege to get to know the person behind all of the accolades.
I chose this blog as my 2017 favorite because it was the conversation starter that led to a wonderful follow up interview.
---
For more information on booking Amelia Rose Earhart for one of your events, check out her page on our website or call our office at 1.800.345.5607.