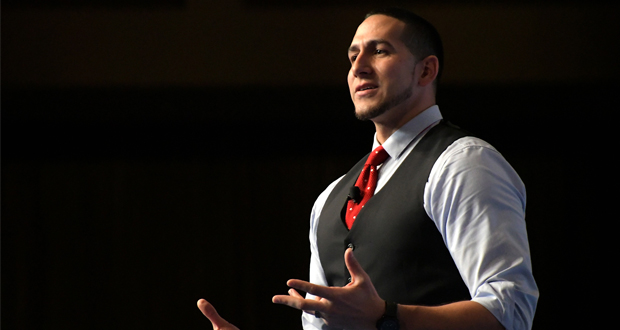 Gian Paul Gonzalez
Inspiring Hope Through The Power Of Commitment and Positivity
Traveling From
New Jersey
X
Program Descriptions
"Going ALL IN"
Professional coaches draw up game plans, marketing teams unveil new sales strategies, however no matter how revolutionary or fool proof the plans the key for successful implementation is in the commitment of the listeners to carry out what they've heard and not just agree but go ALL IN. In this program Gian Paul discusses the keys to helping empower you and your organization to truly commit to your goals despite the obstacles which will try to hinder the type of ALL IN commitment you will need for success. Gian Paul's story telling passionately describes the origination of a phrase birthed in a New York Giants locker room, to becoming a yearly motto for many of the top corporations around the world. Gian Paul implores his listeners to let ALL IN be more than just a slogan, but become a lifestyle that will impact all parts of their existence. As a reminder for their commitment each member receives a physical memento to help remind them to stay ALL IN.

"Staying ALL IN"
Many times in life we commit to change , only to be discouraged when we begin to experience difficulty adapting to it. An excellent follow up to "Going ALL IN" , Gian Paul discusses how to react towards failures that naturally come along the path of an ALL IN lifestyle. He approaches the ideals that come along with failure, and isolation mentality which needs to be combatted in order to staying committed through the tough times. He concludes with a powerful story of his grandfather father surviving political prison in communist Cuba, and how it impacted Gian Paul's life to achieving his ambition of playing in the NBA in Los Angeles and working with inner-city youth. As in all of Gian Paul's talks the audience is left with a physical memento to take home to help reinforce the message and stay committed to a lifestyle of ALL IN.
Why Book Gian-Paul Gonzalez?
Gian Paul Gonzalez inspired the 2011 New York Giants to their Super Bowl victory with his famous "ALL IN" speech to the team which became a rally cry to win. His message gained national attention, being covered by ESPN, Fox News, and CNN.
Gian Paul travels around the world delivering his inspiring message of being "ALL IN" to Forbes 500 corporations, associations, government and educational institutions.
Gian Paul is the Founder and Executive Director of Hope + Future. Its mission is to provide health and wellness programs for youth to give them hope in their academic, social and economic future.
Gonzalez was a former NCAA First Team All-American forward from Montclair State University. He was offered a few professional basketball contracts, however he turned them down to continue his work with at-risk youth.
Gian Paul is widely recognized for inspiring the New York Giants to their 2012 Super Bowl victory with the phrase "All In." He has been featured on ESPN as well as had notable appearances on Fox News and CNN.

His inspirational talks have made him an internationally renowned speaker for NBA, NFL, English Premiere League & Fortune 500 organizations.

Gian Paul Gonzalez was a former NCAA First Team All-American forward from Montclair State University scoring nearly 1.400 points in his 3 year career. He played in the NBA Summer League in 2007 and was offered professional basketball contracts, yet he turned them down in order to continue to work with at-risk youth. He is the founder of Hope & Future, an organization dedicated to using athletics & physical fitness to share a message of hope and striving for excellence in inner-city public schools and juvenile jails.