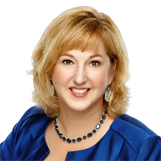 Holly Green
Managing Director, THE HUMAN FACTOR, Inc. Consultant, Keynote Speaker, Behavioral Scientist Best Selling Author
X
Program Descriptions
Using Your Brain to Win in Today's Hyper Paced World
[1 to 3 hour session with hands on practice]
Your brain is your most powerful competitive weapon –if you know how to use it properly. The human brain is an amazing tool. Yet, many of its built-in thought patterns and ways of working do not serve business leaders well. The brain can process large amounts of information. It has a real talent for forming patterns and connections. And it loves to answer questions and solve problems. It also has a tendency to see what it expects to see, overlook data that contradicts its prevailing view of the world, and have greater confidence in its decision-making abilities than it should. In order to become more effective leaders, we need a much deeper understanding of how our brain works and how it often gets in the way of winning.

Leveraging the latest in neuroscience, in this session, you'll get tools, techniques and tips for learning how to:
• Avoid getting blinded by your own data
• Make better, more informed management decisions
• Slow down to go fast
• Get and stay clear on winning
• Stage your field of vision
• Question the right answer and explore the second best answer • Use your brain to win every day You'll practice playing with your brain and walk away with practices you can immediately put to use to be even more successful!

Innovating Every Day
[1 to 3 hour working session]
The biggest threat to your business may not be new technologies, changing markets or unseen competitors. It's what you think you know and what made you successful to date. In today's chaotic markets, unlearning has become just as important as learning. What are you still relying on that no longer applies to today's business world? What is getting in your way because it used to work? Holly will show you how to uncover the "thought bubbles" floating around in your head that keep you stuck in the past. Then she'll teach you how to get unstuck, replace the old with the new, and stay focused to get the results you want. It's not easy. It is possible.

An interactive, upbeat approach to incorporating innovation and thinking differently into almost everything you do. The session focuses on:
• Exploring why & how our success gets us stuck
• Exposing participants' current decision making and thinking processes
• How to ask the right questions to drive results
• Changing our thinking to get clear on what is possible
• Unlearning tried and true innovation eradicators
• Practicing innovation techniques including
*balancing the big picture and the details
*focusing on a target
*challenging assumptions
*changing perspectives
*questioning the right answer

The session enables participants to see the world in a multitude of ways so that innovation becomes an every day activity – not just something you do when you are brainstorming with a team. Numerous tips and tools will be provided for triggering new thoughts and approaches. Participants walk away with techniques that can be put into practice immediately to achieve desired business results.

Who Am I & Who the Heck are You?
[2 to 3 hour session incorporating assessments & debriefs]
Participants will engage in an upbeat and interactive look at decision making, data gathering, communication, organization and living style utilizing the Myers-Briggs Temperament Sorter. They will learn how to more effectively communicate, align, focus, and collaborate to achieve desired business results.
Participants build self-awareness of their preferences as well as an appreciation for why some people drive them crazy and what to do about it. Participants also learn how adults make decisions and get to actions as well as how to make better decisions.
Who Am I can be effectively combined with core elements of the Using Your Brain program creating a 3 to 4 hour hands on learning session.

Living & Thriving @ The Pace of Change
[3 hour session]
The human brain was not set up to work effectively at the pace we are expected to move today. This causes interesting and sometimes harmful behaviors at work.

Living & Thriving explores:
• Why parts of the brain are not well suited for today's hyper-fast world
• How and why we get caught in inefficient and nonproductive busyness
• Typical reactions to change and how to navigate through them effectively
• How we can maintain/rebuild resilience during significant change
• How to remain focused and energized on achieving desired results

The session uses a self-assessment, development worksheets, and enables participants to better understand how to truly thrive in an environment of constant distraction with many of us operating at a pace that does not align to how and when we are most effective.

Enabling strategic agility
[3 hour to full day working session appropriate at the organizational and/or team levels] Are you swift? Can you move fast with focus & flexibility in today's rapidly changing environment? Have you learned when and how to slow down so you can go fast? And with the almost limitless opportunities surrounding you, do you know what to focus on? It is the greatest paradox of our times. Everything in our world says run! Go fast! But have you ever considered how often you run just to have to do it over? Holly can teach you how and when to slow down so you do it right the first time, getting where you want to go first. It's not rocket science. It's harder! What are you waiting for?
In today's chaotic business climate, strategic agility is your #1 competitive advantage. You will learn and practice how to:
• Get clear on winning
• Define, with specificity, what it looks like
• Determine what you need to do to get there
• Pause and focus on the right things
• Move fast with focus and flexibility in rapidly changing markets

This is a hands on session! You will walk away with the insight and drafts you need to complete your strategic framework as well as the guidance and tools for finishing it. You will draft your destination model (your detailed version of success) and get clear on your stakeholders and your value to them.

Exposing Yourself (legally & appropriately of course) to Enhance Your Career
[1 to 2 hour session]
Is it important for your career and your success to influence others? ...to establish and maintain credibility? Approaches to achieving these outcomes have changed dramatically due to significant shifts in communications, multiple generations at work, and the pace of change we are faced with in today's world.

This session will use principles of neuroscience to:
• Help you better understand why and how we think and behave the way we do at work
• Why others think and behave the way they do at work
• How you can make your thinking more visible
• How you can better understand multiple perspectives
• How you can effectively test your conclusions and assumptions
• How you can expose the thinking of others to align, engage and move forward together

The session enables participants to better understand some of the instinctual reactions of the brain and provides tools and techniques to visit it more often so that you are engaging and aligning yourself and others more effectively. Numerous tips and methods are provided for triggering new thoughts and approaches. Participants walk away with multiple tools and techniques that can be put into practice immediately to achieve desired results. Participants also receive a series of weekly email follow up materials to support cultivating new habits.
Why Book Holly Green?
Holly guides leaders and their organizations in achieving greater success by teaching you to leverage your brain and the brains of others.
An experienced business leader and behavioral scientist, Holly Green has a rare combination of extensive academic training and in-the-trenches experience working in and leading organizations. She is the former president of The Ken Blanchard Company, and co-founder of LumMed, a biotech firm. She has worked in senior leadership roles with global giants including The Coca Cola Company, Dell Computer, and Bass Hotels and Resorts.

As a consultant, Holly is frequently hired by companies and associations to help them compete more effectively in today's uncertain markets. She has helped hundreds of companies around the globe make new neural connections, change perspective, challenge assumptions and focus on the target.

In addition to her consulting work, Holly delivers highly acclaimed keynote presentations and workshops to tradeshow conventions, industry gatherings, and business meetings. A polished and engaging speaker, she has headlined hundreds of gatherings around the world. She has received three Speaker-of-the-Year awards from the world's largest CEO membership group.

Featured on numerous TV and radio shows including NBC, ABC, Fox News, and NPR, Holly is a frequently quoted expert and has been in USA Today, Investor's Business Daily, The Los Angeles Times, BusinessWeek and the Wall Street Journal among others. She was a regular contributor to for years and is a highlighted expert on numerous leadership, strategic planning, and innovation blogs.

Holly holds a Bachelor's degree in behavioral sciences and a Master of Science degree in organization development from American University in Washington, D.C. Her postgraduate studies are in neurophysiology. She is an adjunct professor at Webster University, teaching courses in the graduate program. She is the founder of the Management Development Institute offered at San Diego State University.

Holly's top selling book, More Than a Minute: How to be an Effective Leader & Manager in Today's Changing World (printed in nine languages and distributed globally) goes beyond the theory of leading and managing by providing practical, action-oriented information. Holly has contributed to several other best-selling books including Shift Happens. Her newest book, Using Your Brain to Win, has received international acclaim.

Holly is a board member of several companies and serves on the Workforce & Chief Learning Officer Business Intelligence Boards. She also provides strategic advice and guidance to numerous 501(c)3 organizations.organizations.