On Giving Tuesday, global humanitarian and impact storyteller Mallory Brown released the first episode of her latest campaign, Walk a Mile, in which she vows to walk a total of 26 miles with 26 different women in 26 locations around the world. The first episode took place in Mwanza, Tanzania.
We'll be here every step of the way with recaps and rundowns for each episode. Without further ado, here's episode one!
Mallory walked her first mile with Elizabeth, an entrepreneur and stove mason in Mwanza who is working hard to reduce the health risks that are associated with cooking over an open fire.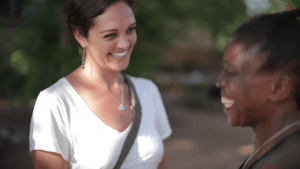 In Tanzania, many families have no choice but to cook their daily meals over an open fire. By doing so, they are unknowingly inhaling the equivalent of two packs of cigarettes per day, creating serious health risks that can result in death.
Elizabeth and a team of women entrepreneurs in Mwanza craft handmade charcoal-efficient stoves that they sell to families at affordable prices. Although small in size, the handcrafted stoves are a huge help in saving many lives in developing countries.
Watch episode one of Walk a Mile and donate to Mallory's campaign today! Just $20 provides a stove to a family in need.
Visit Mallory's Crowdrise page to watch episodes and make donations to exceptional charities and causes.
---
For more information on Mallory's keynote speaking fees and availability, please call 1.800.345.5607.