Here is our End of year review of the top 10 motivational speakers who are putting (success) action steps into the mind of audiences. These professional speakers are former athletes, real people with inspiring stories, business & thought leaders, and "do-good" speakers with exceptional content. These are only a handful of the top Motivational Speakers on our speaker bureau roster. This top 10 list is generated from speakers who are some of the most popular and requested, as well as the most booked. If you would like to learn how to create an amazing event with a top keynote speaker, click here.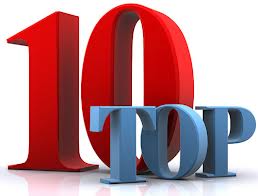 And now … the Top 10 list from Eagles Talent.
1) Walter Bond
Walter is one of THE most dynamic keynote speakers around. He constantly gets great feedback from clients. He has truly become a difference maker for so many companies seeking to better their attitude and accountability.

2) Stephanie Decker
Stephanie is a hero mom who lost both of her legs saving her children during a tornado, but this is only where her story begins. Using her own examples of goal setting and humor, she inspires audiences to be limitless.

3) Matthew Jeffers
Matthew shares how the email he wrote to the Baltimore Ravens proved to be the inspiration the team needed in their journey to win the Super Bowl.

4) Robyn Benincasa
Robyn is a world champion adventure racer and high-octane speaker who injects a strong message of teamwork, inspiration, and a winning attitude in her keynote.

5) Amelia Rose Earhart
Amelia is the youngest woman to fly around the world in a single-engine plane. She is also the president of Fly With Amelia Foundation. Amelia Rose Earhart followed the same flight plan that the original Amelia took. This legacy inspired Amelia Rose each day to chase and accomplish her own adventures. As a keynote speaker, she encourages her audience to set goals and not give up on them. 

Learn how to create an amazing event with a keynote speaker Here. 
6) David Trumble
David is an award-winning artist, author, illustrator, and a new trending motivational speaker. He encourages audiences to use their creativity to embrace the canvas of possibilities. He was featured in Successful Meetings Magazine as one of the "Geniuses who will inspire your audience to think outside the box."


7) Josh Linkner
Not only is he a successful business leader, venture capitalist, AND best-selling author, he is a master at mixing the content with the creative message that will inspire any group towards success.  

8) Anne Mahlum
Anne is a social entrepreneur and founder of Back On My Feet. She encourages development of self esteem and self value.

9) John C. Havens
John is where technology meets happiness. He is the author of the critically acclaimed "Hacking Happiness." John delivers on the content of how to use technology to better your lives personally and professionally — on top of that, he hammers home the importance of doing things with purpose and meaning.

10) Dale Partridge
Dale is a serial entrepreneur and Founder of Sevenly.org


Be sure to view more top motivational speakers here. Is there one you're looking for? Let us know: [email protected]