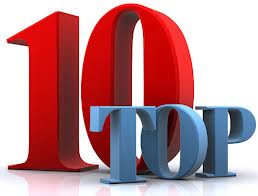 As Black History Month winds down, we want to share our top ten list of African-American speakers who will motivate and inspire you all year! These inspiring speakers represent topics ranging from education, business, diversity and more.

#1. Bertice Berry
She is a sociologist, best-selling author, comedienne, and educator who will thrill your audience with her quick wit and inspirational stories.
[bitsontherun c4pvkxKH]
#2. Albert Mensah
Coming all the way from Ghana, Albert Mensah continues to inspire audiences as the "Ambassador of Opportunity." His rags-to-riches story and professional expertise has been captivating listeners across the nation.
[bitsontherun tBlEtUqu]
#3. Dr. Traci Lynn
Dr. Traci Lynn is a motivational dynamo entrepreneur, who is sure to empower your audiences to take control of their future. Her company Traci Lynn International Inc., includes keynote presentations, workshops, and successful retail businesses.
[bitsontherun X5Gka9Ns]
#4. Les Brown
Les Brown is an internationally recognized speaker and CEO of Les Brown Enterprises, Inc. This master motivator will encourage your audience to utilize their full potential and inspire them to achieve nothing less than greatness.
[bitsontherun 7jLXgb9V]
#5. Tavis Smiley
From his celebrated conversations with world figures to his work to inspire the next generation of leaders, as a broadcaster, author, publisher, advocate and philanthropist, Tavis Smiley continues to be an outstanding voice for change. Smiley is currently the host of the late night television talk show Tavis Smiley on PBS and The Tavis Smiley Show from Public Radio International (PRI). 
#6. Rene Godefroy
This Haitian native came to America with nothing but five dollars, two shirts, a pair of pants and a briefcase. Today, top companies such as AT&T, Charles Schwab, and Coca Cola seek out Rene to help their employees recognize the abundance of opportunities around them and inspire them to go the extra mile.
[bitsontherun USIHfcMP]
#7. Coach Ken Carter
Meet the man behind the blockbuster hit Coach Carter, starring Samuel L. Jackson. This inspirational coach and successful businessman provides inspirational advice on how to succeed on and off the court, by coming together as a team.
[bitsontherun I8O0MDoe]
#8. Harvey Alston
Not that many people can say that they have an entire day dedicated to them in the city of Columbus, Ohio. Harvey Alston's commitment to uplifting and inspiring audiences solidified his position as one of the most in-demand speakers in America.
[bitsontherun vE2fSaYa]
#9. Dr. Rachel Ross
Dr. Rachael Ross is a recurring co-host on the Emmy® Award-winning talk show The Doctors, and a practicing board-certified family medicine physician and sexologist, whose engaging manner and frankness has garnered comparisons to Dr. Ruth Westheimer. 
#10. Kaplan Mobray
This personal branding coach is sure to be a hit with your audience. Kaplan's fascinating presentations provide insightful solutions to help your company come together, be inspired, and grow.
[bitsontherun gTQZ1PtV]