The year 2014 is officially drawing to a close! With 2015 right around the corner, we here at Eagles Talent Speakers Bureau believe that it is only fitting that we create a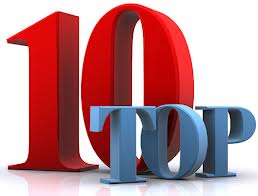 Top Ten list of our most listened to speakers of the year on our SoundCloud page. These popular clips from our Motivational Speakers have inspired many with their captivating stories of success and overcoming adversity. Listen to them in action!
1. Walter Bond
Walter Bond has been a popular expert on peak performance skills. He shares his personal experience of playing in the NBA with corporate America and teaches audiences across the world the importance of accountability and excellence. 
2. Jack Canfield
Jack Canfield is the founder and former CEO of Chicken Soup for the Soul® Enterprises, a billion dollar empire that encompasses licensing, merchandising and publishing activities around the globe. Known as "America's #1 Success Coach," Jack has studied and reported on what makes highly successful people different. He understands what motivates them, what drives them, and what inspires them. 
3. Willie Jolley
There are many inspirational and motivational speakers, and then there is the one, the only, the incomparable Dr. Willie Jolley. Willie uses his prominence to pursue his mission of encouraging people to rise above their circumstances and maximize their potential. 
4. Stephanie Decker
Recently named one of L'Oreal Paris' 2014 Women of Worth, Stephanie Decker shares how humor, teamwork, and setting goals can be used to overcome any obstacle. Using her own story, she provides the inspiration and motivational tips your team needs to take on new challenges. She helps you discover your inner hero, as well as recognize the everyday heroes all around us. 
5. Amelia Rose Earhart
Amelia Rose Earhart followed the same flight plan that the original Amelia took. This legacy inspired Amelia Rose each day to chase and accomplish her own adventures. In her keynote presentations, she encourages her audience to set goals and not give up on them.
6. The Capitol Steps
The Capitol Steps are a troupe of Congressional staffers-turned-comedians who travel the States satirizing the very people and places that once employed them. As the best contemporary political satire group in America today, they will leave your audience in stitches with their song parodies on the intrigues of government.
7. Devon Harris
Devon Harris' inspiring tale of personal triumph over adversity and the uplifting story behind Jamaica's first Winter Olympic team will mesmerize captivate your audience. His story is featured in the hit Disney movie "Cool Runnings" and exemplifies dedication and fortitude and inspires audiences to "keep on pushing"! 
8. Mike Eruzione
Mike Eruzione served as the enthusiastic captain that led the 1980 United States Olympic Hockey Team to its Gold Medal victory at Lake Placid. He was the subject of the hit Disney film, Miracle, which depicted the journey that the 1980's team took to win the gold medal. He continues to inspire audiences with his story of triumph and how to overcome adversity using commitment and teamwork. 
9. Shawn Achor
Shawn Achor is the winner of over a dozen distinguished teaching awards at Harvard University, where he delivered lectures on positive psychology in the most popular class at Harvard. Based on the science of positive psychology, Shawn provides practical applications for helping leaders to keep teams motivated and engaged. 
10. Laura Schwartz
Laura Schwartz climbed her way up the ranks of President Clinton's Administration as the Midwest Press Secretary, Director of Television and, ultimately, Director of Events, where she produced the President's events on the world stage. In Laura's book, and in her internationally acclaimed Eat, Drink and Succeed lecture series, Laura shares her secrets to success, revealing essential networking tools that will increase sales, productivity and leadership, and propel you to the next level in business and beyond.