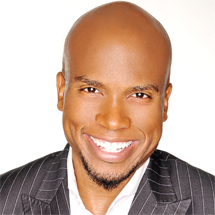 Jonathan Sprinkles
Your Connection Coach
X
Program Descriptions
It's Time For Your Turnaround!
How To Connect With People And Move Them To Action
Jonathan's passion for helping people perform at their best stems from the agony that he felt when he lost his father to cancer at the age of 15. Attempting to mask the pain, he gave into peer pressure and the low expectations that surround many African-American men. However, Jonathan's spirit wouldn't allow him to stay down. Refusing to settle for life's second best, he graduated college from the fourth-ranked marketing program in the country. At graduation, he was awarded the two highest leadership designations given to any student out of an enrollment of over 53,000.

After college, Jonathan enjoyed a thriving career as a top salesman at Dell Computers during their biggest sales years. Jonathan was hand-picked by senior management to join an elite group of Senior Account Managers who were responsible for acquiring new business in the fastest growing segment of the company. Because of the leadership, customer service, and team-building skills that he developed within a high-stakes sales environment, Jonathan was bestowed with the coveted title as the "Significant Achiever" among a pool of 400 of the corporation's best sales reps. Jonathan opted out of the fast-track in his corporate position to launch his own company and live his mission to inspire people and organizations connect with their potential and achieve the success they deserve.

Jonathan's techniques and teaching style come from experience. Having faced many of the same personal, financial, and organizational challenges his audiences have endured, Jonathan "gets it." He knows what looks good on paper versus what really works in the real world. Because he has been there, he speaks to the intangibles that finally connect the dots between theory and implementation. He uses elements of his personal journey from failure and embarrassment to becoming a successful entrepreneur to remind his audiences to aim high and reject excuses.

Jonathan Sprinkles' message has made him a favorite at banquets, conventions, and training events. He has also received high praise across the board among the top organizations nationwide. Jonathan's company, Sprinklisms, Inc was recently honored as the Houston Citizen's Chamber of Commerce Pinnacle Award Winner for excellence in business. Jonathan was voted Houston Business Journal's "40 Under 40" for being one of the top entrepreneurs in America's fourth largest city. He has also been voted National Speaker of the Year (APCA), Marketer of the Year (JMI), and Mentor of the Year (Disney) –four times.