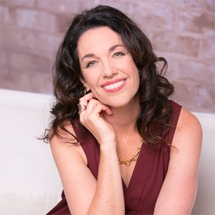 Katie Goodman
Improvisation. Innovation. Transformation.
X
Program Descriptions
Outside The Box, Inside The Budget
Dreaming and scheming is a good thing but there are always constraints. Like any rules of improvisation, constraints actually help us be more creative. They offer boundaries and limit our choices, helping us avoid overwhelm. Katie will show you how to look at your budget as a useful tool to keep your creativity flowing.

Women Stealing the Show
Women's insights are changing the business world. Now is the time to know the power of your ideas, and to trust what you have to offer. Women's workshops and keynotes in an all-female atmosphere give women a safe and fun place to practice finding their voice... and use it!

Innovation
Allowing for Safe & Creative Risk-Taking: Improv games and exercises teach us how to become someone who is comfortable taking creative risks for our business, entrepreneurship, and personal lives. Nothing exciting or new happens in business without creative risks.

Get Lost
Crucial for a business and for our personal lives. Katie will lead you through learning how to actually love the stages of being lost and the thrill of coming out the other side with new ideas and ready for action.

Collaboration in the Workplace
Improv is all about collaboration. Katie gives participants the chance to explore new ways of collaborating that will benefit them in deep and meaningful ways. She will put energy and fun back in your interactions and connections, leading to a healthier work environment.

Gag Your Inner Critic
Our Inner Critic keeps us from reaching our potential and living our best life. In a company, it keeps people from taking creative and innovative leaps, from supporting each other, and slows down progress. We can learn to transform our Inner Critic to a helpful Inner Coach that blazes the way for our personal growth and allows us to show up fully and reach our potential.
Katie Goodman is an award-winning comedian, author and speaker. She has been seen on Showtime, Current TV, and TruTV, has toured internationally for over 12 years, and her comedy show is currently running Off-Broadway. Her comedy has amassed over 3 million views online. Katie holds a philosophy degree form the University of Pennsylvania. As a keynote speaker and trainer, Katie has taught over 10,000 people the art of bringing the tools of improvisational comedy into their work and every day life. She writes for O, The Oprah Magazine and is the author of Improvisation For The Spirit: Living A More Creative, Spontaneous and Courageous Life Using The Tools of Improv Comedy. Katie was nominated for the MacArthur Foundation Genius Grant for her unique work in theatre.