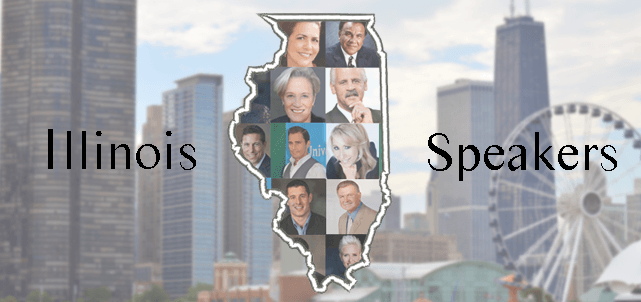 With only two more states to go on our summer road trip, we're cruising through the East Coast and arriving at the Prairie State, Illinois! Below are our picks for the 10 best Illinois Speakers.
---
Winner of The Apprentice and Successful Entrepreneur
A published author of a New York Times best-selling book, Bill wrote You're Hired: How To Succeed In Business And Life. As a successful entrepreneur, Bill understands managing and leading teams in times of uncertainty. He also talks about seizing opportunities and using challenging times to your advantage to gain success in business and in life.
Topics: Business Entrepreneurship, CEOs & Business Leaders, Reality TV Stars
---
Former NFL Linebacker, Healthcare Business-Development Professional,  and Peak-Performance Strategist
Matt provides attendees with a real-world strategy for peak performance. His keynote incorporates: motivation (with personal stories of overcoming adversity), process and mindset, and credibility (putting strategies to practice as the head of business development for Infinity Healthcare and as a successful entrepreneur).
Topics: Peak Performance, Corporate Culture, Football/NFL
---
Best-Selling Author of You Can Make It Happen
Stedman Graham has built a strong reputation for helping corporations, organizations, and individuals succeed. He is the author of eleven books including two New York Times bestsellers. Graham considers it his mission to transform followers into leaders. He has a passion for helping young people adopt a larger vision for their lives.
Topics: Leadership & Inspiration, Diversity & Inclusion, Motivational
---
Lori Greiner
Shark Tank Investor, Inventor & Entrepreneur
Known as the Queen of QVC, she has created more than 500 products and holds 120 U.S. and international patents. A powerful role model for women in business and innovation, she shares her insight on leadership, entrepreneurialism, and overcoming challenges.
Topics: Trending Celebrity, Business Entrepreneurship, Women's Issues
---
Legendary NFL Coach and Player and Commentator
As a legendary NFL player and coach, Mike understands what it takes both physically and mentally to lead and be successful. He is inspirational as only the second person to ever win the Super Bowl as a player, assistant coach and head coach.
Topics: Coaches & Managers, Sports Commentators, Celebrity Speakers
---
Former White House Director of Events, Author of "Eat, Drink & Succeed", Keynote Speaker, Top Emcee and Moderator
Named one of the Best Keynote Speakers by "Meetings and Conventions" magazine and a speaker who exceeds expectations by Successful Meetings magazine. She provides attendees with the means to turn a brief meeting, break room conversation or power lunch into a valuable opportunity for themselves, their company or industry association.
Topics: Networking, Social Entrepreneur & Causes, Leadership
---
Diversity Consultant, Educator, Sociologist
Samuel inspires willing learners to aim high, reject rejection and embrace themselves and each other as powerful team members working toward a more prosperous future.
Topics: Education, Diversity & Inclusion, Hispanic/Latino
---
Health Maintenance & Awareness Delivered with Warmth & Humor
As a highly-informative speaker, Barbara provides a wealth of clinical information which can be applied to everyday practice. She gives humorous, entertaining and information-packed seminars while speaking on a wide range of healthcare topics.
Topics: Health & Wellness, Nutrition, Stress Management
---
Expert in Educational Leadership and Diversity
Dr. Rosita is a proud educator who equally excels as a speaker, as in the boardroom. She frequently uses personal experience in addressing parenting skills, practical classroom teaching, and in managing the all-encompassing human capital. Her presentations are invaluable to those in search of answers.
Topics: Education, Women's Issues, Communication Skills
---
Entrepreneur, Speaker & Author Of "A Slice Of The Pie: How To Build A Big Little Business"
Nick is a successful business owner, author and speaker on the topics of business culture, entrepreneurship, leadership and customer loyalty. Nick's own businesses serve as a great example of how living your company's purpose and values creates a world-class culture achieving award-winning customer service, higher margins and an engaged, productive workforce.
Topics: Food & Wine/Hospitality, Corporate Culture, Business Entrepreneurship
---
For speaker fees and availability, email [email protected] or call 1.800.345.5607
---
Eagles Talent 2018 Summer Road Trip:
Your Are Here: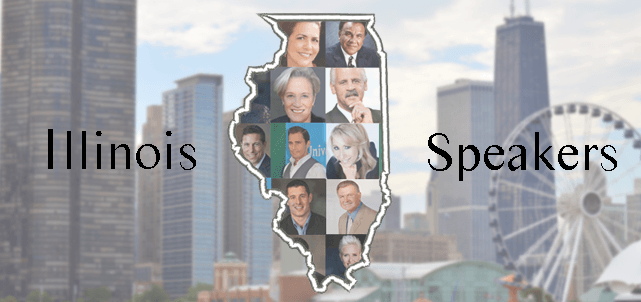 Next Stop: Georgia