Our adventure continues, as we meet up with some of the most influential keynote speakers around the country. Today, we're taking a pit stop in Ohio to share our top keynote Ohio Speakers!
---
Founder of Because I Said I Would
Because I said I would is a social movement and nonprofit dedicated to the betterment of humanity through promises made and kept. Their goal is to build a community of people who are driven to help others through the strength of determination.
Topics: Social Entrepreneurs & Causes, Accountability, TED Conferences
---
Motivates People & Organizations to Be Their Best
Harvey is an interactive and spirited presenter who speaks on his personal, proven message of being the best. His powerful presentations on individual responsibility for shared achievement uplift audiences to a higher standard, and to a level where they strive only for the best.
Topics: Motivational, Educational, African-American
---
ABC College Football Analyst, Head Coach at the University of Akron
Terry's enthusiasm, contagious optimism, confidence and work ethic are the qualities that made him a legendary coach and the qualities he imparts on audiences today. Winning is Terry's trademark and he shares his stories of success, leadership and teamwork as a coach and sportscaster.
Topics: Football/NFL Speakers, Team Building, Sports Commentators
---
High Performance Communication Expert, Emmy Award Winner
Connie is a 20-year veteran of the television journalism industry, the founder of her own global consultancy firm, and widely known for her "interactive" and "dynamic" speaking talents. As a former broadcast journalist, she delivers her thought leadership on developing executive presence and building influence.
Topics: Media Personalities, Sales Strategies, Leadership
---
President and owner of John Robert's Spa, named one of the Top 20 Salons in America, Customer Service Expert
In John's keynotes, he reveals what the best customer service organizations do, but more importantly, how they implement and execute it consistently company-wide. He will teach attendees the secrets of excellent customer service, and how to enhance the company's customer experience to new heights.
Topics: Customer Service, Leadership, Retail
---
Employee Engagement & Gratitude Expert
Lisa Ryan will not only help your workforce become more engaged, but because of her tactics, you will also see improved employee performance, a stronger commitment and an all-around more positive, fun work environment!
Topics: Management, Corporate Culture, Business Growth
---
Speaks On Individual And Organizational Growth
What makes Brian tick is helping people. While some speakers talk at their audience, Brian talks with them . . . getting them involved in keynotes, seminars and workshops to discover new strategies and techniques to better themselves and become successful leaders.
Topics: Organizational Skills, Communication Skills, Innovation & Creativity
---
Personal Branding Speaker & Performance Coach
As a professionally trained improviser & Second City Alumni with a radio/television degree, Judi uses her training every day to create authentic, relevant and memorable experiences for her clients. Judi works as an event emcee, on-camera host and keynote speaker, with a focus on personal branding and fear management for the service and hospitality professional.
Topics: Leadership, Sales Strategies, Communication Skills
---
America's Got Talent Finalist
You've seen him on America's Got Talent, and now you can see him live! Charles is a spellbinding performer with theatrical flair who showcases originality in his acts. He juggles, glows, performs, plays music, and much more.
Topics: Jugglers, Entertainment
---
America's Funniest Stressbuster
What separates Kay from many other speakers is that she has the ability to reach across all socio-economic groups and truly connect. She combines her background as a professional standup comedian with her expertise to give your audience an experience they will never forget.
Topics: Humorists, Stress Management, Life Balance
---
For speaker fees and availability, email [email protected] or call 1.800.345.5607
---
Eagles Talent 2018 Summer Road Trip:
Your Are Here: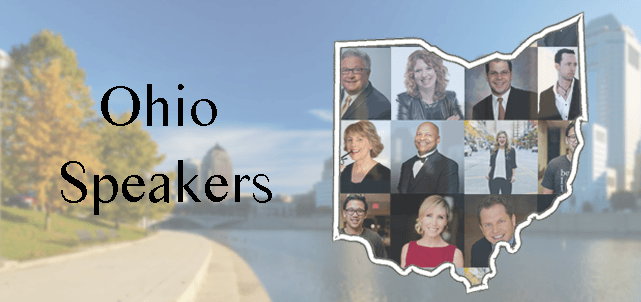 Next Stop: Illinois